<!-Subtext (optional)->
Purpose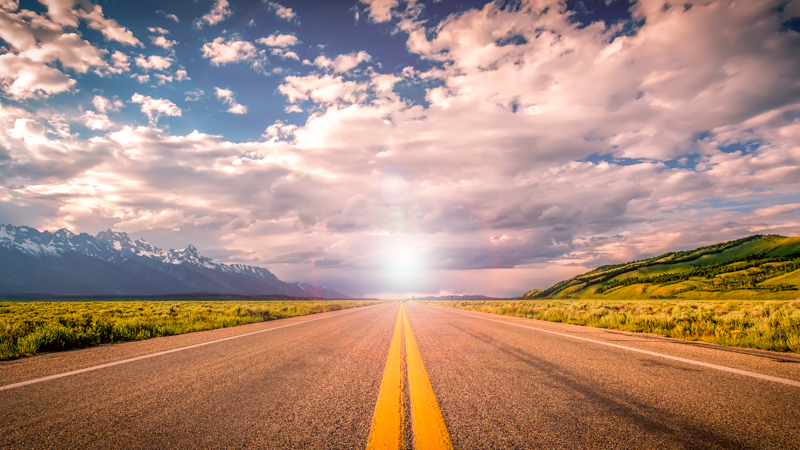 As a member of Fujitsu Group, Fujitsu Frontech Group will comply with "Fujitsu Way", consisting of Purpose, Values and Code of Conduct and we established "Fujitsu Frontech Purpose" as our basic policy for business management.
We will fulfill our corporate social responsibility (CSR) through business activities that put "Fujitsu Way" and "Fujitsu Frontech Purpose" into practice.

Fujitsu Way
The Fujitsu Way comprises 3 parts: "Our Purpose", "Our Values" and "Code of Conduct".
"Our Purpose" indicates why Fujitsu exists in society.
"Our Values" are the important sense of value each person should have.
"Code of Conduct" is what we should comply.
Fujitsu Way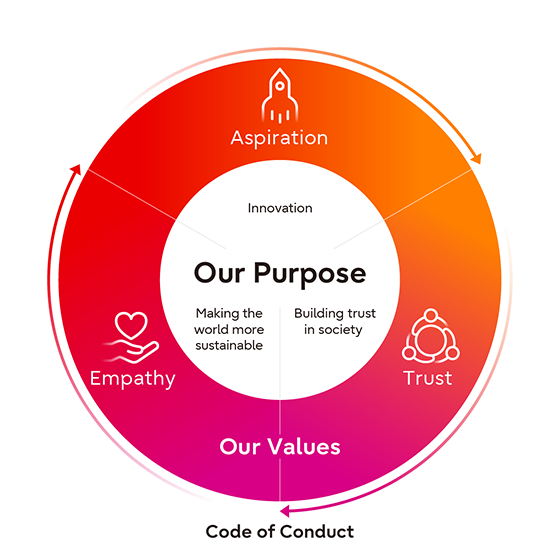 Our purpose is to make the world more sustainable by building trust in society through innovation.
Our purpose represents why all Fujitsu people in the world work together every day. This is the core of the Fujitsu Way.
Purpose Statement
The purpose statement is a brief narrative that sets out our purpose and its background context, as well as what value we create for customers and society, how we change and how we grow to achieve it.
---
The world has become more inter-connected with ever-growing complexity.
We are experiencing an era that is fast-changing and uncertain.
As a global company with a long history of delivering technology-based value to customers, it is our responsibility to contribute proactively to the transformation of society.
In this era, we need unconventional ways to solve the world's difficult challenges.
---
We create human centric innovation by bringing together people with data and physical things.
We empower people to work more creatively and support the success of our customers.
---
Our purpose drives every action of every person in Fujitsu.
Empathizing with people's challenges, we will collaborate and act with agility to create solutions that make a positive impact to the environment, society and the economy.
---
We respect fairness and equality, and promote diversity and inclusion.
We will continue to build the technology and capabilities needed by society in an environment where everyone is free to maximize their potential.
Growing our
own capability
'Aspiration', 'Trust' and 'Empathy'
In order to realize the purpose, "Our Values" indicate a critical action cycle consisting of 'Aspiration', 'Trust', and 'Empathy'.
---
Set ambitious targets and act with agility.
Embrace diversity and create original ideas.
Stay curious and learn from failures and experiences.
Deliver positive impact through human centric innovation.
Aspiration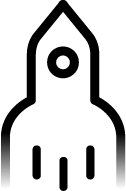 ---
Honor promises and exceed expectations.
Act with ethics, transparency and integrity.
Work autonomously and unite for common goals.
Contribute to a trusted society using technology.
Trust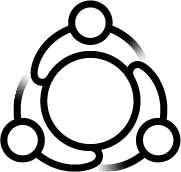 ---
Strive for customers' success and their sustainable growth.
Listen to all people and act for the needs of our planet.
Work together to solve global challenges.
Generate shared value for our people, customers, partners, community and shareholders.
Empathy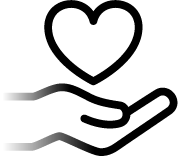 We will abide by this Code of Conduct. As a member of society, we must comply with the "Code of Conduct".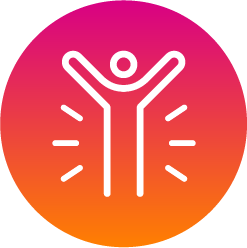 We respect human rights.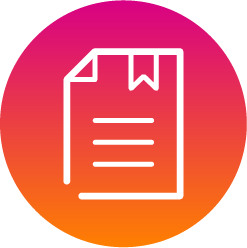 We comply with all laws and regulations.


We act with fairness in our business dealings.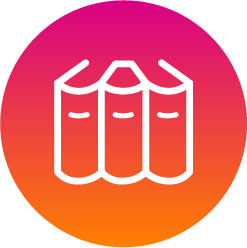 We protect and respect intellectual property.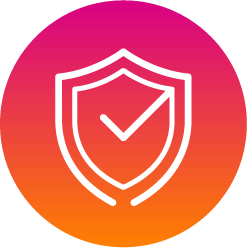 We maintain confidentiality.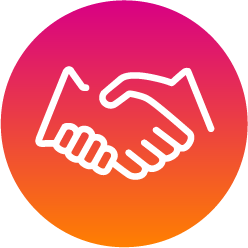 We do not use our position in our organization for personal gain.
Fujitsu Frontech Purpose
To create a tomorrow 
with new connections
between people and companies, 
people and society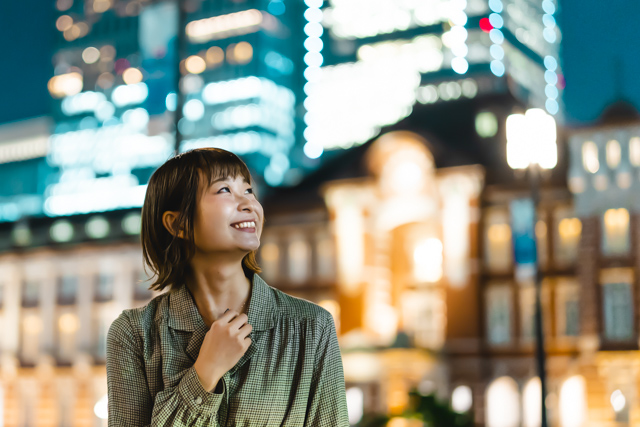 Purpose Story
Purpose Story is the background briefing of "Fujitsu Frontech Purpose" to understand what we have cherished from the past, vision for the future and values we provide to stakeholders as a story.
DNA of Fujitsu Frontech
Our company DNA is in the front-end of business where our customers and consumers meet. For many years, Fujitsu Frontech has always had a passion and commitment to manufacturing, quality, and human resource development. We strive to continuously refine our technical capability and excellence of our hardware, software and service while enhancing the customer experience based on industry knowledge and know-how. These are our enduring strengths and values.

Our Challenge
Our goal is to be a DX (Digital Transformation) company at the forefront of our customers. When people touch "MONO (product)" and interact "KOTO (service-oriented way of thinking)", we create new connections between people and companies, people and society. We strive to change the world to a place where people can enjoy entirely new services, by connecting human interaction and digital technology.
Based on the concept "Touch, Connect and Change", we will provide hardware, software and services as a one-stop shop. Furthermore, we will strive to realize a safe, secure, comfortable and prosperous society where companies and individuals can have a bright future.

Values We Provide
Fujitsu Frontech will continue to provide value to all stakeholders through focus on issues companies and society face, and through the diverse talents and energies of each Fujitsu Frontech group employee.
[To Customers]
We will identify challenges with our customers, and create new opportunities with the highest quality, reliability, and performance that exceeds our customer's expectations.
[To Employees]
We respect individuals, diversity, and provide equal opportunities to all employees. We will do our utmost to support each employee, so that they can experience growth as a professional and maximize their potential and energy.
[To Society]
We will address social issues based on justice and equality, and contribute to the realization of a sustainable society. In addition, we strive to be good citizens and contribute to the revitalization and development of our communities.