Contribution to Local Community
We implement social activities at each site and Group company in and outside Japan.
Headquarters / Tokyo Plant
Joined "Talk Session with Professionals" at a junior high school (November 2021)
Fujitsu Frontech took part in "Talk Session with Professionals" held by a junior high school in Inagi City, Tokyo, where our headquarter is located, and gave classes. The purpose of this event is to "Listening to people from various industries to develop students' motivation to work and interest in jobs".
In classes, we explained that Fujitsu Frontech undertook "Development - Manufacturing – Sales – Maintenance/Repair" consistently, and as an example of the work, we talked about product development work for palm vein authentication sensor.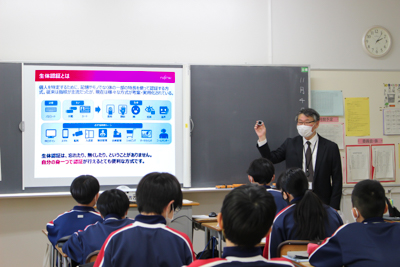 class scene in junior high school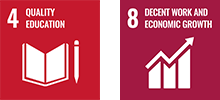 Clean Champaign
We have implemented this Cleaning Campaign since FY2007. And, From FY2019 we started the clean-up around Misawa River which is flowing near the Headquarters / Tokyo Plant, as one of our actions on the issue of marine plastics waste.
Clean-up around Misawa River

Niigata Plant
Meisters of our company lectures at Sanjo City University (May 2023)  NEW
Honorary Meister Kiyoei Ikarashi, Meister Katsuji Kawasaki, and Meister Mitsuhiko Aiba from our company gave a lecture at Sanjo City University (Sanjo City, Niigata Prefecture) on the theme "What is Manufacturing with three Meisters?". The lecture at Sanjo City University was held for 2 consecutive years following 2022.
This lecture was held as part of the "Tsubame Sanjo Literacy," a compulsory subject in which participants learn about the industrial structure and history of the Tsubame Sanjo area, as well as Company Visit in various industries in the area.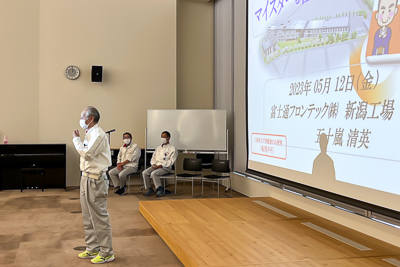 lectures at Sanjo City University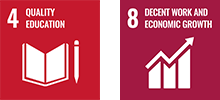 Conducted industry-academia collaboration training with Sanjo City University (September - November 2022)
We have concluded an agreement on industry-academia collaboration with Sanjo City University (Sanjo City, Niigata Prefecture). As part of this agreement, we accepted students from the university for industry-academia collaboration training at our Niigata Plant.
The purpose of this internship is for students to go to the workplace of a company in the Tsubame Sanjo area and learn practical engineering knowledge, technology and ethics by combining hands-on and experience-based learning in the company with the learning of theory in the university.
At our Niigata Plant, participants experienced plant quality assurance activities, lectures on product internal structures and manufacturing processes, and verification work using actual products.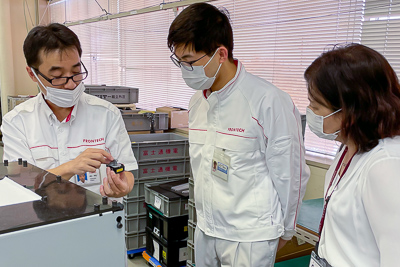 Industry-academia Collaboration Training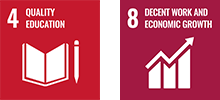 Flower planting volunteer
Since FY2013, we have volunteered planting flowers on the flower beds near Yoshida Kasuga-cho intersection in Tsubame-shi. Every year, about 10 employees volunteer weeding and picking flowers monthly from April to September.
Flower planting on the flower beds

Clean-up of Tsubame Minami Shinsui Park
We implement weeding and cleaning in the Tsubame Minami Shinsui Park near Niigata Plant every year from 2009, with cooperation of employees and cooperative companies. About 200 persons participate in this event every time, which is very much appreciated by the local community.
Weeding in the park

Kumagaya Service Solution Center
Clean-up around the site
We implement the clean-up for the local community every June, the Environmental Month, by picking up empty pet-bottles, cans or the like on the road around the site and the car parking in it.
Pick-up of trash on the road

Sales of vegetables by a local agriculture high school
Every year, we invite students of a local agriculture high school in the site, and hold "sales of vegetables", which were grown and harvested by them, in a bit to provide them with valuable experiences of practice for sales. Our employees look forward to this event every time, because they can purchase the delicious vegetables at reasonable prices.
A variety of vegetables on the sales
Fujitsu Frontech Systems Limited (FJFS)
Forest preservation
FJFS implements the forest conservation activities at the foot of Akagi Mountain, twice a year continuously from FY2008, when they concluded the Agreement of Activities for Forest Conservation, etc. with Gunma Prefecture and Maebashi-shi. In January 2022, FJFS received the distinctive achievement award in environmental activities from Gunma Prefecture because this activity of long years was evaluated.
Cutting grasses by a handy sickle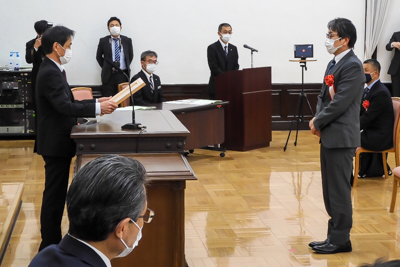 Scene of the award ceremony
Clean-up around JR Maebashi Station
About 30 employees of FJFS implement the clean-up around JR Maebashi Station for the sake of the beautification of the local community, every year.
Clean-up around the station

Totalizator Engineering Limited (TEL)
Clean-up with customer
TEL, its customers, concerned parties and employees clean up around the Boat Pier Narashino (the off-site ticket office) hand in hand.
Pick-up of trash around the boat pier

Fujitsu Die-Tech Corporation of The Philippines (FDTP: Philippines)
Protection of mangroves
Every year, many employees of FDTP participate in the protection of mangroves including the tree planting in the purpose of sustaining a rich eco-system.
Mangrove planting
Participation in charity marathon
Every year, many employees of FDTP take part in the charity marathons which are held to help the local schools and children with some disease.
After the event

Fujitsu Frontech North America Inc. (FFNA: U.S.A.)
Donations for the local community
FFNA implements donations for the local community, which are, for example, school goods for schools and toys for kids.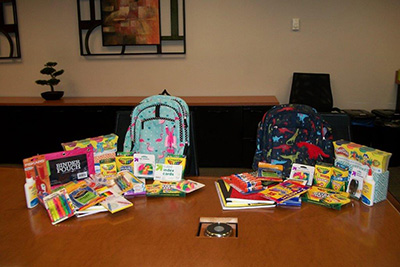 Donation of school goods