<!-Subtext (optional)->
Cloud Advisory Services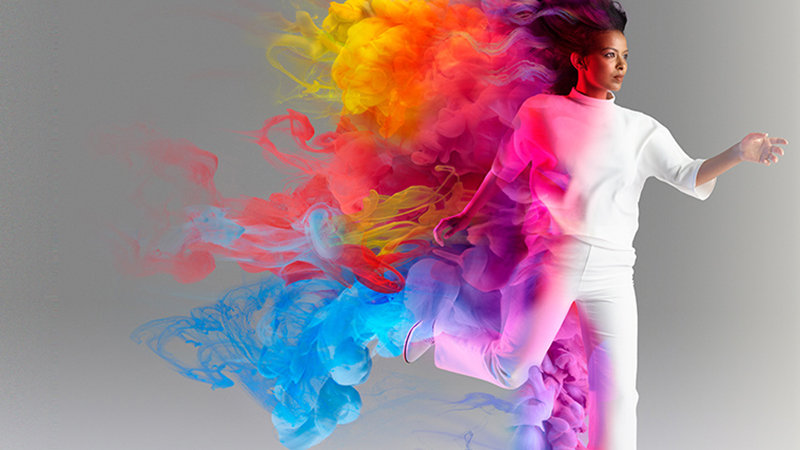 Cloud Advisory Services
The multi-cloud landscape is complex and hard to navigate the multiple vendors, constantly evolving technology and services. Ensuring that your business strategy and objectives are being served by you cloud solution needs constant attention.  
Fujitsu provides a range of advisory services to assist your journey through the multi-cloud landscape. From your first tentative steps into cloud through to optimising a mature cloud portfolio, Fujitsu's advisory services will ensure your multi-cloud solution is delivering results.
Cloud Adoption Accelerator
Taking the first step in adopting cloud technology can be daunting because of the implications on your business, service and technical teams. Even if your organisation is using some cloud services, Fujitsu's Cloud Adoption Accelerator puts your organisation on a path to cloud success by developing an actionable plan to ready your organisation for public cloud.
The Fujitsu cloud advisory team will conduct a single day workshop with your organisation's business and technical leaders to develop a common view of your organisation's cloud adoption challenges and importantly, we will collaboratively create an action plan with you to address them.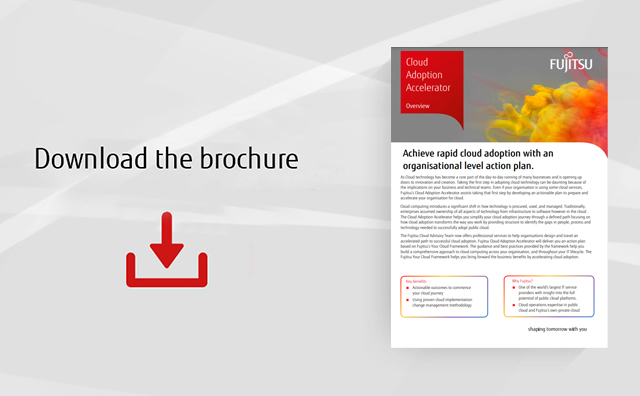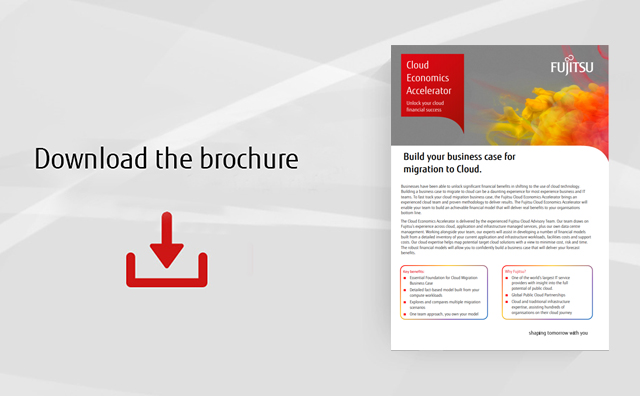 Cloud Economics Accelerator
Building a business case to migrate to cloud can be a daunting experience, even for the most experienced business  and IT teams. To fast track your cloud migration business case, the Fujitsu Cloud Economics Accelerator brings an experienced Fujitsu cloud team and proven methodology to rapidly create your cloud business case. The Fujitsu Cloud Economics Accelerator will enable your team to build an achievable financial model that will deliver real benefits to your organisation's bottom line and will provide support for your strategic revenue gains.
Cloud Optimise Assessment
Businesses have been able to unlock significant financial benefits in shifting to the use of cloud technology. To continue to deliver those financial benefits your organisation needs to implement strong and continuing cloud financial optimisation. Fujitsu's Cloud Optimise Assessment has been proven to save organisations up to 40% of their cloud spend. The Cloud Optimise Assessment reviews your current cloud usage and provides recommendations to optimise and further reduce your cloud costs, your cloud architecture and your cloud security posture .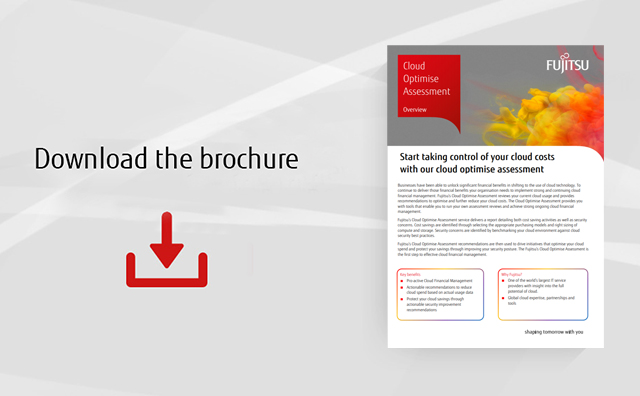 Frequently Asked Questions
How can I help my organisation adopt public cloud?
Fujitsu offers our Cloud Adoption Accelerator that builds an action plan to adopting public cloud platforms whilst identifying and addressing the issues blocking adopting public cloud.
What will be the true cost of using public cloud?
Let our Fujitsu consultants work with your organisation to build a detailed financial model for cloud adoption. We help you explore the financial benefits and opportunities that public cloud technology can offer with our Cloud Economics Accelerator.
Am I getting the best value for money from my public cloud?
In a 2019 study, most public cloud customers had a measured waste of 35%. The Fujitsu Cloud Optimise Assessment offering lets you rapidly assess your public cloud and identify the potential savings by using the right services from your cloud provider.
How can I migrate my private VMWare cloud to a public cloud platform?
With the new VMWare on AWS service, you can now migrate your VMWare virtual machines into the cloud without a costly migration process.
Have more questions? We look forward to speaking with you below.
Abhishek Pradhan – APAC Head of Portfolio, Hybrid IT
"Ultimately, cloud is an enabler. The technology brings true transformation value when combined with other applications, data and customer experience. It has never been more exciting to collaborate with our customers and partners to continually drive strategic enterprise-wide business transformations and innovate at a velocity higher than ever before."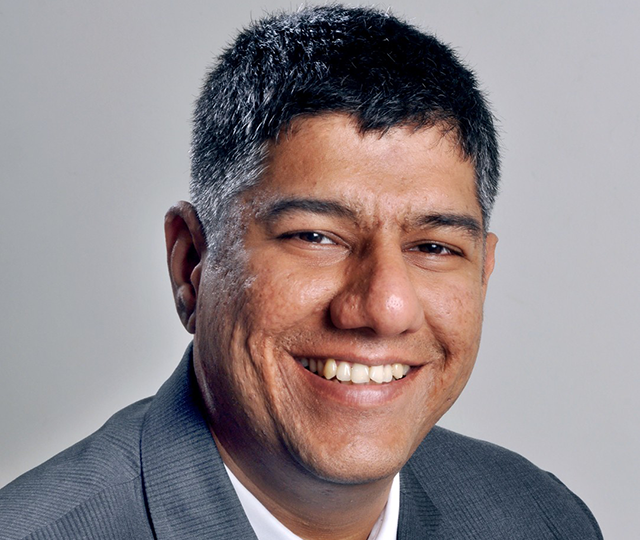 Get in touch
Let us assist you in solving your business challenges.
Thank you. We have received your request and will get back to you shortly.
Fujitsu Australia acknowledges all Aboriginal and Torres Strait Islander Traditional Custodians of Country and recognises their continuing connection to land, sea, culture, and community. We pay our respects to Elders past and present.