Together, we can keep our planet green and clean

For more than a decade, Fujitsu has made a significant, sustainable investment in enterprise-wide initiatives, from reducing our carbon footprint, to eliminating lead and other harmful wastes from our supply chain and products, to broad recycling and reuse programs and reforestation projects. We continue to invest in innovation and programs that are good for both the environment and our business.
In addition, while observing all environmental regulations in our business operations, we are actively pursuing environmental protection activities on our own initiative. Through our individual and collective actions, we will continuously strive to safeguard a rich natural environment for future generations.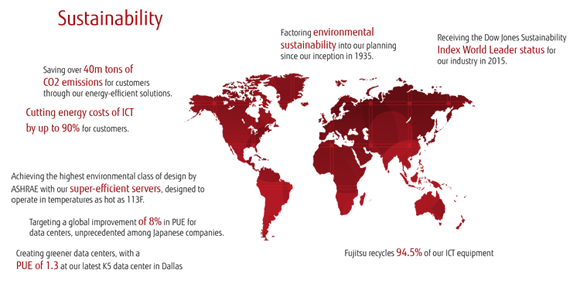 More Information on Fujitsu Environmental Policies
Earth Day
Fujitsu celebrates Earth Day! This year, Fujitsu Americas participated in Earth Day Texas – the largest environmental exhibition in the world with over 100,000 attendees. We showcased our energy-saving solutions including use of OpenADR and traffic optimization tool, Spatiowl.
Read More