Diversity and Inclusion Policies
Based on the statement "We respect diversity and support individual growth" in the Corporate Values of the Fujitsu Way, in 2014 the Fujitsu Group organized its policies on diversity and inclusion as follows, and is working as a Group to further promote these.
Direction of Fujitsu Group Diversity and Inclusion
The Fujitsu Group will undertake the promotion of diversity and inclusion, primarily initiatives aimed at nine attributes with the following three objectives, and will connect this undertaking to strengthened competitiveness as a company.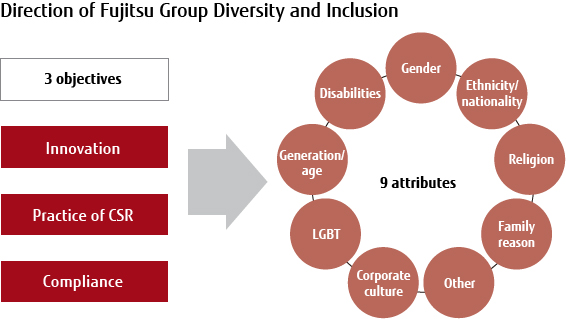 In 2008, Fujitsu set up the Diversity Promotion Office as an organization to promote activities aimed at respect for diversity. Drawing on "Diversity-Driven Innovation" as its theme, the Diversity Promotion Office's vision for Fujitsu sets forth the following two objectives:
Improving individual growth and job satisfaction
That all employees will have mutual respect for one another, that each will demonstrate their own personal added value and that everyone will contribute to the organization.
Improving corporate competitiveness and growth
That we will continue to create new knowledge and technologies through free and active discussions from a variety of viewpoints.
To achieve these two objectives, we are aiming to create workplaces where people can work energetically, create new value, realize coexistence and mutual prosperity with society, and develop Fujitsu into an even better company.
Our Framework for Promotion of Diversity
The Diversity Promotion Office engages in the promotion of diversity under the company President and the officer in charge of diversity (the current Vice-President).
In Japan, diversity promotion managers selected from each company engage in this work while sharing information in diversity promotion manager meetings at domestic Group companies.
Overseas, Fujitsu promotes diversity within each of four regions while sharing information at venues such as the Global Director's Meeting for Human Resources Conference.
Efforts at Promoting Diversity
To review the status of its diversity promotion, Fujitsu has been carrying out an annual survey on Diversity and Inclusion, aimed at all corporate officers, employees and temporary staff. The survey, together with other sources of information, revealed four items to be addressed by the company: management by supervisors, the workplace environment, awareness among individual employees, and work-life balance. Based upon these, we are placing our focus on undertaking three key activities: reform of mindset and culture in the organization, support for individual success, and reform of way of working.
From FY2017, based on the Stage 4 theme of "Further Practice/Business Contribution", we will implement a variety of new activities in addition to continuing and expanding existing activities.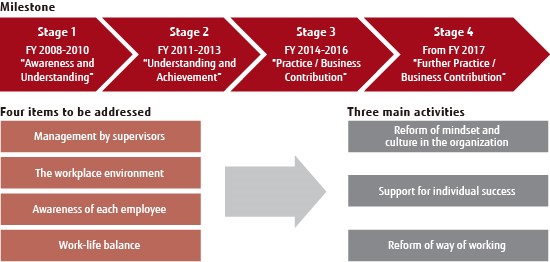 Targets and Primary Measures
 
Period
Target
Primary Measures to Address Targets
1
2008-2010:
Awareness and Under-standing

Foster awareness and understanding of diversity promotion among all corporate officers and employees

Conduct surveys of employee awareness of diversity
Implement e-learning programs
Build human networks for minorities

2
2011-2013:
Under-standing and Practice

Promote workplace diversity
Support more active participation by female employees
Promote measures among Group companies in Japan

Select managers to represent diversity promotion in business units and hold study meetings.
Determine the actual status of workplaces through interviews of division managers
Set quantitative targets for active participation by female employees and conduct training.(target: a 20% ratio of female employees by FY2020 and a 20% ratio of newly appointed female managers by FY2020)
Hold briefings for domestic Group companies, hold events for employees of domestic Group companies

3
2014-2016:
Practice and Business Contribution

Support diversity promotion at workplaces oriented toward generating innovation
Expand and improve our pipeline for producing a variety of employees (focusing on female employees) with leadership skills
Promote measures among domestic and overseas Group companies

Implement specially designed activities to address issues and needs in different divisions and positions
Implement level-specific measures to support the active participation of female employees
Survey the status of each Group company and share the results

4
2017-:
Further Practice and Business Contribution

Support the promotion of workplace diversity aimed at creating innovation
Enhance our pipeline for producing a variety of employees (focusing on female employees) with leadership skills
Expand measures to domestic and overseas Group companies

Enhance involvement by managers in diversity promotion activities in order to reform organizational climate
Further enhance pipeline aimed at achieving numerical targets
Prevent quitting of female employees, particularly young female employees
Promote diversity promotion activities and support for individuals in the workplace
Key Examples of Specific Measures
In addition to working on targets specific to Stages 1 to 4, we are also implementing the following measures across all three Stages.
Main activities
Specific measures
Reform of mindset and culture in the organization

Communication of Top Message from the management
Companywide diversity promotion forums
Surveys concerning diversity
Interviews with top management and meetings with experts
Workplace management training (for all directors and section managers)
Implementation of e-Learning (currently rolling out at Group companies in Japan)
Support for initiatives at all workplaces
Expansion within Group companies in Japan and overseas
Holding of a diversity film meeting

Support for individual success
[Measures to promote active participation by women]


Female Leadership Development Program (for female leaders)
Career Workshop for Female Employees (for female leaders)
Career Development Seminar (for female leaders, primarily younger employees)
Diversity mentors (GM class)
Networking events (by position/area)

[Measures to support the disabled]


Forum for employees with disabilities
Establishment of special subsidiaries
Expansion/publication of the Work Style Guidelines

[Measures for foreign national employees in Japan]


Forum for foreign national employees in Japan
Seminar for department heads managing foreign national employees
Employment-support website for foreign national employees

[Support for employees with time limitations]


Forum for employees with younger children
Forum for supervisors of employees with younger children
Seminar for establishing a better understanding of infants, toddlers, and employees raising small children
Seminar on finding a balance between work and nursing care

[LGBT-related measures]


Expansion of the scope of internal systems
Seminar on LGBT issues

Reform of way of working

Seminars on reforming ways of working (childcare/nursing care and childcare-conscious bosses, etc.)
Workshop on reforming ways of working through digital technology
Activities for Telework Day and Telework Month
Accolades
Recognition in the Diversity Management Selection 100 Program (FY2013)
The Japanese Ministry of Economy, Trade and Industry recognized Fujitsu as a company that engages in management practices that generate innovation and create value by promoting diversity and utilizing a diverse mix of human resources.

Platinum Kurumin certification (FY2015)
The Minister of Health, Labour and Welfare gave Fujitsu special certification as a company that supports families raising children.

Selection as a Nadeshiko Brand (FY2015)
The Ministry of Economy, Trade and Industry and the Tokyo Stock Exchange selected Fujitsu as a FY2015 "Nadeshiko Brand," a designation recognizing enterprises that work to empower women in the workplace.

Eruboshi (Level 3) certification (FY2016)
The Minister of Health, Labour and Welfare, under the provisions of the Act on Promotion of Women's Participation and Advancement in the Workplace, certified Fujitsu as a company demonstrating excellent performance in promoting the active participation of women, etc.

PRIDE Index Gold Award (FY2016/FY2017)
Work with Pride, a private organization, named Fujitsu a recipient of a PRIDE Index Gold Award, which recognizes companies that satisfy all elements of the "Pride Index"-Japan's first index to evaluate LGBT-related efforts by corporations, etc