Mukul Prasad is a Director in the Advanced Software & Algorithms Laboratory. His team's research aims to develop automated tools and methodologies to empower software development teams to be more productive and to develop more correct and reliable software. He has thrice been a co-recipient of the Fujitsu Research President Award for innovation.
He has co-authored over 50 conference and journal papers, including 1 best paper award and 2 best paper nominations, 1 book, and holds over 50 patents. He has served on more than 20 technical program committees of international conferences and workshops and currently serves on the editorial board of the Journal of Software Testing, Verification and Reliability.
Mukul has a Ph.D. from the University of California at Berkeley and a B.Tech from the Indian Institute of Technology at Delhi. He is a Senior Member of ACM and a Senior Member of IEEE.
Mukul Prasad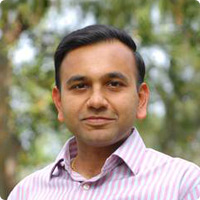 Selected Publications
1. Rohan Bavishi, Hiroaki Yoshida, and Mukul R. Prasad. 2019. Phoenix: Automated Data-driven Synthesis of Repairs for Static Analysis Violations. In Proceedings of the 2019 27th ACM Joint Meeting on European Software Engineering Conference and Symposium on the Foundations of Software Engineering (ESEC/FSE 2019). ACM, New York, NY, USA, 613-624.
2. Seemanta Saha, Ripon K. Saha, and Mukul R. Prasad. 2019. Harnessing Evolution for Multi-hunk Program Repair. In Proceedings of the 41st International Conference on Software Engineering (ICSE '19). IEEE Press, Piscataway, NJ, USA, 13-24.
3. Wei Yang, Mukul R. Prasad, and Tao Xie. 2018. EnMobile: Entity-based Characterization and Analysis of Mobile Malware. In Proceedings of the 40th International Conference on Software Engineering (ICSE '18). ACM, New York, NY, USA, 384-394.
4. Ripon K. Saha, Yingjun Lyu, Hiroaki Yoshida, and Mukul R. Prasad. 2017. Elixir: Effective Object-Oriented Program Repair. In Proceedings of the 32nd IEEE/ACM International Conference on Automated Software Engineering (ASE 2017). IEEE Press, Piscataway, NJ, USA, 648-659.
5. Alex Horn, Ali Kheradmand, and Mukul R. Prasad. 2017. Delta-net: Real-time Network Verification Using Atoms. In Proceedings of the 14th USENIX Conference on Networked Systems Design and Implementation (NSDI'17). USENIX Association, Berkeley, CA, USA, 735-749.
6. Hiroaki Yoshida, Susumu Tokumoto, Mukul R. Prasad, Indradeep Ghosh, and Tadahiro Uehara. 2016. FSX: Fine-Grained Incremental Unit Test Generation for C/C++ Programs. In Proceedings of the 25th International Symposium on Software Testing and Analysis (ISSTA 2016). ACM, New York, NY, USA, 106-117.
7. Shauvik Roy Choudhary, Mukul R. Prasad, and Alessandro Orso. 2013. X-PERT: Accurate Identification of Cross-Browser Issues in Web Applications. In Proceedings of the 2013 International Conference on Software Engineering (ICSE '13). IEEE Press, Piscataway, NJ, USA, 702-711.
8. Masahiro Fujita, Indradeep Ghosh, and Mukul R. Prasad. Verification Techniques for System Level Design. Morgan Kaufmann Publishers, October 2007. Book
9. Evgueni Goldberg, Mukul R. Prasad, and Robert K. Brayton. Using Problem Symmetry in Search Based Satisfiability Algorithms. In Proceedings of the Conference on Design Automation and Test in Europe (DATE '02). IEEE Computer Society, Washington, DC, USA, 134 -141. Best Paper Award
10. Mukul R. Prasad, Philip Chong, and Kurt Keutzer. 1999. Why is ATPG Easy? In Proceedings of the 36th annual ACM/IEEE Design Automation Conference (DAC '99), Mary Jane Irwin (Ed.). ACM, New York, NY, USA, 22-28. Best Paper Nomination