Development Story of UHF Washable Tag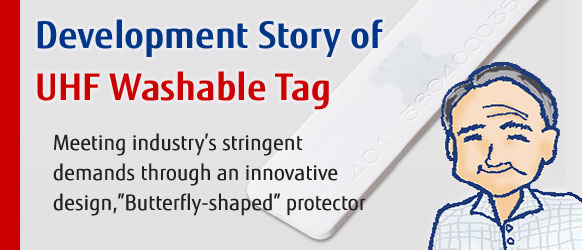 Fujitsu launched a highly durable and flexible UHF washable tag that has generated great attention in the textile rental and laundry industries. This article tells the development story of the world's first UHF washable tag.
Episode 1: Birth of the UHF Washable Tag
Creating competitive differentiation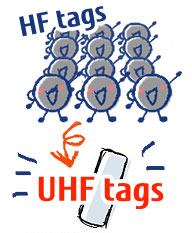 Back in 2005, textile rental and laundry industries were using coin-shaped tags with HF RFID technology to improve the efficiency and accuracy of inventory management. Companies that implemented HF RFID systems have gained item-level transparency and traceability, thus achieving the desired ROI. Customer requirements for longer reading range, and accurate multiple identification, all at a lower cost have directed our attention to UHF washable tag.
Development challenges
Laundry process management requires item traceability and inventory transparency at item-level. This creates challenges as RFID tags underwent rigorous washing cycles will cause severed antenna and cracked chips caused by bending and twisting during the laundry process.
Prototyping and evaluations iterations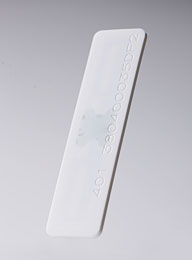 We developed and evaluated hundreds of antenna patterns, and then made dozens of prototype tags for evaluation. During the two years before shipping, our engineers' daily work was to attach prototype tags to various uniforms again and again by sewing and heat-sealing the tags. We washed these uniforms in laundry and dry-cleaning facilities for the entire two years without a break. We continuously observed and checked the condition of each prototype, and the data from this analysis provided valuable feedback for developing new prototypes.
Birth of a "butterfly-shaped tag protector"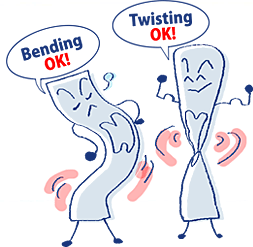 The problems that we have encountered when evaluating the prototypes were chip damage and severed antenna. After two years of continuous trial and error, we finally developed a "butterfly-shaped tag protector" to protect the chip and antenna. The protector gives Fujitsu's UHF washable tag superior durability, enough to withstand twisting and bending in the laundry process.
Development of a special testing machine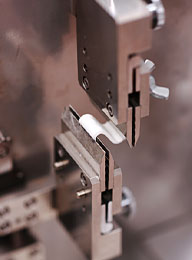 Evaluating one single prototype tag with 200 washing cycles would take more than six months in a laundry facility, as commonly required by users. Therefore, efforts were made not only in developing tags, and also designing a special testing machine for evaluating the tags. This machine can twist and bend a tag thousands of times, equal to 200 washings, in just one day.
World's first UHF washable tag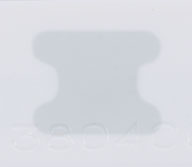 Overcoming a great many difficulties, we launched the world's first UHF washable tag (the first-generation tag) in 2007. This UHF tag features excellent durability and flexibility, and grabbing the international spotlight. In 2008, looking to provide customers with more competitive products, we announced the enhanced second-generation washable tag (WT-A511).
The WT-A511 provides improved performance at a lower cost, more compact, and heat-sealable tag in the demanding RFID market.
Product information


Even with significant cost improvements made, users demands greater saving on using UHF-RFID laundry tags.
Please see how Fujitsu Frontech responds to market's demands in the next episode.
"Episode 2: Overcoming Challenges"