Development Story of UHF Washable Tag : Episode 2
As a result of trials-and-errors, butterfly-shaped protector is born. However, in order to meet the recurring cost-down demands from laundry market, a newer generation of tag is required.
Episode 2: Overcoming Challenges
Low cost requirement from the market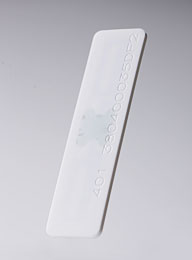 First-generation UHF washable tags displayed significant improvements in durability and was well accepted by users. However, due to its complex structure, the tag was manufactured partially by hands. Compounding with its low yield, high cost, and lack of skilled labor, first-generation washable UHF tags still needs further improvements to replace low cost HF tags before allowing wider market adoption.

On top of operational efficiency attained through batch reading, market demanded UHF technology to be offered at the same cost as the older HF technology.
The next challenges: cost reduction and heat-seal enabled
To catalyze the adoption of UHF washable tags, Fujitsu Frontech started the development of second-generation in year 2007.

Reducing the cost by 1/3rd and supporting heat-sealing were top of the agenda. These improvements were made by simplifying structure and designing manufacturability where full automatic production can be achieved.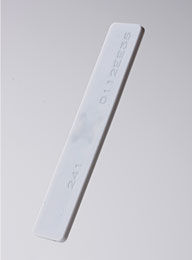 Second-generation UHF washable tag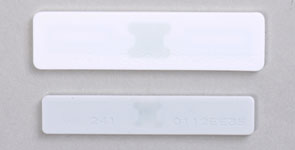 Comparison between first (upper) and second (lower) generations
【Comparison between first and second generations】
| | |
| --- | --- |
| First-generation | 60×15×1.6mm |
| Second-generation | 55×10×1.6mm |
Second-generation tag was tested against twisting and bending forces repeatedly by using the special machine introduced in Episode 1. With this machine, evaluation turn-around is reduced from eight months to one day.

One of the challenges faced is dry cleaning required by users. To solve this, tag's materials, size, and structure were all redeveloped.
Soft laundry tag product information

Copycats in the Market
As Fujitsu's laundry tag was gaining market attention, similar and counterfeits products started appearing in the market. Although the price is significantly cheaper, these copycats failed at 10th to 20th cycle under the lab testings. After a while, similar products started to disappear from the market due to its unreliability.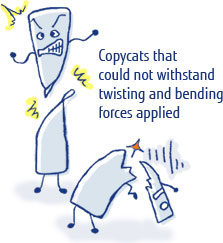 Looking One Year and Beyond, Continuous Development
Challenges for better products always persist. These challenges, to mention a few, include reduced read range when used with blood test tube at healthcare institute, and tag damages caused by roller ironer at commercial laundry facilities.
First and second generation tags are the accomplishments of engineering genuine and hard work. However, high pressure water extraction still presents itself as a hurdle to be overcame. Fujitsu is working relentlessly to solve it in the near future.
Second-generation laundry tag's shares expand greatly outside of Japan due to its performance and competitive price. Below is an illustration of how oversea customer uses Fujitsu's laundry tag.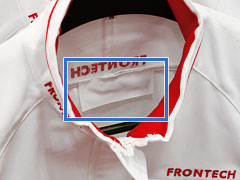 Soft RFID-UHF laundry tag used in uniform (highlighted by a blue rectangle).
Tagged uniform and linen that could be washed and ironed. This laundry tag could be used in UHF (Ultra High Frequency) range assigned by countries around the world.
New Fujitsu UHF RFID Technology Implemented at Fairmont Pacific Rim Hotel for Advanced Inventory Monitoring
Press Release
Fujitsu Partners with Positek RFID to Help Reduce Costs of Managing Uniforms, Linens and Textiles
Press Release
Photo: Kinzo TAKABA

"Episode 1: Birth of the UHF Washable Tag"