Health Management
Fujitsu Frontech Group Health Statement
The mission of the Fujitsu Frontech Group is to support innovation and development at the forefront of our customers' businesses.
In order to achieve this, each employee works with the awareness that growth through work, trusting relationships and good relationships with superiors and colleagues are related to physical and mental health, and aims to feel happiness through physical and mental health.
Based on the idea that health comes first, Fujitsu Frontech Group will support the realization of the ideal image of each employee and create an environment where employees can work healthily and energetically in cooperation with work style reform initiatives such as "Work Life Shift".
Priority Activity Targets
Raising awareness of mental and physical health and maintaining and promoting health
Stabilization of mental health
Fujitsu Frontech Group will take preventive measures to maintain our mental health.
Fujitsu Frontech Group will also work to strengthen our support system for early detection and treatment of anxiety and create a workplace with high psychological safety.
Reducing risk of lifestyle diseases
Fujitsu Frontech Group will have each employee to know about their health condition and work to improve their lifestyle and strengthen support.
Promotion Systems
The director in charge is the Chief Health Officer, and the Health Management Office and divisions in charge of each Group company exchange opinions closely with the secretariat, and measures are developed through the Safety, Health and Disaster Prevention Committee and the general manager. our company's status, issues and measures are reported in a timely manner at meetings attended by top management.
Activity goal
Mental Health Measures
Fiscal 2021 (Results)
Fiscal 2022 (Target)
Fiscal 2023 (Target)
Stress check acceptance rate
(Target) 90% or more
(Achievements) 91.1%
90% or more
90% or more
Increase the average number of annual leave days taken per employee
(Target) 13 days or more
(Achievements) 14.3 days
14 days or more
15 days or more
Measures against lifestyle-related diseases
| | Fiscal 2021 (Results) | Fiscal 2022 (Target) | Fiscal 2023 (Target) |
| --- | --- | --- | --- |
| Improvement of implementation rate of specific health guidance (completion rate) | Calculating | 35.0% | 40.0% |
| Reducing obesity (BMI 25 or higher) | 34.8% | 27.5% | 25.0% |
Main Measures
Medical examination
The Fujitsu Frontech Group conducts regular examinations that can be supplemented with gastric examination and fecal occult blood examination according to age to the legally required medical examination. Industrial physicians and industrial health staff feedback the results of these examinations to ensure a correct understanding of the results and improve health awareness, while also recommending close examinations or medical consultations. Furthermore, as measures to prevent the severity of illness, we work with our health insurance union to check the receipt of employees who are judged to require subsequent medical treatment at regular medical examinations, and to recommend medical consultation to employees who have not received treatment yet, leading to appropriate treatment.
For the early detection of cancer, in cooperation with the Fujitsu Health Insurance Union, we also made gynecological checkups available free of charge and established a system to subsidize brain and lung screening fees.
Medical examination uptake rate of FY2019: 99.9%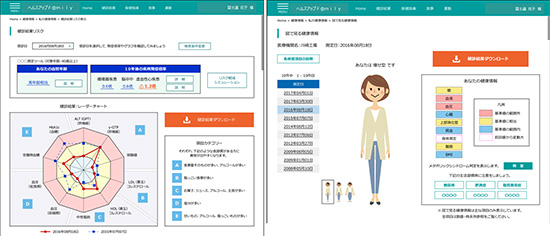 System where employees can view their medical examination results on PCs and smartphones
Mental healthcare
To support employees, we have placed counselors in offices, provide counseling, employment support for employees with mental health problems and various mental health trainings and implement measures to prevent recurrence.
With a stress checking system, we support self-care of employees by the diagnosis. We feed the total analysis results back to each department and provide stress management trainings (for middle management members) to reduce stress and invigorate workplaces.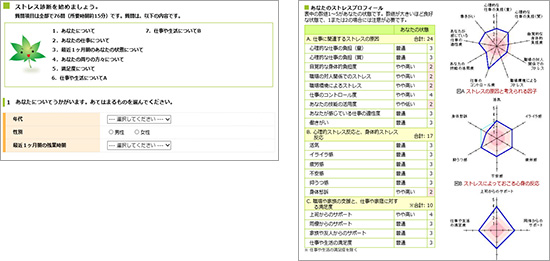 Questionnaire of the stress checking system and individual diagnosis results
Event for the improvement of employees' health
In cooperation with the Fujitsu Health Insurance Union, Fujitsu Frontech Group promotes events to improve employees' health, for instance, a walking event and an event to stop smoking. In addition, we work on primarily prevent by utilizing various opportunities including holding health seminars for women and delivering mail magazines. We also provide dietary support such as providing health menus at employee cafeterias and dietary guidance by registered dietitians.
"Arukatsu with everyone", company-wide walking event
We hold the events twice a year in spring and in autumn and in event employees compete each other for average steps using smartphone apps. Employees may join in the event individually or in groups and we give awards to higher-ranked employees and groups in each division.
"Stop smoking challenge with teams", promotion event to stop smoking
In this event, a team with one smoker and from 2 to 5 supporters challenge to stop smoking for 3 months. When the smoker succeeds quitting smoking, the team will receive incentives from the company.
Support for balancing work with medical treatment
Fujitsu Frontech Group promotes the early detection and treatment by offering brain and lung screenings at the time of regular medical examination. We also conduct healthcare support that focuses on individual diseases, including care during employees' sick leave and support after their reinstatements, so that employees can receive appropriate treatment or work energetically while receiving treatment.
Infectious disease countermeasures
Fujitsu Frontech Group actively implements protection initiatives such as providing information in order to protect employees from infectious diseases. As one of infectious disease protection measures, we provide inoculations (borne by the company), recommended according to area for employees who are transferring overseas.
Certified as the Health & Productivity Management Organization 2022 (large enterprise category) for three years in a row (March 2022)
Fujitsu Frontech was certified as "Health & Productivity Management Organization 2022 (large enterprise category)" for three years in a row by the Ministry of Economy, Trade and Industry and The Nippon Kenko Kaigi as a company that focuses on and strategically carries out efforts with regard to their employees' health from a management perspective.
The Certified Health & Productivity Management Organization Recognition Program honors outstanding enterprises including small, medium and large sized companies, engaging in efforts to advance health and productivity management, based on initiatives that address local health issues and health promotion activities promoted by the Nippon Kenko Kaigi.