What do companies engaging in Digital Transformation have in common?
Management innovation and learning from the successes and failures of others

Collaboration between government, industry and academia is gaining momentum as steps are taken to create the so-called Society 5.0, a society in which advanced technologies are leveraged to good effect. The number of companies embracing digital transformation (DX) for the purpose of management innovation is also on the increase. While many companies are pressing forward with DX, others are further advanced and already achieving results. These companies have something in common. Rather than entertaining unreasonable expectations of AI and other digital tools, their senior managers have a clear understanding of why they are using DX to tackle specific problems. Deeply engaged in the DX practice, our panel of thought leaders share their views on the importance of the 'mindset change' required by senior management if companies are to succeed on their DX journeys.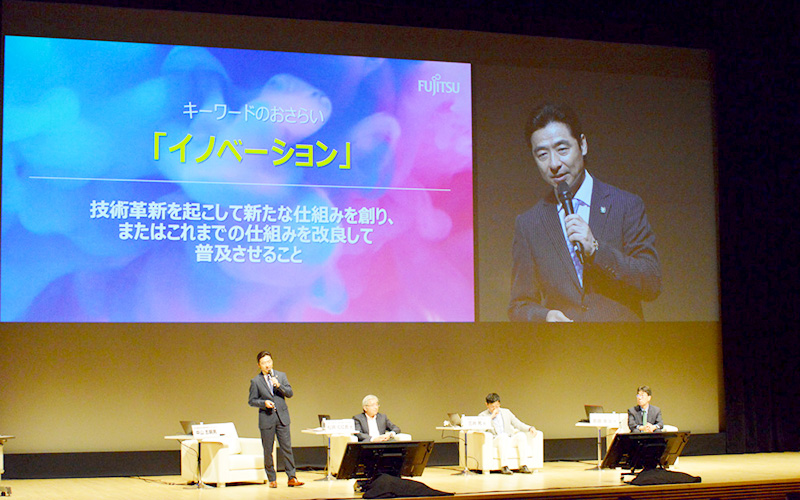 One of the sessions held during the Fujitsu Forum 2019 event in May was a panel discussion titled 'Towards AI-driven Management Innovation ~ Next-generation management styles and what we can learn from case study successes and failures'. The session examined the traits shared by companies successfully engaging in DX.
The panel:
Professor Kunio Matsui from the Department of Information and Computer Science within the College of Engineering at Kanazawa Institute of Technology, which seeks to develop talented people capable of achieving breakthroughs in the era of data leveraging
Atsushi Mitsui, COO & Board Member of AI solutions provider Sigfoss Corporation
Yukiharu Yorifuji, Research Vice President of IDC Japan, a provider of intelligence on the relationship between advances in IT and corporate management
The moderator was Iwao Nakayama, CEO, SVP & Chief Evangelist, Fujitsu Limited.
Iwao Nakayama
CEO, SVP & Chief Evangelist
Fujitsu Limited
Collaboration is vital between universities (where ways are found to leverage AI), and industry (where the real-world data resides)
The first half of the program allowed the panelists to express their views on the barriers to successful DX and the approaches that can be taken to overcome these barriers.
Kanazawa Institute of Technology offers AI education and training and for the past 14 years has consistently outranked all other Japanese universities in an online survey titled 'Universities that Provide Good Academic Support', conducted by Daigaku Tsushin Inc. However, Professor Kunio Matsui reveals his concerns regarding talent development when he says, "Universities lack the type of data used in AI, especially data on industrial and societal issues."
Professor Kunio Matsui also highlights to the business community that engagement in DX is actually hampered by industry's unreasonable expectations of digital tools. He believes that, "There are a lot of people in industry who entertain fanciful ideas about AI's ability to produce highly precise decisions. They therefore expect far too much, without even investigating the scope of effective applications."
On one hand, you have universities that lack real world data and are therefore unable to research the practical uses of AI. While on the other, you have business communities laboring under the mistaken impression that using AI technologies will produce instant results. A new alliance between industry and academia seems necessary to facilitate solutions to these problems. Professor Kunio Matsui suggests that, "A good approach might be for industry to use universities as a test bed, providing them with real-world data to analyze."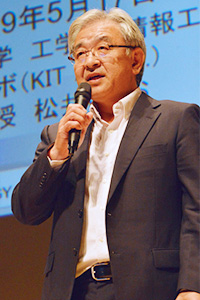 Professor Kunio Matsui
Department of Information and Computer Science, College of Engineering
Kanazawa Institute of Technology
Setting clear goals produces successful AI solutions
The next speaker, Atsushi Mitsui of Sigfoss, noted that optimal underlying technologies combined with high-quality data and outstanding system design are integral to creating purposeful AI solutions. He also emphasized the importance of setting goals in order to produce successful AI solutions. In his words, to achieve an outcome, "You need to first clearly define your objectives; you need to know what it is that you are aiming to solve."
Atsushi Mitsui described a failed project that he was involved with in the past. The project used HR data to develop a system for identifying employees who were likely to resign. The system had a successful prediction rate of 99.8%. However, the issue was that the system was unable to predict resignations until they were imminent. This meant that the staff would resign anyway, shortly after the system predicted their likely resignations. A far better outcome would have been for the system's objective to be clarified as 'preventing talent from leaving the company'. Unfortunately, during the development process this overarching aim was not highlighted, leading to the project's failure.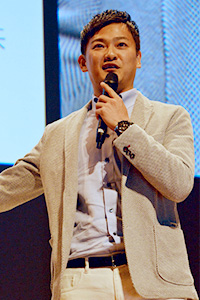 Atsushi Mitsui
COO & Board Member
Sigfoss Corporation
Japanese companies are inappropriately using new IT solutions
IDC Japan's Yukiharu Yorifuji began his talk by presenting the results of a survey on the trends in DX initiatives from a management perspective. According to Yukiharu Yorifuji, "It's a fact that in many cases, DX generally goes no further in an enterprise than being implemented for separate lines of business. A mere 14.1% of all companies are engaged in DX on a company-wide basis."
In addition, Yukiharu Yorifuji indicated that an issue faced by many industries in Japan was the divide between conventional and new IT solutions. "With conventional IT solutions (such as enterprise systems managed by systems divisions) and the development of new IT solutions (comprising IoT and AI technologies and initiated by operating divisions), many companies find themselves unable to link data between the two." He sounded a warning over the inappropriate use of new IT solutions, explaining that such new forms of IT should be effectively linked with conventional IT solutions to achieve a specific objective. However, they are instead being used by a large number of firms in Japan simply as means of raising employee awareness or wooing investors.
"In contrast," says Yukiharu Yorifuji, "Europe and America are deploying DX successfully, and many firms are achieving positive results by using DX as a tool to guide their routine business activities." Numerous times during the presentation, he stressed the importance of having a clear reason for deploying AI and other digital tools.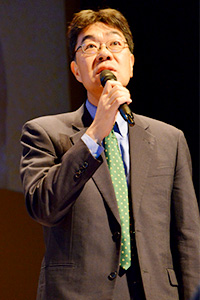 Yukiharu Yorifuji
Research Vice President
IDC Japan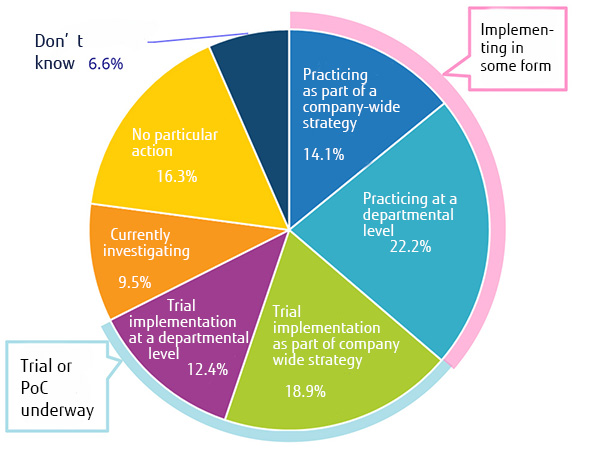 Deployment of DX Projects in Japanese Companies (from "CIO Survey 2018" conducted by IDC)
A new entity to expedite transformation within Fujitsu
Iwao Nakayama presented on the new initiatives that Fujitsu is pursuing for management innovation. In April 2019, the company established a unit called the Future Co-creation Center. As part of Fujitsu's own DX journey, the Center is engaged in activities such as analyzing the company's past initiatives, identifying problems, pursuing new business models, and establishing proprietary evaluation systems.
The Center also supports other companies with their corporate branding activities. Iwao Nakayama illustrated this with a success story describing a collaboration between Fujitsu and Yokogawa Electric Corporation. Fujitsu leveraged its Design Thinking techniques in the branding of Yokogawa's new company, amnimo, which was created to provide innovative IoT services. The project began with Yokogawa sharing its concerns about amnimo, which enabled Fujitsu to carefully discuss and explore the vision and brand image that Yokogawa had in mind for the new company. This led to a mindset change by Yokogawa's senior management, whereby organizational reform was recognized as being necessary for amnimo to achieve success. "As a result," explains Iwao Nakayama, "Fujitsu received positive feedback from Yokogawa that management had reached consensus and agreed on the path forward."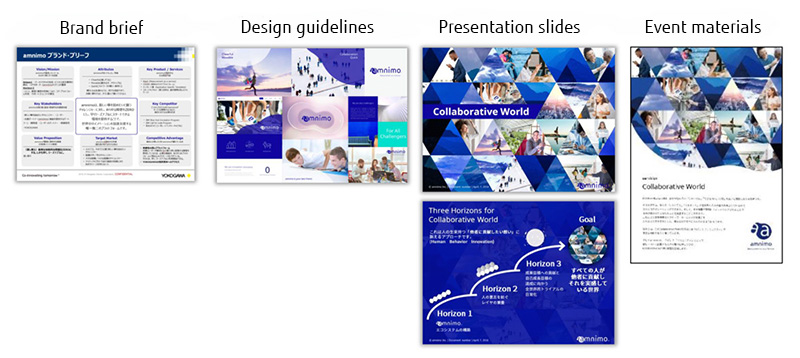 Output from the amnimo branding project
Digital transformation must begin with a mindset change by senior managers
The second half of the program involved a discussion among the four panelists on four separate themes, to identify the factors necessary to succeed with DX.
The first theme was 'Innovation Management Successes and Failures'. Professor Kunio Matsui presented a case study involving industry and academia using AI technologies in their collaborative research to successfully re-examine outmoded business practices. He described how, together with Kanazawa Institute of Technology, CM Soken Consulting was able to logically change its long-running commercial popularity survey from one based on the viewers' subjectivity to one based on objective data. For more than three decades, CM Soken Consulting had conducted the survey by asking viewers to describe how interesting they thought a commercial message was by selecting from 15 subjective options, including topics such as 'Actors & characters', and 'Humorous elements'. Unfortunately, some of the options were similar, leading to problems of inefficiency and a deterioration in the accuracy of the survey.
Professor Kunio Matsui describes the outcome as follows: "As each reviewer perceives things differently, it is hard to revise choices that are expressed subjectively. We therefore used AI's natural language processing capability to mechanically evaluate the degree of similarity, revising the options in a way that everyone could agree on. In using highly objective data to corroborate subjective concepts such as 'popularity', our aim was to use the results for a variety of purposes." One of the factors that most likely led to success was the clearly specified goal; namely, to transform subjective data into objective data.
The second theme was 'Changing the Management Mindset'. This was one of the most valuable discussions during the program. Yukiharu Yorifuji from IDC comments, "Firms that successfully use DX for management innovation have certain traits in common. One is that senior management always maintains a close eye on how a particular initiative helps the company." He also mentions the importance of management's influence on the organization. "By communicating their vision, senior management creates the climate for all employees to actively engage in DX practice."
Atsushi Mitsui from Sigfoss explains, "If you're targeting transformation, you need to be fully prepared for the fact that money you spend on DX may be dead money. If you don't provide opportunities for the real study of projects such as AI, you'll never know what can be achieved. If you expect big results straight away and set the bar too high, you might well miss out on a significant outcome that wasn't visible before." Some people tend to think that AI and other sophisticated tools should bear fruit immediately, but it is necessary to take a reasonably long-term view or we'll never reach our true goals.
Innovation consists of new value generated by bringing disparate elements together
The next discussion theme was 'Organizations Suited to Innovation Business'. Iwao Nakayama poses the following question: "In recent years, companies under the direct control of their president are gaining prominence for the amazing results they're producing with cross-organizational projects undertaken on a company-wide basis. If we're aiming to create innovation, what sort of company do we hope to build?"
Professor Kunio Matsui provided a bold response. "When you start a new business in a company, you generally encounter opposition from the Board. And that's only to be expected because the majority of directors are people who made their mark based on the old way of doing business. So, in that case, why not create a rule that says you have to do the exact opposite and give priority to implementing new businesses that the Board opposes?" Atsushi Mitsui adds, "With new business, management tends to want to assign talented professionals with a track record to be responsible. But you should really give priority to assembling a team of people with a passion for whatever the new business happens to be. This is because regardless of how tough things get, they'll see it through."
The final discussion theme was 'Talent Suited to Innovation Business'. Yukiharu Yorifuji tells the audience that, "The original meaning of innovation is to generate new value by bringing disparate things together. You therefore need to involve people who have different knowledge and skill sets. It's a tall task to be innovative if all you have are experienced people entirely devoted to the same industry." Atsushi Mitsui suggests, "The best people are those whose antennae are always up, sending out information in all directions and also taking in information." Professor Kunio Matsui continues, "The ability to disseminate information is particularly important. At the same time as you're disseminating information, you'll also be picking up knowledge and skills."
The closing remarks delivered by each of the panelists underlined why it is important that managers first set clear goals and then take the initiative to change their own mindsets in order to bring about management innovation through DX. Professor Kunio Matsui said that because AI and other tools are now more accessible, it is imperative to develop the skills needed to devise better strategies. Atsushi Mitsui disclosed, from the standpoint of an AI solutions provider, how he defines the prerequisites for building systems capable of articulating user's objectives and how the actual tasks can be implemented. Yukiharu Yorifuji emphasized that it is incumbent upon senior management to change corporate culture and other things that people take for granted and, most importantly, to drive organizational reform.
The general conclusion, first and foremost, was that it is crucial to define the goals of any initiative. Secondly, it is important that senior managers change their mindsets rather than remaining slaves to conventional wisdom. These points were highlighted by all the panelists throughout the program and were clearly regarded as the common denominators of a successful DX practice.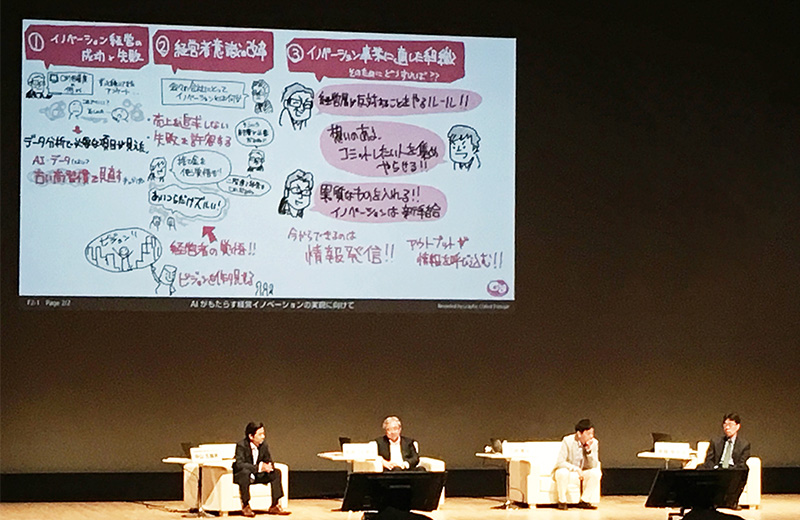 The discussions were depicted visually in real time via an on-screen "graphic recording" format (graphic recording by Kai Tamura)