MEF-CECP Professional Training Programs
The MEF-CECP enables communications network professionals to validate their expertise, skills and knowledge of Carrier Ethernet technologies, standards, services and applications. As an accredited training provider for the MEF-CECP qualification, Fujitsu has helped thousands of students to attain MEF-CECP certification.
MEF-CECP Training to Suit Your Needs
Fujitsu offers MEF-CECP training options for every learning style and training budget. Our highly effective classes and study materials are developed by industry-leading technical experts, some of whom have been directly involved in developing MEF standards. The Fujitsu MEF-CECP classes and study materials go beyond the information needed to pass the exam. We also provide a thorough foundational education on Ethernet technology.
Training Options
Fujitsu offers the following training options and study aids for the MEF-CECP:
Classroom courses at our campus
Classroom courses at your choice of location
MEF-CECP Exam Study Guide
MEF-CECP Exam Trainer App
Introduction to Carrier Ethernet
MEF-CECP Classroom Training
According to the MEF, more than 80% of successful MEF-CECP candidates choose classroom training as their preparation method for the exam. Fujitsu offers a comprehensive five-day MEF-CECP preparation course, led by an MEF-CECP-certified instructor. The class is held at our Richardson, TX training facility or at your location. The course covers the material through a combination of lectures, interactive analysis and discussions, coupled with quizzes at the end of each lesson. The final half-day is spent taking the MEF-CECP certification exam.
How to Register for Training Classes
Current customers
New customers
---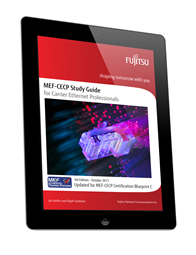 MEF-CECP Study Guide
Our popular MEF-CECP Study Guide offers an excellent self-paced route to passing the MEF-CECP exam and can be used in combination with our Exam Trainer app. The guide serves as both a learning aid and as a practical reference book explaining MEF Carrier Ethernet concepts and standards. The study guide features detailed explanations, liberal use of color illustrations and more than 200 practice questions. It begins with MEF service definitions and includes all the topics covered on the MEF-CECP exam. Each lesson ends with a set of multiple-choice review questions. The study guide assumes professionals have a basic understanding of Ethernet, but no prior knowledge of Carrier Ethernet is required.
Exam Study Guide Purchasing Options
The study guide is available in print and Amazon Kindle editions.
---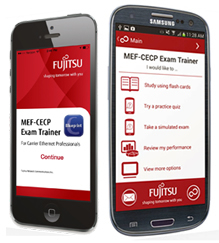 MEF-CECP Exam Trainer App
An ideal companion to the MEF-CECP Study Guide, the Exam Trainer app lets you practice answering questions modeled on those on the real test. The app randomizes the sequence of both questions and answers, emphasizing learning over memorization. Over 200 multiple-choice questions are provided in several study modes, with feedback to reinforce your knowledge. You can also record your scores to see how they improve over time.
Exam Trainer App Purchasing Options
The training app is available for Apple® iOS (iPhone® and iPad®), Android smartphones and tablets and Windows®.
---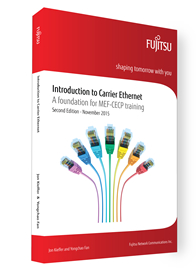 Introduction to Carrier Ethernet
If you're not ready to jump right into Carrier Ethernet, this book will help you prepare by providing an entry-level introduction for anyone new to this key technology, even those who have no background in networking or telecommunications. Use this valuable book as a companion to other MEF training options or as a stand-alone summary of the history, framework and concepts of Carrier Ethernet.
Introduction to Carrier Ethernet Purchasing Options
The Fujitsu Introduction to Carrier Ethernet is available now in Print or as an Amazon Kindle® Edition
Related Documents