<!-Subtext (optional)->
Layer 2 Ethernet Aggregation Switch
1FINITY™ S900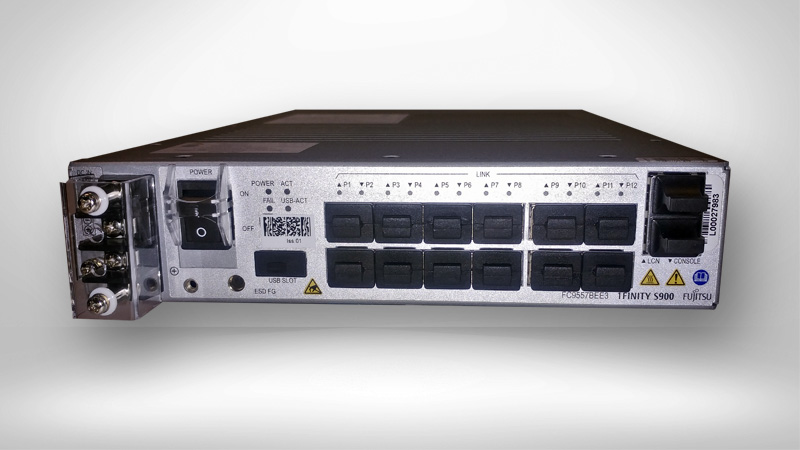 Layer 2 Carrier Ethernet Aggregation and Switching
The 1FINITY S900 Switch delivers 120 Gb of bidirectional Layer 2 packet switching capacity. The blade's small footprint, high port density, and low power consumption together solve
The 1RU blade supports any combination of 12 × 1 GbE or 10 GbE SFP+ configurations, and simplifies operations with Y.1731 OAM and link aggregation (LAG) for facility protection.
Built for Efficient Scaling
As one of the 1FINITY family of blades, the S900 switch shares the advantages of the 1FINITY platform architecture. The S900 form factor is 1RU high but only a half-rack width. This design allows network operators to efficiently scale their networks by adding two S900 blades per rack unit as needed, or by deploying other blades in the 1FINITY portfolio, such as the 1FINITY S100 Switch.
View Product Datasheet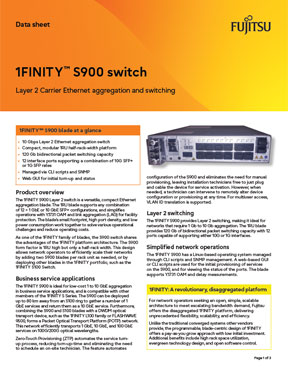 Low-Cost 1 GbE to 10 GbE Aggregation
The 1FINITY S900 is ideal for low-cost 1 GbE to 10 GbE aggregation in business service applications, and is compatible with other members of the 1FINITY S-Series. The S900 can be deployed up to 80 km away from an S100 ring to gather a number of 1 GbE services and return them as a 10 GbE service.
Layer 2 Switching
The 1FINITY S900 provides Layer 2 switching, making it ideal for networks that require 1 Gb to 10 Gb aggregation. The 1RU blade provides 120 Gb of bidirectional packet switching capacity with 12 ports capable of supporting either 10G or 1G interfaces.
Packet Optical Transport Network
Combining the S900 and S100 blades with a DWDM optical transport device, such as the 1FINITY L100 family or FLASHWAVE 9500, forms a Packet Optical Transport Platform (POTP) network. This network efficiently transports 1 GbE, 10 GbE, and 100 GbE services on 100G/200G optical wavelengths.
1FINITY™ S900 Blade at a Glance
10 Gbps Layer 2 Ethernet aggregation switch
Compact, modular 1RU half-rack-width platform
120 Gb bidirectional packet switching capacity
12 interface ports supporting a combination of
10G SFP+ or 1G SFP rates
Managed via CLI scripts and SNMP
Web GUI for initial turn-up and status
Zero-Touch Provisioning Speeds Turn-Up
Zero-touch provisioning (ZTP) automates service turn-up, reducing turn-up-time and eliminating the need for truck rolls. Configuring the S900 requires no manual provisioning, leaving installation technicians free to just plug and cable the device to activate service. When needed, however, a technician can intervene to remotely alter device configuration or provisioning at any time. For multiuser access, VLAN ID translation is supported.
Simplified Network Operations
The 1FINITY S900 has a Linux-based operating system managed through CLI scripts and SNMP management. A web-based GUI or CLI scripts are used for the initial provisioning of services on the S900, and for viewing the status of the ports. The blade supports Y.1731 OAM and delay measurements.
Find the perfect solution for you
Contact us to discover how Fujitsu Network Communications could transform your organization