No more Storage Adventures : Fujitsu UK

No more storage adventures
Your journey to simple, safe and scalable storage.
You may have one business unit, or offices everywhere. You may have a small client-server system, or a large technology centre. Whatever the case, you have data. Lots of it. Storing that data can be a difficult, expensive and time-consuming journey, with obstacles and setbacks to overcome. You'll want to make it less of an ordeal. If you can reduce the complexity of your storage and the number of devices and software stacks you manage, when new projects come on stream or you switch to new architectures you know you'll be able to cope. You'll know, in short, you've arrived.
Watch the No more storage adventures video
Fujitsu ETERNUS storage is designed to make that journey easier. It's a single family, with a single software architecture that delivers high-availability and capacities that scale from the requirements of a small organisation to those of large enterprises. Built on a powerful performance hardware architecture with unified block and file data access, it optimises storage consolidation, reduces storage management administration tasks and keeps the business running even in the event of a disaster. And because our Data Protection Appliances are unified, they can remove the hassle of managing tape, disk and virtual backup and archive.
Fujitsu ETERNUS delivers world-leading performance against the SPC-1 benchmarks* – as well as the outstanding dependability you'd expect from our high-quality combination of Japanese innovation and German engineering.
Simple, safe, scalable storage – Fujitsu eGuide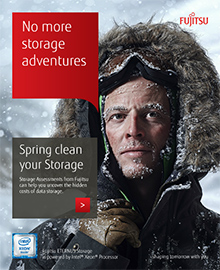 View our Storage eGuide to get an insight in to how Fujitsu ETERNUS helps businesses across the globe to build a secure and dependable storage foundation for their infrastructure.
View eGuide


* Based on SPC-1 benchmarks as of July 25, 2014.

Intel, the Intel logo, the Intel Inside logo and Xeon are trademarks of the Intel Corporation in the U.S. and/or other countries.