Thai Companies Roll Out Digital Technologies in Range of Industries with Plans to Expand Transformation
Key Fujitsu clients in cement and food production, retail payments and electric vehicles say innovation projects improve efficiencies and customer service
Thai companies have launched a number of digital transformation projects, including the first digitally connected plant in Thailand, an innovative cashless-payments service in Bangkok and a cloud-based battery management app for electric vehicles that will be able to float on water.
Now these companies, working with global ICT supplier Fujitsu, are planning to expand their projects to additional locations and to new applications. Fujitsu brought together representatives of the companies for its recent Fujitsu World Tour 2018 Asia Conference Bangkok to discuss the status of the projects and the next steps in the companies' digital journeys.

Bridging Unconnected Spaces
When the Siam City Cement Co., SCCC, was building its connected plant in Thailand, with the help of Fujitsu's smart plant technologies, it had to build a Wi-Fi network across a plant the size of 20 football fields, said Alfred Lim Ong, global infrastructure and architecture division manager for SCCC's IT arm, INSEE Digital. That included crossing tropical terrain covering both considerable horizontal and vertical distances.

"It was a big challenge," he recalls. "There was a very narrow bridge, and we have engineers from Fujitsu and also Cisco go to that bridge, cross that bridge, and they were so afraid to cross it because, when there's a wind, that bridge will really move. But the safety equipment was there and our safety people were there."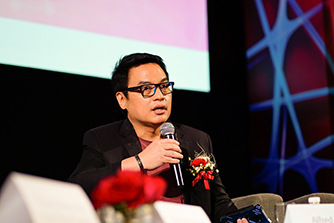 Alfred Lim Ong, Global Infrastructure and Architecture
Division Manager for SCCC's IT arm, INSEE Digital
The engineers completed the pervasive network, which connected the various operations of the plant, including the remote operation center, or ROC. Using Fujitsu technology, the ROC serves as the smart plant's command center, enabling senior managers and engineers to monitor all of the facility's critical machines and data and connecting them with employees and contractors inside and outside of the plant. Fujitsu also provided a contractor management system that ties into the ROC.
"There is a business need from the manufacturing side to digitize operations, Ong said. "It's for efficient operations. They want to minimize downtime."

SCCC launched the smart connected plant in January 2018 and expects its annual overall equipment efficiency, or OEE, to improve by 2% and maintenance costs to decrease by 10% because of the rollout of the digital technologies.
Ong said SCCC would likely expand its smart connected plant project from its Plant 3 to its two smaller cement factories in Thailand, after it confirms the return-on-investment estimates.
"Beyond that, we are also running cement operations in Vietnam, Sri Lanka, and also Cambodia," said Ong. "And we are also planning to expand there for the pervasive network and the other (digital) applications."
Cutting Time in the Queue
Customers of Siam Commercial Bank, one of Thailand's largest and most progressive financial institutions, and The Mall Group, owner of the leading gourmet supermarket chain in Thailand, wanted to launch a cashless-payments service for the retailer's upscale and tech-savvy clientele, who are often in a hurry.
The bank and merchant chose Fujitsu to develop an automated and flexible cashless point-of-sale solution, and the co-creation project launched service in September 2017 at the merchant's flagship store in Bangkok.
The cashless self-checkout had to be easy to use and tailored to Thai consumers. That's one reason software for the system was developed in Thailand, to reduce language problems, and so was the hardware, to keep costs down.
Customers can pay with either PIN-verified bank cards or with a QR code-enabled app on their smartphones. So far, customers seem to have taken to the service. SCB's QR payment transactions have increased. And the service has resulted in shorter lines at checkout for The Mall Group and reduced labor and cash-handling costs for both the retailer and bank, said Fujitsu.
The Mall Group, which records an average of 2 million total transactions per month at its gourmet supermarkets, including those conducted with cash, is in process of rolling out the cashless-payments service across the company's locations nationwide.
Sheau Yan Khong, head of digital innovation of Fujitsu in Thailand noted that the project is in line with the Thailand 4.0 policy of the Thai government to promote cashless payments, and the bank has deployed the project using Fujitsu technology to more than 15 retail outlets with about 30 self-checkout machines.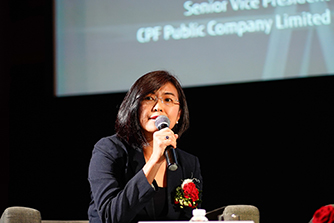 Sheau Yan Khong, Head of Digital Innovation
of Fujitsu in Thailand
"This has helped The Mall Group shorten the queuing time in the gourmet supermarkets and also has enhanced its customer experience and helped the Siam Commercial Bank to enhance its customer experience and also to expand their business channels," she said.
Floatable Electric Cars
Hideo Tsurumaki, president and CEO of FOMM Corp., acknowledges that the electric cars his start-up company plans to produce in Thailand beginning early next year will be very small, but he notes that they will actually be big enough to accommodate four adult passengers – as long as the rear seat is used for people rather than luggage.
Tsurumaki said that one of his inspirations for creating the car was producing a vehicle that could actually float and even propel itself on the water.
"The cause that led me to develop the car is the Great East Japan Earthquake of March 11, 2011," he said. "In that disaster, people used their cars to flee from the tsunami, but they were caught by traffic jams and engulfed by the tsunami. A lot of people died there. So I came up with a floating EV and started a company to deliver the car."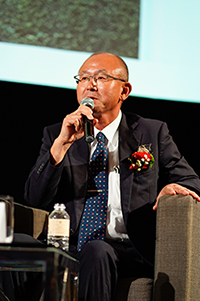 Hideo Tsurumaki, President and
CEO of FOMM Corp.
Among the company's three main objectives is to offer an innovative mobility service providing information on the car's battery and other data stored in the cloud, which is what Fujitsu is working on with the company.
Tsurumaki described FOMM's smartphone app as a "Battery Cloud" service that will help users manage the car's battery life. The app will deliver detailed information, such as remaining miles the user can drive the car on the battery and a map to locate stations where the battery can be replaced, with the condition of the various batteries available at the stations. The app will also give users the ability to make a reservation for the replacement. Fujitsu is playing a role in developing the app and managing the server in Thailand, he said.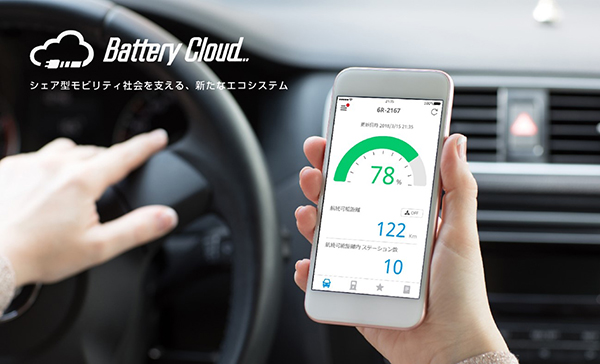 Tsurumaki added that for the future, the company is discussing with its partners developing self-driving technology to make the FOMM electric cars autonomous. And there could be smart city applications, which indicates a possible car-sharing program.
Creating Digital Domains
Charoen Pokphand Food Co., or CPF, a major producer of meat and poultry products and animal feed globally, has set up six "digital domains," as it looks to continue to digitize its operations, said Sakchai Boamoon, SVP of the company. The domains include a digital workplace, robotics, automation of production and data analytics, he said.
The projects with Fujitsu involve digital inspections and maintenance supporting the digital workplace, as well as plant automation. Fujitsu's work will encompass other projects in the future, possibly including data analytics, he said.
"When we're looking at our operation, it seems that now the production cost is higher and higher every day," said Boamoon. "Also, when we look at our product compared to the competitor in this business, I think it's nearly the same. We made the decision that we should change our operation. We went back to study about digital technology again."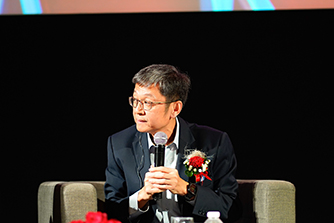 Sakchai Boamoon, SVP of Charoen Pokphand Food Co.
In the future, Boamoon said that among other areas of digital transformation, the company is aiming to increase automation with robotics for processing agricultural products, such as chickens, although he said the company would likely continue to have to develop this automation in-house.
The company is also seeking to bring about more precise procurement of raw materials. "When I talk about this, maybe we can do something with Fujitsu AI to solve this problem," he said.
In summing up, Boamoon gave advice to other companies just getting started with digital transformation.
"It doesn't matter that your business is high technology or not involved with technology, because right now, digital technology can do many things to transform the organization," he said. "We need to start first, and then we will understand more and more, and then we will see what the advantage is when you transform with digital technology."