Fujitsu's purpose is to make the world more sustainable by building trust in society through innovation.
At the Fujitsu ActivateNow Technology Summit Japan 2022 held on June 1, 2022, sessions on cutting-edge technologies—one of the main focuses of research and development—for achieving purpose were held. This article introduces these sessions briefly.
Contents
Key focus areas and key technologies toward a sustainable world
How can we use cutting-edge technologies to achieve a sustainable world? Vivek Mahajan (Fujitsu Senior Executive Vice President, CTO) presented Fujitsu's vision of technology and its commitment to a sustainable world in his presentation titled "Creating a Better Future through Technology."
Fujitsu launched Fujitsu Uvance in 2021 as a new business brand aimed at realizing a sustainable world, with the following seven key focus areas.
Fujitsu Uvance Key Focus Areas
1. Sustainable Manufacturing (recycling and traceable manufacturing that takes into consideration the environment and people)
2. Consumer Experience (payment, retail, and distribution that deliver diverse experiences to consumers)
3. Healthy Living (supporting wellbeing for all people)
4. Trusted Society (building a safe, secure, and resilient society)
5. Digital Shifts (data-driven work style reform)
6. Business Applications (cloud integration applications)
7. Hybrid IT (cloud security)
We believe that five key technologies—computing, network, AI, data & security, and converging technologies—are essential to realize a sustainable society in these seven areas.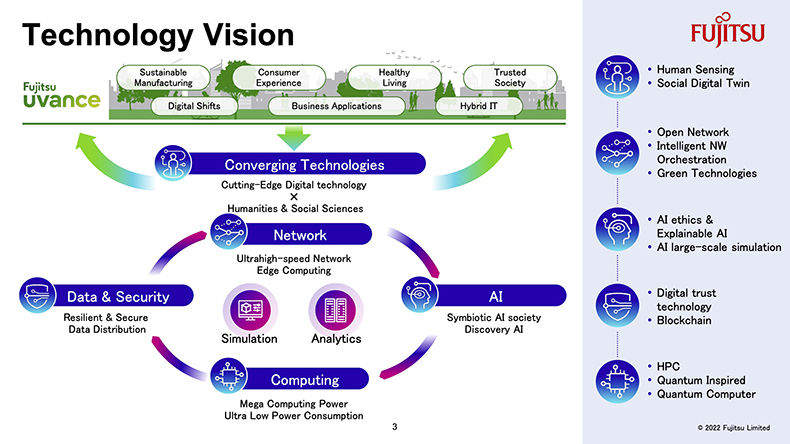 CaaS, an easy way to take advantage of Fujitsu's advanced computing technology
Computing and AI technologies should not be used only by research and academic institutions, but should be available to everyone, including private companies. Fujitsu has systematized the service as Fujitsu Computing as a Service ("CaaS"). The world's most advanced computing technology used in the supercomputer Fugaku is now available to many companies and organizations in the cloud.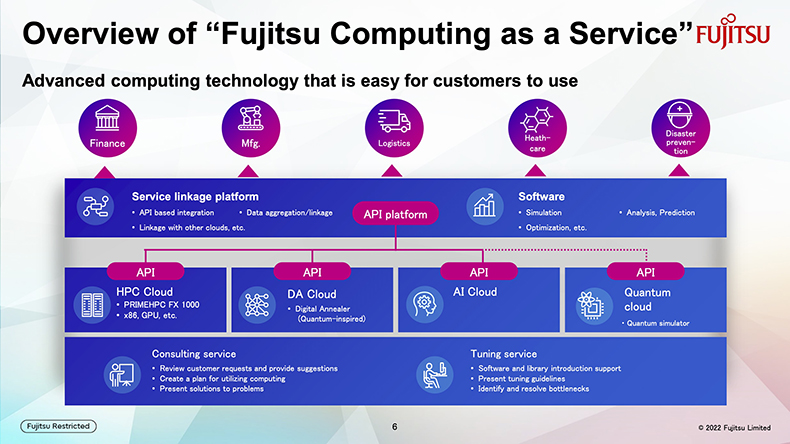 Converging technologies that integrate technology with people and society
At the same time, social issues that need to be solved are becoming increasingly complex and diverse in order to realize a sustainable world. It is true that it is becoming increasingly difficult to solve these issues by utilizing advanced technology alone. Fujitsu believes that combining cutting-edge technologies with people and society will lead to the realization of a sustainable world. Converging Technologies is the technology for this purpose.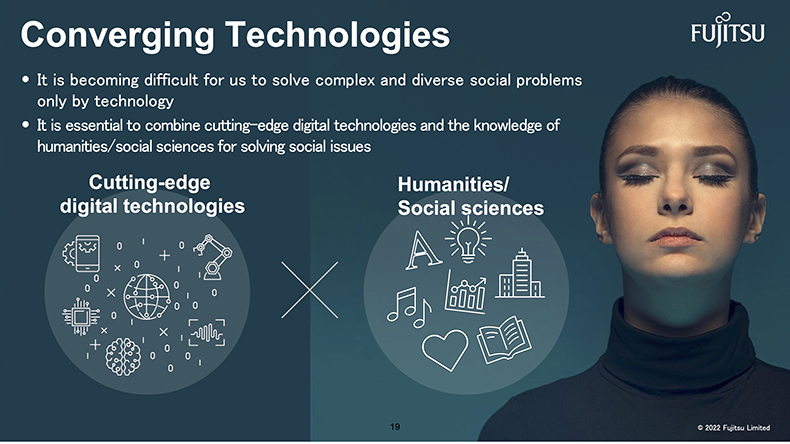 Converging Technologies enables us to understand and predict people's behavior and society, such as detecting and informing dangerous driving, etc. to reduce accidents, detecting and predicting crimes, and predicting traffic volume to both reduce CO2 emissions and improve convenience of transportation.
Next, Fujitsu's cutting-edge efforts in quantum computing and AI—two of the five key technologies—will be introduced.
Fujitsu's quantum computing technology realized the world's fastest 36 qubits.
Shintaro Sato (Head of Quantum Laboratory, Fujitsu Research) introduced specific efforts toward practical applications in a session titled "Quantum Computing at Fujitsu."
One notable achievement is the successful development of a 36-qubit quantum simulator, the fastest in the world. The performance of the quantum simulator is approximately twice that of quantum simulators at other institutions, and we are also developing quantum applications that utilize this quantum simulator. A new 39-qubit simulator is also scheduled for release in September 2022, and a 1,000-qubit superconducting quantum computer is scheduled for release after 2026.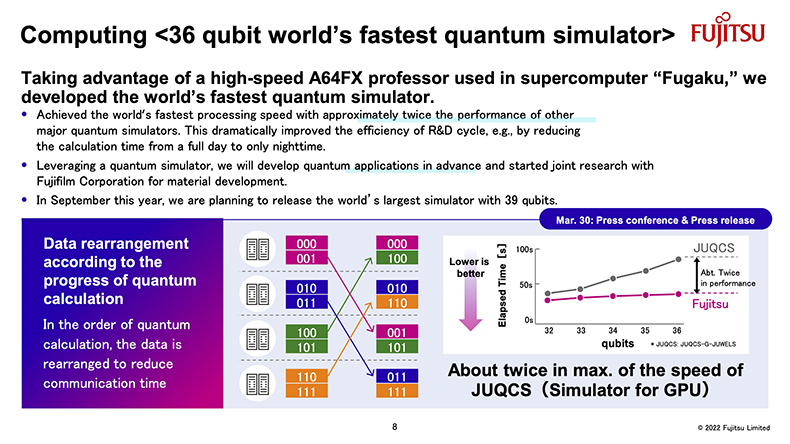 While quantum computers are undergoing rapid technological development, the reality is that they are still difficult to apply to solve real social issues and problems. However, Fujitsu's Digital Annealer, a computing technology inspired by quantum phenomena, has the advantage of being used in a wide variety of fields, including finance and logistics, and has already been offered to customers since 2018, with a total of 186 domestic and international offerings.
Examples of how Digital Annealer solved a problem that was difficult to solve with conventional computing technology
An example of Digital Annealer used in the financial sector is the analysis of risk and return for an asset management portfolio. The combination of hundreds of stocks is so large that it was impossible to compute with conventional computing technology, but the Digital Annealer can complete the calculation in only 10 minutes.
In the field of logistics, a logistics network for auto parts procurement was optimized by rapidly searching for the best route from among more than 3 million routes. The transportation schedule has been optimized and total logistics costs have been successfully reduced.
An interesting example is the allotment of spectator seating in foreign soccer stadiums. With the demand for social distance in the COVID-19 outbreak, Digital Annealer was used for the purpose of efficiently allotting seats to each group. This has resulted in a 60% increase in the number of spectator seat allotted, contributing to a significant increase in ticket sales.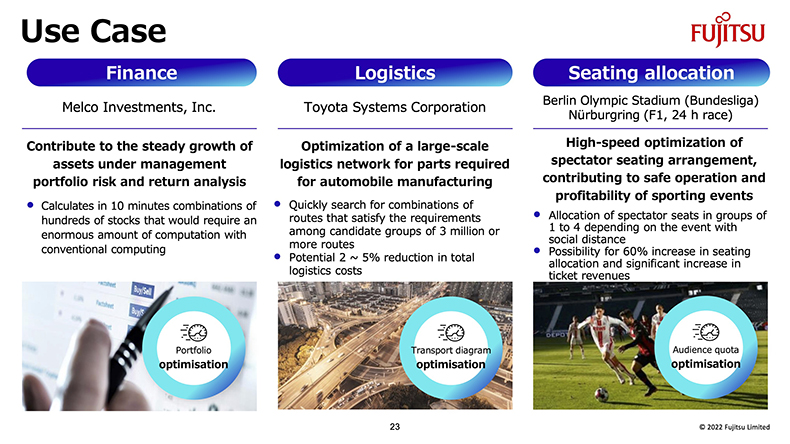 Digital Annealer is also expected to be applied to IT drug discovery.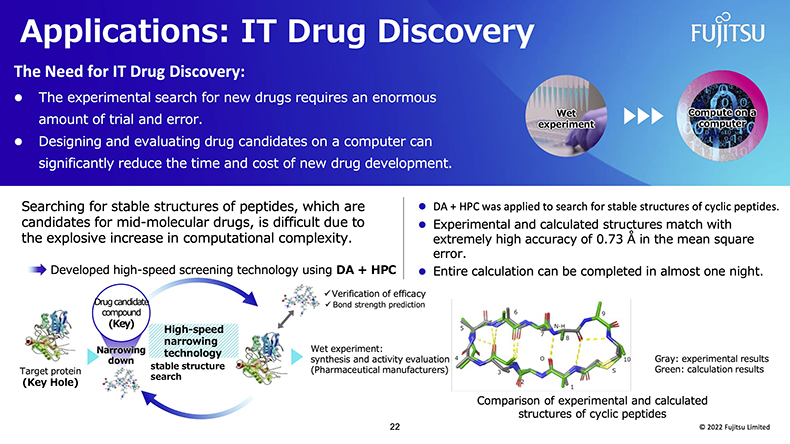 Fourth generation Digital Annealer was released
New versions of Digital Annealer has been released every year so far, and the fourth generation was released in May 2022. It is about 10 times (maximum) faster than the third generation. Fujitsu will continue to develop technologies to further improve the performance of Digital Annealer.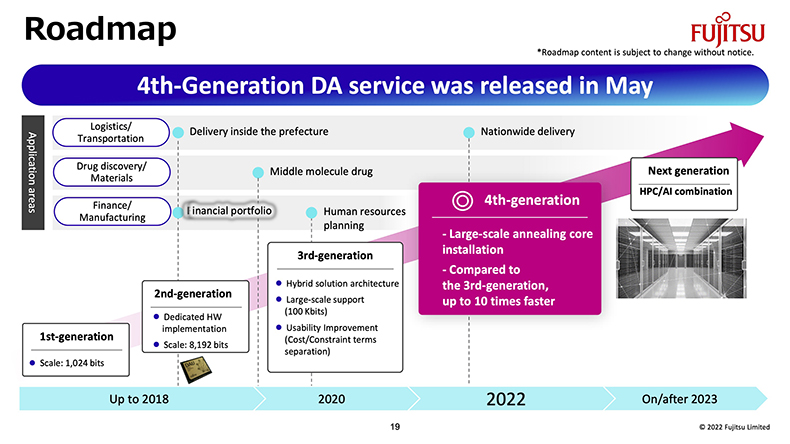 AI to take on even greater value by combining with other technologies
Seishi Okamoto (Fellow and Head of Research Unit, Fujitsu Research) explained in his presentation titled "AI Research Activities and Directions at Fujitsu" that AI will demonstrate its true value when combined with computing, networking, and other technologies.
Three new trends emerging in the world of AI
AI is rapidly spreading and democratization is proceeding. Fujitsu has approximately 5,400 cases that included AI utilization in Japan and overseas.
On the other hand, the following challenges exist.
Practical AI model creation: Trial and error of experts are still needed to get good accuracy.
AI model maintenance: AI model sometimes gets deteriorated during operation phase.
New ethical issues with AI: New solution is needed to deal with bias and laws/regulations of AI.
To address these issues, a new trend is emerging in the AI field.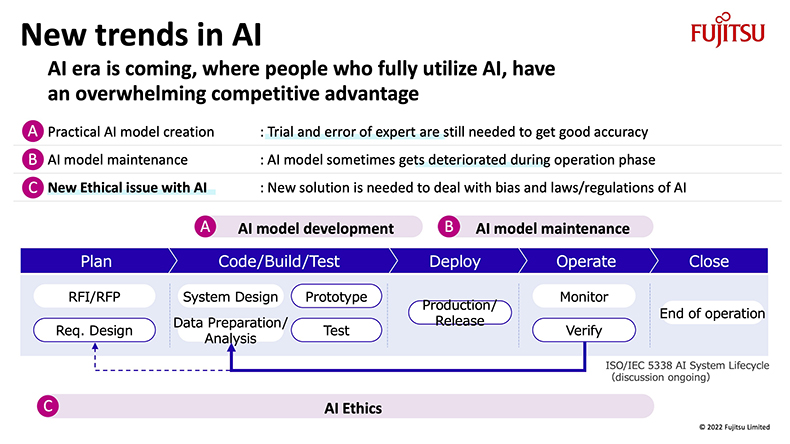 In practical AI model creation, automated machine learning (AutoML) are rapidly developing. Fujitsu utilizes AutoML to reduce the time required for AI to learn data and improve accuracy.
In AI model maintenance, attention is focused on high durability learning (HDL) technology, which automatically monitors AI accuracy and enables repair to prevent AI models from becoming deteriorated. Fujitsu also has examples of implementation in many areas, including government agencies, the food and beverage industry, and manufacturers. A major advantage is the ability to add-on to systems already in operation.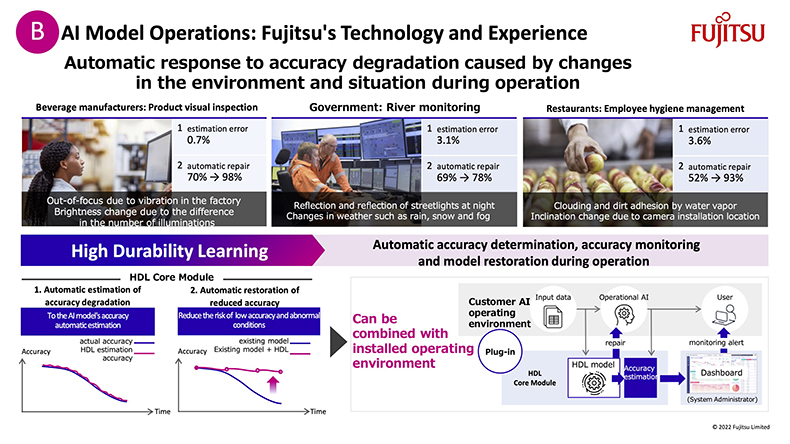 Regarding the new ethical issues with AI, there is a need to establish a variety of rules and regulations regarding AI. Fujitsu has established the Fujitsu Group External Advisory Committee on AI Ethics and is working on the Fujitsu Group AI Commitment and is also actively participating in research and dissemination activities for AI ethics. On top of that, Fujitsu helped with optimization of bank loan screening through non-discriminatory and impartial AI.
Contributing to the realization of a sustainable society with the world's most advanced computing technology
By integrating Fujitsu's advanced computing technologies, AI is expected to help create even more value. For example, a computer simulation of inundation based on tens of thousands of tsunami scenarios was performed and modeled by machine learning to achieve high-accuracy forecasts at 3-meter scale on a map. Especially in waterfront areas where extensive damage is expected, detailed inundation forecast information that takes into account the impact of buildings and roads can be obtained to support safe evacuation.
In addition, by combining data security technology with AI, it is now possible to manage data authenticity, as well as track change history and data provenance. This will promote data utilization within companies and organizations as well as between companies. The integration of data security technology and AI is being promoted through collaboration between local governments and private companies.
While combining AI with technologies from other fields, Fujitsu will use AI for data analysis in various fields other than those mentioned above, such as drug discovery, development of new materials, and productivity improvement, and will also continue its efforts to expand new innovation through AI and pursue reliable AI.
And by integrating computing technology with AI and continuing to provide a variety of services, including CaaS, Fujitsu will work together with its customers to promote and realize DX and contribute to the realization of a sustainable society.
<Speakers>
Vivek Mahajan
Senior Executive Vice President, CTO
Fujitsu Limited
Seishi Okamoto
Fellow
Head of Research Unit, Fujitsu Research
Fujitsu Limited
Shintaro Sato
Head of Quantum Laboratory, Fujitsu Research
Fujitsu Limited
Related Information