The 6th International Conference on Sustainable Brands 2022 Yokohama, a community event for global sustainability leaders, was held on February 24 and 25, 2022. At the session held on the 25th, Manabu Morikawa (head of CHRO, Fujitsu) spoke on the theme of "How can Sustainability Transformation (SX) revitalizes organizations and Society?" Morikawa introduced Fujitsu's efforts to realize a sustainable world through human and organizational transformation.
目次
Gathering the thoughts of all 130,000 employees, from the president to new employees, to create a sustainable world.
Fujitsu has defined its own purpose in 2020 as to "make the world more sustainable by building trust in society through innovation." This purpose embodies Fujitsu's role in society and a compass that indicates the direction in which we should go. We believe that if our 130,000 global employees always share the values of our purpose and work daily to realize them, we will enhance the sustainability of society.
Fujitsu's responsibilities, including "well-being" that creates an environment where all employees can work actively and "human rights, diversity & inclusion (D & I)" that respects diversity, are defined as seven important issues (global responsible business). We incorporate them into our management policy and set goals (KPIs) for each of them. By doing so, Fujitsu will realize its purpose. We have also launched a new business brand, Fujitsu Uvance, and are promoting various initiatives in seven key areas to realize a sustainable world.
The word "Uvance" embodies a concept of making all (Universal) things move forward (Advance) in a sustainable direction. It demonstrates Fujitsu's determination of building new possibilities by connecting people, technology, and ideas, creating a more sustainable world where anyone can advance their dreams. Envisioning society in 2030, we believe that promoting business focused on solving social issues under the concept of Fujitsu Uvance and achieving our purpose will lead to the realization of a sustainable world.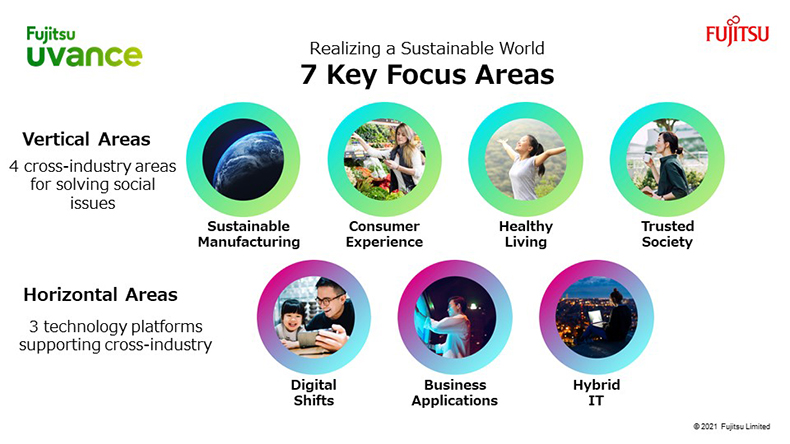 For everyone to be completely themselves: Organizations that respect diversity create innovation
Fujitsu has begun a variety of initiatives to change itself toward the realization of a sustainable world. One of these is the transformation of human resources and organizations. To realize our purpose, every employee must ask themselves how they can contribute to solving social issues through their business and be willing to take on challenges. It is essential for each employee to have a mindset that encourages independent thinking and action with an awareness of the issues, and for the corporate culture to support this mindset. Therefore, Fujitsu is working to transform its human resources and organization by linking human resource strategy with management.
At the core of the corporate management in uncertain times is human capital. We believe that communication and ideas born from diverse people and values will lead to innovation and the creation of innovative ideas for solving social issues. To this end, understanding and empathy for society and people are essential, and it is also important for employees to recognize differences and respect diversity among themselves.
Fujitsu has established the Global D&I Vision & Inclusion Wheel to promote inclusion that makes the most of individual difference, and has set "everyone can be completely themselves" as its goal. We are working to create workplace where diverse factors and fields are respected and admitted to make the most of such diversity.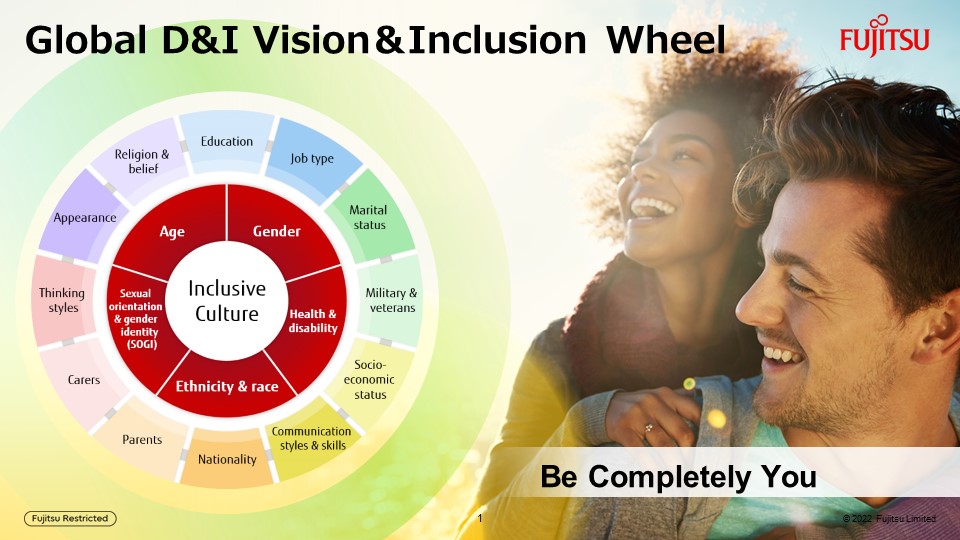 Aligning the personal purposes of employees and the company to make work more personal
In order to create a workplace that makes the most of diversity, individual awareness and change in mindset are important. To this end, we are conducting company-wide "Purpose Carving," a dialogue program to verbalize the thoughts and personal purposes of each and every employee. To accelerate this kind of reform, we believe that it is important to start with the president and other members of the management team as transformation from "TOP FIRST."
Through this dialogue program, "Purpose Carving," we hope that each employee will uncover his or her own personal purpose, and by aligning the personal and company purposes, we expect that individual and organizational behaviour will change. We want to make Fujitsu a company where employees share Fujitsu's purpose, and at the same time, pursue their own personal purposes to make the company a happier place to work. We believe that these efforts will lead to the realization of Fujitsu's purpose and contribute to the creation of a sustainable society.
An environment where people can work autonomously and move forward on their own feet to make their business sustainable.
On the other hand, for an organization to change, people who make up the organization must change. When each employee has the mindset to think autonomously and move forward, the organization will change. To make this mindset the drive for organizational reform, Fujitsu has transformed its human resource management and created a system to support employees' autonomous work styles.
Specifically, we are expanding the internal posting system to support employee challenges, introducing a job-based compensation system, and the compensation and evaluation system for personnel with advanced expertise. Currently, approximately 800 new managers are being promoted through the posting system, and approximately 2,300 positions are open through the posting system, allowing employees to move around on their own and work in jobs that they find rewarding. (as of March 2021)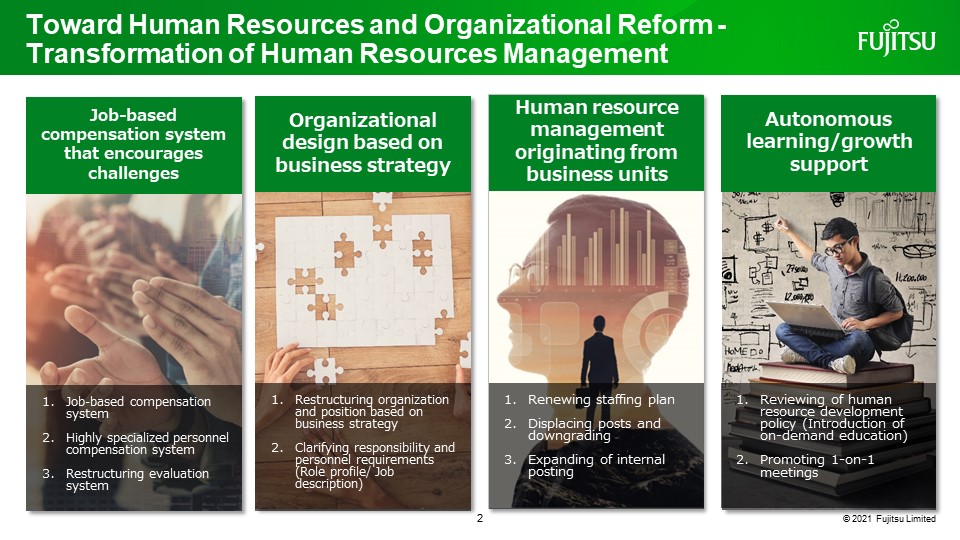 Furthermore, we are working globally by proposing the concept of well-being so that each employee can realize what they want to be. Well-being concepts include: To learn autonomously and continue to grow to maintain and improve the physical and mental health of employees and their families (Career & Growth Well-being), to obtain appropriate and fair rewards according to their roles and contributions (Financial Well-being), and to build and maintain trust and relationships with colleagues, family and friends (Social Well-being).
Many companies tend to view spending money on such initiatives as a short-term cost, but it is important to think of it as a medium- to long-term investment that will have an impact on people and the organization to transform the organization.
Another major change is the promotion of work style reform under the concept of "Work Life Shift." Fujitsu has eliminated daily commuting, allowing employees to autonomously choose their own optimal work style. Based on the relationship where the company trusts its employees and the employees trust the company, Fujitsu has three concepts: "Smart Working" that allows employees to work in the way that best suits their work and lifestyle; "Borderless Office" that allows employees to work anywhere; and "Smart Work" that is based on the autonomy and trust of employees.
Fujitsu is committed to creating an environment in which each and every employee can maximize his or her potential through the transformation of human resources and organizations, and aims to realize a sustainable world through its purpose: Make the world more sustainable by building trust in society through innovation.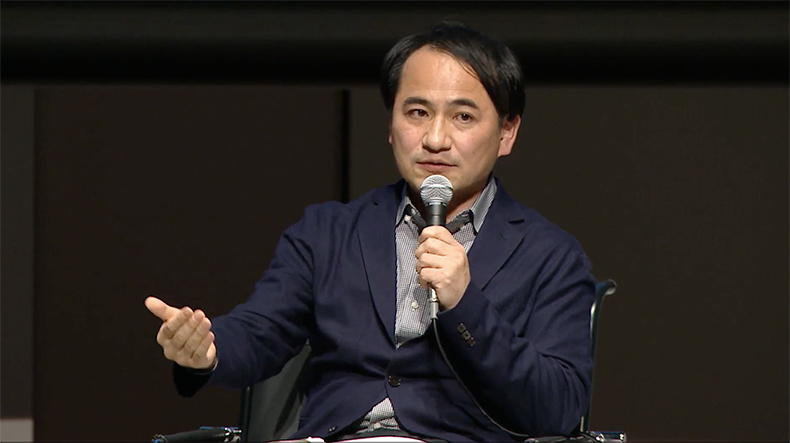 Related Information