<!-Subtext (optional)->
TeamPoS 7000 M-Series
High Scalability and Human-friendly Design with Beautifully Integrated Modular Components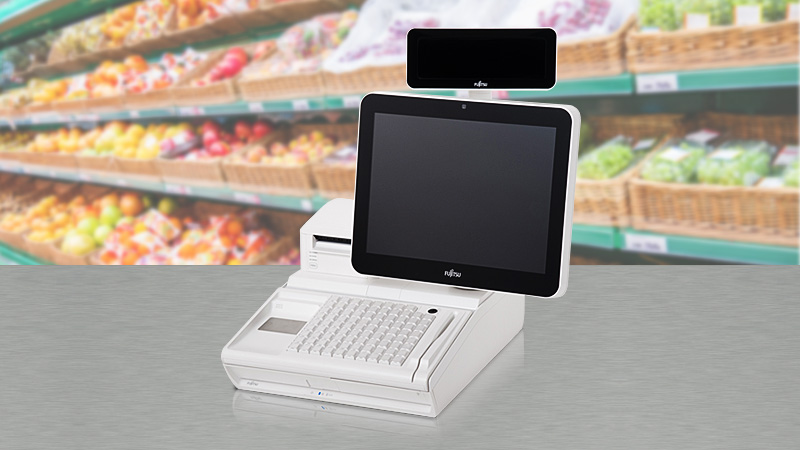 Flexible and Compact
The TeamPoS 7000 M-Series design increases usability and fits a wide range of store environments. The completely self-contained unit improves the "look" of counters and increases reliability. The elegant and sleek appearance improves store ambiance and the retail shopping experience. The intuitive fine-view full-flat LCD with a resistive touch screen looks great and complements the interior of stores. Stacked or Dispersed installation can be selected.
Ergonomic and Advanced
The reduced unit height helps operators reach the drawer easily, helping store staff to work promptly and reduce customers' waiting time. The displays are on flexible double arms, which swivel, tilt and are slide adjustable to provide the best LCD angle. The leading-edge technology includes a proximity sensor and a Camera/Mic that supports interactive operation, reducing maintenance time. Anti-discoloration materials give the Royal White finish a continuous color, leaving an impression of cleanliness.
Scalable and Green
The TeamPoS 7000 Series offers a wide selection of microprocessors, from the Intel® Celeron® Processor G3930TE to Intel® Core™ i3-7101TE Processor. The high-performance i3 CPU enables application software to run at blazing performance. The high-capacity storage SSD and RAID helps protect critical data and better control the risk of data loss. Along with the latest energy-efficient CPUs, a proximity sensor is used in automatic power saving control to reduce wasted power and operational costs, improving TCO. The TeamPoS 7000 Series is an industry-leading Green Product from start (manufacture) to finish (plastics recycling).
Key Features
Access-friendly layout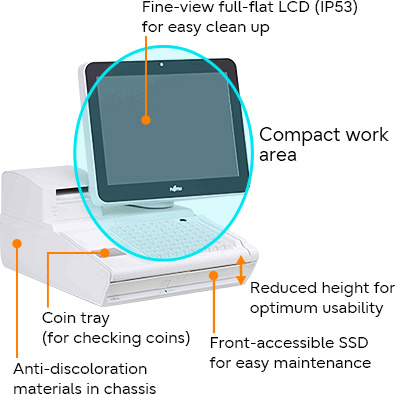 Displays on flexible arms
(swivel, tilt and slide adjustable)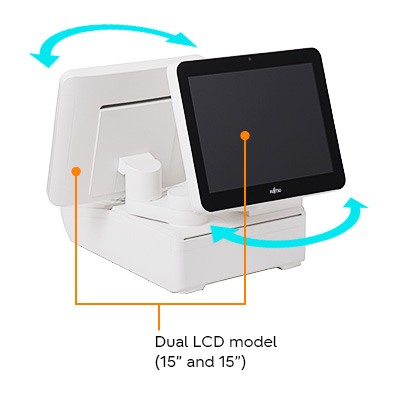 Latest Technology
Support Windows 10 IoT Enterprise
Newly added peripherals (Camera/Mic, Proximity Sensor)
High-performance i3 CPU to easily handle applications
Minimum 4GB of memory
Core connectivity with add-on ports for demanding configurations
High capacity SSD and RAID for secure data
Easy-to-clean full-flat LCD (IP53)(Note) with water and dust resistance
High-performance 1-station thermal printer (300 mm/sec.) with user-replaceable parts (cutter, platen)
(Note) Front display
Contact Us
If you have any questions regarding our products & services please click the "Inquiry (Products & Services)" link below.