WT-A533

Increased reading distance and new tag design enables batch reading of flat linens in hundreds quickly and accurately even under stringent commercial laundry environments
The new series of ultra-rugged RFID tags incorporate the newest materials and antenna design, made to withstand 60 bar of extraction pressure while improving reading range up to 30% over its predecessor, WT-A522.
Being one of industry's smallest washable UHF RFID tags, WT-A533 is extremely flexible, yet durable, and thus making it ideal for flat linens and garments tracking. The ultra-rugged nature of the tag's design and materials is intended for long deployment cycles, allowing the tag to be reused into another linen item within the intended life-cycle time, reducing total cost of ownership.
In addition, the tags offers enhanced security that prevents against theft or loss, and allows the assets to be managed more accurately.
Specifications

Download

Features
Superb Functionality
UHF efficiency coupled with Fujitsu's patented antenna design brings excellent read performance and allowing batch reading on hundreds of tags in a single pass. WT-A533 to be read at 2 meters or more with a very high accuracy.
High Durability
Superior resistance to water, heating, pressure and chemicals of varieties.
WT-A533 can withstand high pressure extractors and flatworks irons used in high-throughput laundries factories.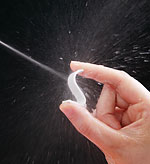 Durable and Flexible
Heat-seal Capability
Heat-seal capable for an easier tagging. WT-A533 delivers significant cost-reduction even during the installation.
Small and Flexible
Flexibility and small dimensions allow WT-A533 to be embedded comfortably into assets such as garments, ties, or linen.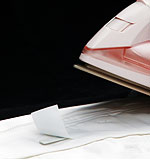 Heat-seal ready
Main Applications
Products
| | |
| --- | --- |
| Textile Products | Uniforms, Work Garments, Mops, Linens, Canvas Bags, etc. |
| Plastic Products | Pallets, Containers, etc. |
| Rubber Products | Dust Control Mats, etc. |
Target Applications
Textile Products: Uniforms, Work Garments, Mops, Linens, Canvas Bags, etc.
Rubber Products: Dust Control Mats, etc.
Plastic Products: Pallets, Containers, etc.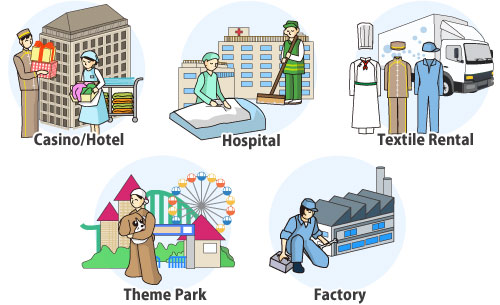 Example of Scene : Using tags to manage uniforms
Businesses can take advantage of the new Fujitsu A533 RFID tags to manage their washable assets more efficiently and accurately. Combining the efficiency of inventory management with the extended range and accuracy of UHF tag technology, customers will find significant improvement in receiving, shipping, and tracking of assets, while keeping their operation costs low.