<!-Subtext (optional)->
FUJITSU 9870 GPP Roll Stand - Roll Stand with RFID for FUJITSU Printer 9870
Supporting to RFID operations for the future
Features
World class performance, reliability, easily & flexibility
FUJITSU's mechanical components expertise implemented
Read ratio is more than 99.99%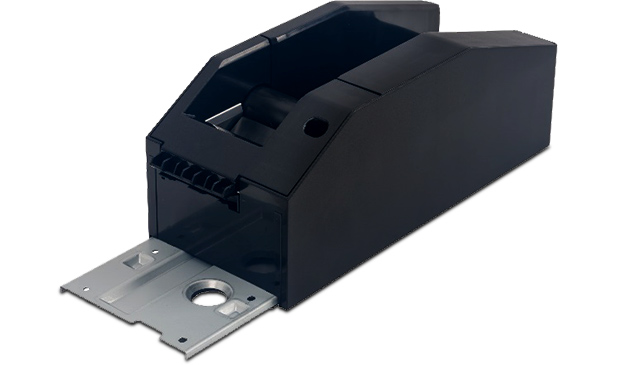 Innovated compact design
FUJITSU 9870 GPP Roll Stand
: W 109.2 – H 103.9 – D 340 (mm) / 0.9Kg
[W 4.3 – H 4.1 – D 13.4 (inch) / 1.98 lb]
FUJITSU Printer 9870 GPP + FUJITSU 9870 GPP Roll Stand
: W 150 – H 131.5 – D 387.4 (mm) / 2.8Kg
[W 5.9 – H 5.2 – D 15.2 (inch) / 6.2 lb]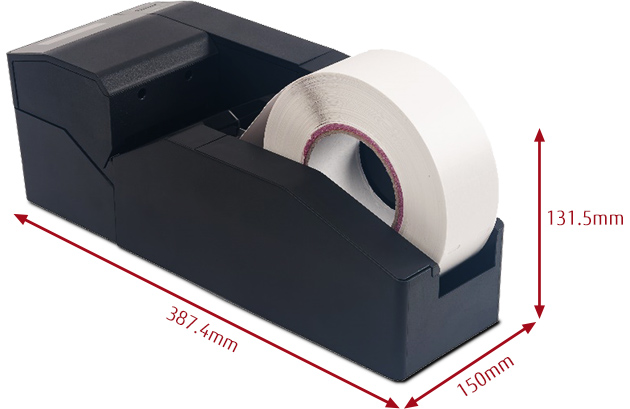 User friendly
Retrofitted option for FUJISTU Printer 9870
Assistance for cost-effective investment with flexibility
Single action to set Baggage tag roll
Support 2 type of RFID Baggage tag roll (Face wound out and Face wound in)
Versatile Interface
Fully AEA 2012
Certified to;

ARINC iMuse / vMuse / cMUSE
Amadeus Airport IT Americas EASE
TravelSky New APP / Angel NEW APP
*Updated sequentially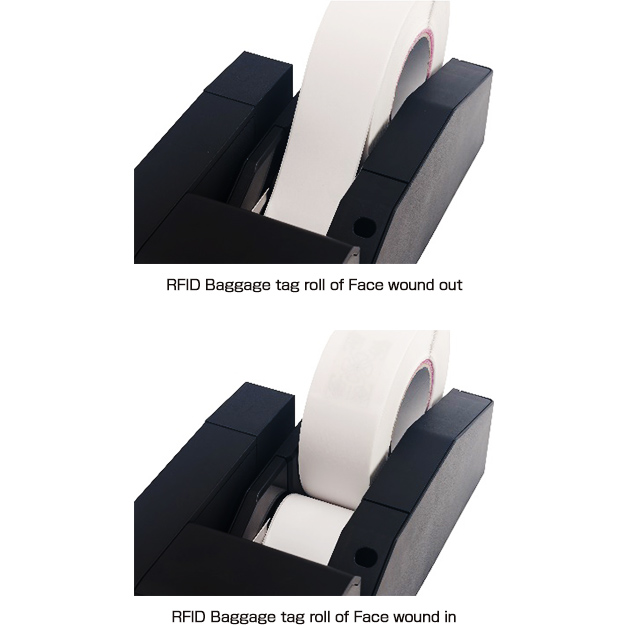 Specifications
Items
Specifications
Support Radio
UHF=Ultra High Frequency
Certificate of Radio Frequency
TELEC (Japan), SRRC (China), FCC (USA)
* Update sequentially
MTBF
(Mean Time Between Failure)
AFR (Annualized Failure Rate)
440,000 Hours
Less than 0.01%
Read Ratio
More than 9,999/10,000 for Baggage Tag (99.99%) * Due to our test
Environment Installed
150 VA maximu at operation, 10 VA maximum at standby (Print duty 9%)
Less than 0.1 W at standby with Fujitsu Printer 9870 GPP
At operation : 5 - 35℃ / 10 - 80%RH Alarm buzzer, 0 - 5,000m altitude
At storage : -20 - 60℃ / 8 - 90%RH
Easy Maintenance
The computer tool for diagnostic and test function
Statistics data for transactions by log file
Error message on LCD of FUJITSU Printer 9870 (Limited to LCD specifications)
Conformable Standards
Fully AEA2012
IATA Resolution 740, 1740e, 1740c and 1773a
Assist IATA Resolution 753
Data Interface
Certified by Travelsky NewAPP Angel/NewAPP AngelCue, ARINC iMUSE / vMUSE / cMUSE
Amadeus Airport IT Americas EASE
* Update sequentially
Physical Data
FUJITSU 9870 GPP Roll Stand
: W 109.2 – H 103.9 – D 340 (mm) / 0.9Kg [W 4.3 – H 4.1 – D 13.4 (inch) / 1.98 lb]
FUJITSU Printer 9870 GPP + FUJITSU 9870 GPP Roll Stand
: W 150 – H 131.5 – D 387.4 (mm) / 2.8Kg [W 5.9 – H 5.2 – D 15.2 (inch) / 6.2 lb]
Connectivity
Specialized connector to only FUJITSU Printer 9870 GPP
Power Supply
Supplied from FUJITSU Printer 9870 GPP
* Product specifications are subject to change without notice. All data is based on internal testing, and results may vary with the conditions.
* All brand names and product names are trademarks or registered trademarks of their respective companies.
Contact Us
If you have any questions regarding our products & services please click the "Inquiry (Products & Services)" link below.