Recruit and Development of Human Resources
We have nurtured human resources who can enhance and provide the value of Fujitsu Frontech from a global perspective.
Personnel development system of Fujitsu Frontech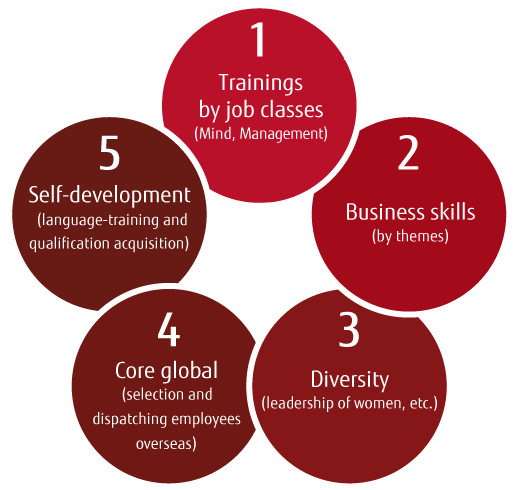 Training for new employees
During the first year after joining the company (starting from April), new employees acquire basic business skills and expertise which are the base of job. In the second year and beyond, we will continue to conduct trainings at Niigata plant and on-the-job trainings at the departments where employees are assigned, and we will follow up on employee growth.

Focus on training of core global human resources
We focus not only on the trainings by job classes (new employees - mid-career employees - management-level workers - directors), business skills (expertise by themes) or diversity (leadership of women), but also training of core global human resources.
[Core human resources] We nurture young employees including new management-level workers to be a person who can offer business proposals that combine necessary elements from a comprehensive perspective, without being bound by our own framework.
[Global human resources] We support talented young employees in acquiring global business literacy.
[Enhancement of English proficiency] We support to enhance basic English skills to succeed in business competition.