PRESS RELEASE
July 8, 2020
Fujitsu Frontech Limited
New product for embedded device comes out to airline printer series
with top share in Japan
Compact printer module for self-baggage drop and self check-in system
Tokyo, July 8, 2020 – We have developed a new product "FUJITSU Printer 9890S" that will be embedded in devices that print airline tickets, boarding passes, and baggage tags in airport, and we release this from today.
This product is printer module which will be installed mainly in unmanned self-baggage drop system (SBD) and self check-in system (KIOSK). This product can be used for variety of ticket/baggage tag samples used in the world and it is possible to handle RFID and liner-less baggage tags (*1) which demand is expanding these days only by adding or exchanging option parts.
We will contribute to smooth boarding procedures and reducing congestion not only at staffed check-in counters but also at self check-in area and lead to customer's satisfaction.
Background
The introduction of the SBD and KIOSK, which allow travelers to deposit their luggage and check in by themselves, is progressing rapidly around the world, against backdrops of needs for congestion reduction in boarding procedures and labor cost reduction.
To respond to these demands, we developed a model printer that can be embedded in self-service devices by utilizing FUJITSU mechanical component's expertise we have cultivated over many years. More than 100,000 of our airline printers have been sold globally and it makes us have 90% share of check-in counters of airports in Japan. (*2)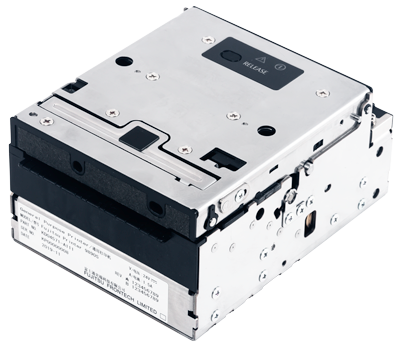 FUJITSU Printer 9890S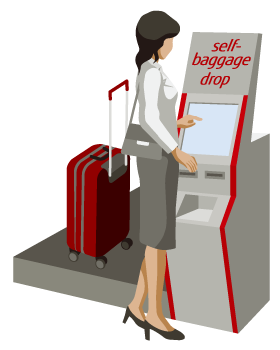 Example of using SBD/ KIOSK
with FUJITSU Printer 9890S
Feature
1. Compact size to be installed in machines
W110mm x D140mm x H68mm
This product is extremely compact as a printer for embedded SBD/KIOSK devices and realizes the optimum size and shape to fit SBD/KIOSK.
2. Expandability for various baggage tags
It is possible to handle special baggage tags (RFID, Liner-Less), for which demand is expected to increase more in the future, simply by adding or replacing optional parts. The total costs of airports and airlines can be reduced when used for many years than other printers.
3. Fully equipped standard unit
Cutter Unit and Cut & Cramp functions are standard equipment.
This enables to use variety of samples from the beginning.
What's next
In addition to promoting sales to airlines and airports globally, we are planning to release airline printer for staffed check-in counter based on this printer module in 2021.
Price and delivery schedule
| Product name | Price(w/o tax) | Delivery schedule |
| --- | --- | --- |
| FUJITSU Printer 9890S | Open price | July, 2020 |
| FUJITSU Printer 9890S (liner-less) | Open price | July, 2020 |
| RFID Option | Open price | July, 2020 |
Sales Target
Over 30,000 units until FY2023(Globally)
Specifications
Product name
FUJITSU Printer 9890S
Dimension
W 110mm x D 140mm x H 68mm
Weight
1.4Kg
Print Speed
Selectable from 5, 6, 7, 8 inch/sec
Environment Installed
At Operation:5 to 40°C / 30 to 85%RH
Electricity
MAX 150W
Power Supply
24Vdc
Data Interface

ITPS (*3) standard
Certified by: ARINC vMUSE / ARINC iMUSE / ARINC cMUSE / Navitaire GoNow&NewSkies are compatible

Will be certified by: SITA AirportConnect (CUTE) / SITA Liaison / Amadeus Air IT Americas EASE / Travelsky NEW APP / Travelsky Angel NEW APP / Microsoft Windows® driver for airline use *Update sequentially
Related Links
About Trademarks
All other company or product names mentioned herein are trademarks or registered trademarks of their respective owners.
Notes
Baggage tag without paper-liner.

According to our report in July, 2020.

The IATA Technical Peripheral Specifications formerly known as AEA Technical specification.
About Fujitsu Frontech
As part of the Fujitsu Group, Fujitsu Frontech Limited ties people and ICT together through the development, manufacture and sales of front-end technologies such as ATMs, banking terminals, palm vein authentication system, RFID, and totalizator terminals. Fujitsu Frontech also offers related software, system integration and services as part of its total solutions. Fujitsu Frontech Limited (TSE: 6945) reported consolidated revenues of 91 billion yen (US$834 million) for the fiscal year ended March 31, 2020. For more information, please see https://www.fujitsu.com/jp/frontech/en/.
Contacts
FUJITSU FRONTECH LIMITED
Global Business Unit
Tel: +81-42-377-2649 (direct)
Office hour: 9am-5pm (except Saturday, Sunday, and National holidays)
E-mail: ftec-airlinesales@dl.jp.fujitsu.com
---
All company or product names mentioned herein are trademarks or registered trademarks of their respective owners. Information provided in this press release is accurate at time of publication and is subject to change without advance notice.