Corporate Profile
Greetings from the President
Fujitsu Client Computing was founded in 2016 with the intention of "Providing a computing environment to help enrich your lifestyle".
For the 40 years since the launch of FM -8 in 1981, we have responded quickly to customer needs with an integrated system that includes planning, development, design, manufacturing, sales and support.
In recent years, the customer's ICT environment has become more complex and sophisticated as digital technologies have become widespread to promote so-called digital transformation, which has greatly changed the way people live and work. In this context, we feel that our products and services are becoming increasingly useful because they always exist between data and IT services and customers.
In Japan, an advanced country with a low birth rate and an aging population, we are working to eliminate the digital divide by reducing the number of people left behind in digital technology with "snuggle up to" products. We will also work with our shareholders and business partners, Fujitsu and Lenovo Group, to expand our business globally.
We will continue to work together to create valuable products that will benefit our customers and business partners. We look forward to your continued support.
Fujitsu Client Computing Co., Ltd.
President and Chief Executive Officer
Takeshi Okuma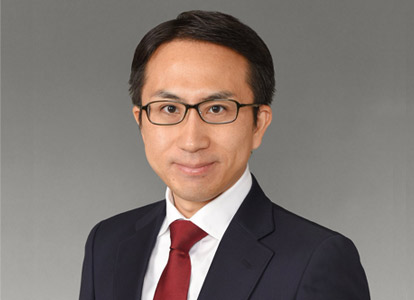 Corporate Profile
Company Name
Fujitsu Client Computing Limited
Location
Headquarters
Shinkawasaki Twin Tower (West Tower) 1-1-2 Kashimada, Saiwai-ku, Kawasaki, Kanagawa 212-0058, Japan[Map]
Business Sites
Domestic

Hokkaido [Sapporo], Tohoku [Sendai], Kanto [Saitama], Hokuriku [Kanazawa], Tokai [Nagoya], Kinki [Osaka], Chugoku [Hiroshima, Okayama], Kyushu [Fukuoka], etc.

Overseas

Taiwan Representative Office

Representative
Representative director and president Takeshi Okuma
Capital
400 million yen
Foundation
February 1, 2016
Major Businesses
Planning, R&D, designing, manufacturing, sales, maintenance and support of notebook PCs, desktop PCs, etc.
Employees
1,126 employees (as of April 2023)
Group Companies
Shimane Fujitsu Limited(Japan)
FCCL GmbH(Germany)
0fficers
Kuniaki Saito

Director & Chairman

Takeshi Okuma

Representative Director
President & CEO

Hiroyasu Takeda

Senior Executive Vice President
& COO

Toshihisa Takashima

Senior Vice President
Head of Consumer
Business Unit

Yoji Hirosue

Senior Vice President
& CTO
Head of Product
Management Unit

Nanahiro Kida

Executive Officer
Head of Marketing Unit

Shinji Yoshida

Executive Officer
Head of PRS Business Unit

Dieter Heiss

Executive Officer
FCCL GmbH

Hiroki Takahata

Executive Officer
Head of Business
Operations Unit
Non-executive Directors

Ken Wong
Wai Ming Wong
Jammi Tu
Junji Ishihara
Yukiko Nanba

Statutory Auditor

Joey Wong
Satoshi Watanabe