Archived content
NOTE: this is an archived page and the content is likely to be out of date.
Insurance Transformation Services


Fujitsu Insurance Digital Transformation
Worldwide, insurance organizations are being placed under intense pressure to adapt and evolve at an unprecedented rate to meet rising consumer demand for innovative new digital services. Today, the digital landscape is being driven forward by the empowered customer, and in this new customer-led environment innovation, value and transparency inspire loyalty.
Within the insurance industry, the customer experience is everything - as highlighted by recent research in which two-thirds of customers stated that it's the quality of their customer experience that keeps them loyal. Consumers want personalised and seamless user experiences across all channels, and digitalization is key to delivering on this requirement.
For insurers to retain existing customers and attract new ones, they must become digital natives and fully embrace technological advances such as IoT, AI and Robotics. Those insurance service providers who fail to adapt and evolve, risk losing out to their competitors that do.
Find out more about our Insurance Technology Solutions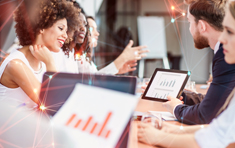 Empowering your workers to enhance the insurance customer experience with Fujitsu Digital Workplace offering, Fujitsu Global Application Modernization service, and Fujitsu XpressWay Business Consulting
Fujitsu digital transformation offerings for insurers – Fujitsu IoT solutions, Fujitsu Cloud Service K5 and Fujitsu Finplex Financial Solution.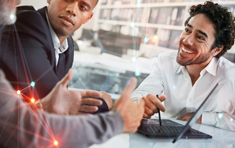 Fujitsu IT security solutions - protecting your data and systems from attack
Co-creating tomorrow's insurer video
Why choose Fujitsu for your insurance transformation?
For over 40 years, we have been a trusted insurance IT solutions provider to the financial services sector. We have in-depth understanding of the demanding climate in which you operate, and have the digital solutions you need to face the challenges of the future.
At Fujitsu, we take a co-creation approach to solution design, development and implementation. Working together we can deliver a digitally enhanced experience that can enable you to compete with insurtechs on a level playing field. Our digital solutions can meet your specific insurance industry needs, help you to stay ahead of market change, solve current challenges, and create new opportunities.
We offer a broad range of solutions that transform operations, streamline processes, detect fraud and connect you with your customers. In collaborating with us you are enabled to:
Improve business efficiencies by delivering IT systems and processes to support customer centricity on a broad scale.
Deliver customer-led innovation to improve the customer experience.
Improve customer satisfaction and retention levels in a rapidly changing digital world.
Achieve a 360° view of the customer to deliver a full view of risk and reduce the cost of fraud.
Reduce operating costs to drive profitable growth.
Grow into new business areas.
See how we have helped our customers solved their challenges
DHL - UK
With our Fujitsu UBIQUITOUSWARE offering, emergency services are now enabled to track the wellbeing of individuals working out in the field.
Belfius Bank - Belgium
As a highly-secure biometric signature solution, Sign'IT enables Belfius' customers to open an banking account within five minutes.
Nanto Bank - Japan
Using our mBaaS service which is based on Fujitsu MetaArc, we have integrated the management of multi-vendor smartphone apps.

Top of Page