Fujitsu is supporting TOYOTA GAZOO Racing (TGR), a racing team from the Toyota Motor Corporation (hereafter Toyota), to participate in the WEC. Kamui Kobayashi, driver and team principal for TGR, visited Fujitsu before the 6 Hours of Fuji, which will be held on September 11. Kazuhiro Arima, the head of the 500-member strong Fujitsu eSports Club, and Masahiko Nakata, a member of the club, engaged in a talk session and Gran Turismo showdown with Kobayashi. During the conversation, they talked about their respective approaches to team management, the significance of esports, and sustainability in motorsports.
Table of Contents
The Strategy and Car Movements in Esports
Are Very Similar to Real-Life Motorsports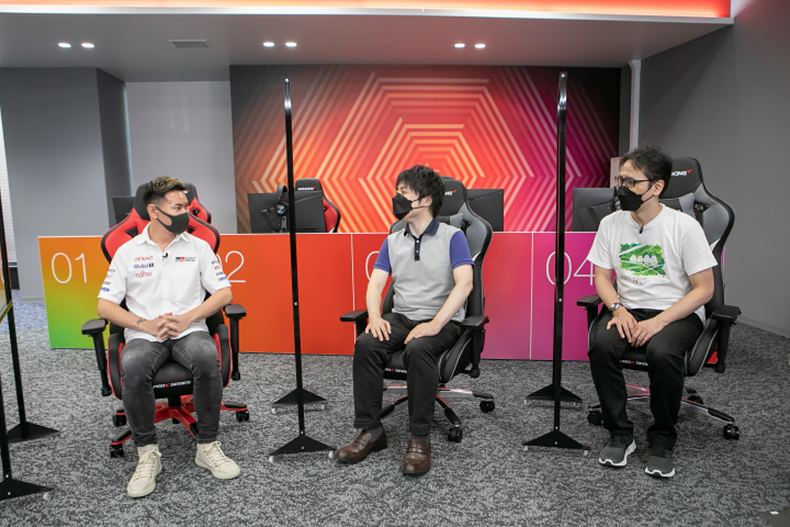 ――That was a great showdown in Gran Turismo 7. How did you like it? Tomoaki Yamanaka, who was doing the live commentary, was very impressed that despite only having 10 minutes of practice time, you were able to beat your lap times consistently.
Kobayashi: That was my first time playing Gran Turismo 7 and it was really fun. The graphics were even more beautiful than in the previous version. I'm often asked what the differences are between driving the actual tracks and the virtual ones in the game. Of course, the details of the vehicle operation and settings are different, however, the strategy that you use during the race and how you move the car are very similar to real life. So, I expect that esports will continue to grow as a way to practice and learn about racing and I believe that it's going to get even more realistic. I think that motorsports are quite a difficult activity for people to experience firsthand, so it's a really good thing that people can get a closer look at motorsports through esports.
Nakata: I hit Kobayashi's car and I think I should get down on my knees and apologize for that... (laughs).
Arima: I'm sure that today's race is going to become a great memory for the Fujitsu eSports Club. Thank you for your time.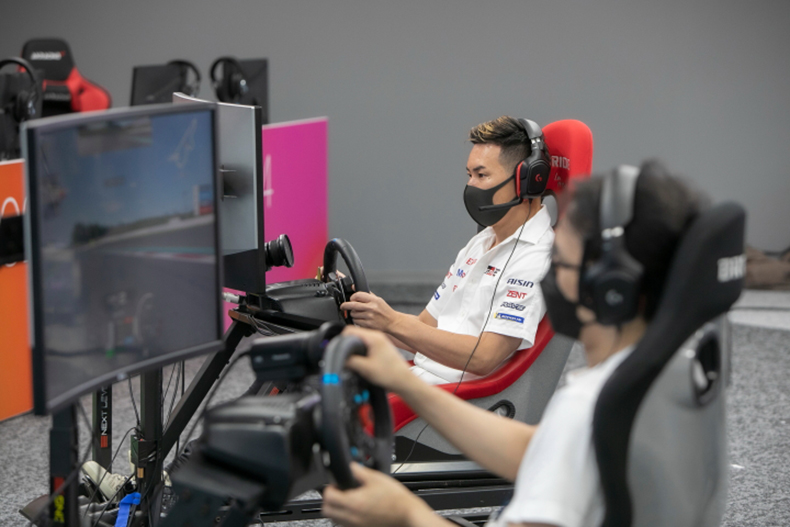 Kobayashi: Outside of Gran Turismo, what other games do you play at the eSports Club?
Arima: The Fujitsu eSports Club was established in 2020 to enhance and promote the Fujitsu Group's presence in esports activities, and to promote exchange among club members. The number of games that we play has gradually increased and we now have a variety of games such as battle games, fighting games, puzzle games, and more.
Kobayashi: With Arima's help, I'd really like to see the eSports Club members taking an interest in motorsports.
By Supporting New Team Members,
I Want to Build a Team That Is Not Only Strong but Supported
――This year, you have been acting not only as a driver but also as a team principal with TGR. What has changed since taking on that role?
Kobayashi: I think that drivers have an image of being competitive, and I can't argue with that. However, as the team principal, I think it's important to create not only a team that can win, but also a team that feels supported. A team that is strong but not supported will not be successful for long. I want to be able to create a team that is both professional and supported.
Toyota's president Akio Toyoda has said, "We want to create a professional yet family-like team." By creating, for example, a warm and supportive atmosphere for inexperienced younger members, I hope that more team members will say, "This is the kind of team I want to work with in the future."
――How many people are usually involved in the TGR team during an actual race?
Kobayashi: We have around 80 to 100 people who are at the race sites around the world.
In addition, there are about 300 to 400 people who develop the cars at the company. Plus, there are the people who are in charge of designing and assembling the engines. So, I'd say it takes about 400 to 500 people in total to drive the car in a race.
――It is a very diverse group of team members. How do you organize them?
Kobayashi: I think the most important thing is to convey your feelings clearly. It is also very important to have motivated people in the key roles in the team. I can't simply describe our team as diverse. Even among that group of Japanese people, there are very different characters and personalities. However, all of those people share the will to win. So, I think that the power of management is to bring out the best in each person.
Arima: Our club is basically open to all employees, so we have a diverse range of participants. However, if you have a large group but you become too serious and say, "We just want to win games," then some people won't be able to keep up and they won't enjoy playing with the club. Some of the members like to take it easy and enjoy playing games at their own pace, so we want to create an environment that can be enjoyed by both competitive and non-competitive types.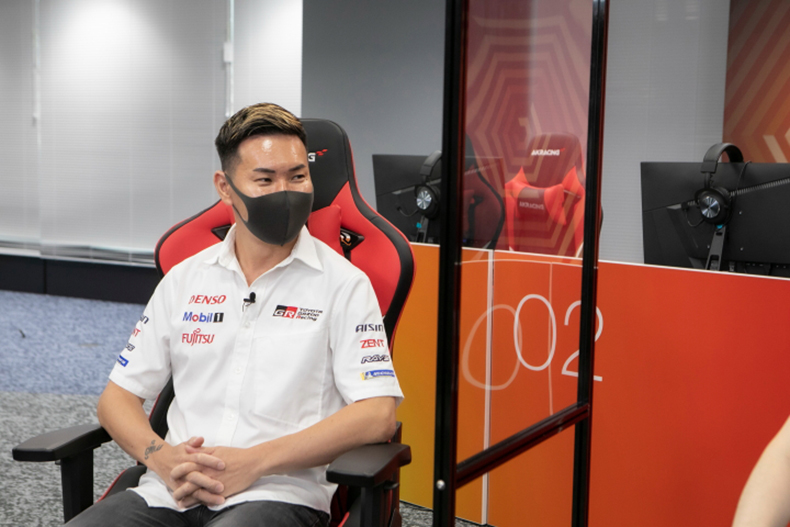 ――There are a range of job titles within the club, right?
Arima: We have everyone from new employees in their 20s right up to managers. However, if we reveal our names, then we can find out each other's position in the company and it affects our relationships, so we basically try and hide our personal information like gender, age, position, etc., when communicating with one another. That's the nice thing about the online environment.
Kobayashi: Sometimes Arima's opponent is actually very high up in the company (laughs). You have to be nice in the chat rooms.
Nakata: In esports, there is a relationship where you can say "this thing was good or bad" to each other after the game is over, which is hard to do face to face. That's one of the advantages of online games.
Solving the World's Energy Problems:
Can Hydrogen Lead Us Toward a Sustainable Society?
――Sustainability is attracting attention within motorsports. Toyota has entered a hybrid car in the WEC, right?
Kobayashi: With a hybrid racing car, the heat from the brakes and engine is converted into electricity, which is stored in a battery. That electricity is then converted into additional power using the motor. I think this is a positive thing for the world because it allows us to use energy that we haven't used before to generate more engine power and extend the driving range. It's like in the movie Back to the Future, in which there's a scene where garbage is converted into energy. In the past, the car's brakes used to work by squeezing the brake disc with steel or carbon, but with hybrid vehicles the amount of materials that are used for braking can be reduced. In terms of energy, we are competing in the Super Taikyu Series with a racing car that uses hydrogen to power its internal combustion engine (*2).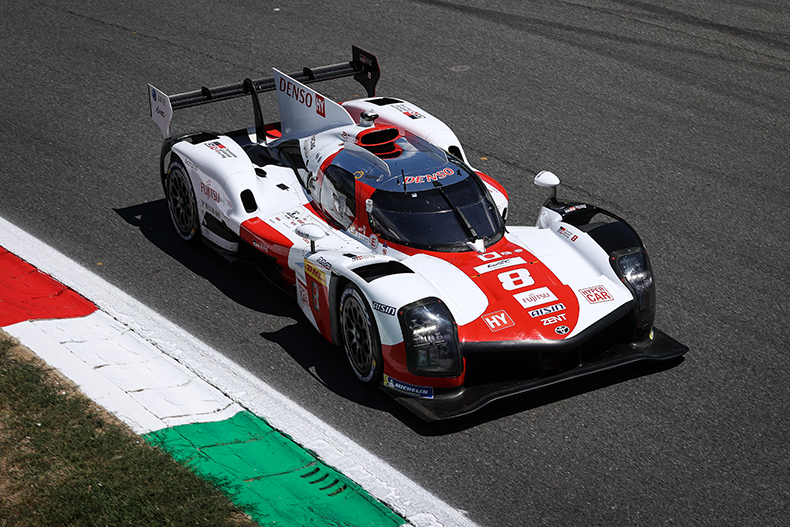 ――I'm surprised that there are race cars that use hydrogen as their energy source.
Kobayashi: Not only are these cars fast, but hydrogen technology can also extend the driving range. The development of technology takes time, so it will take a little longer before hydrogen-powered cars become widespread. However, introducing this technology in motorsports first will help speed up development, and with energy problems and the future of energy still uncertain, I believe this is a worthwhile thing to do. By the way, do you think the price of gasoline will rise if cars stop using gasoline?
――I assume that it's going up, right?
Kobayashi: It will indeed go up. Which means that the price of gasoline for generators on construction sites will also rise. When you build a house, there's no electricity source available to draw from. That means that you have to build the whole house without using electricity. So, you have to use gasoline, and if the price of gasoline goes up, it means that the cost of construction will go up too, which will affect the consumer. It's not just about building houses either. It's also about building infrastructure, like highways. Since batteries cannot replace electricity supply, construction costs will increase and highway tolls will go up as well. So, it makes a lot of sense for hydrogen to be used as energy. With hydrogen, our current engines can be used as they are, so I think it is truly sustainable. Energy issues do not only affect the automotive industry, and as a stakeholder, I believe that we must increase the number of energy options available to us.
What Can Esports Contribute to Society?
And What Can Fujitsu Do to Help?
――Fujitsu is committed to achieving a sustainable world. Arima, how do you think esports can contribute to society?
Arima: As Kobayashi mentioned, it would be great if more people become interested in motorsports and cars through racing games. Some members of the eSports Club say that playing games together with their children has revitalized communication within their families.
There are also cases where esports have been useful in supporting independence. For example, young people who had difficulty communicating and had stopped going to school were able to interact with their friends through esports and started going to school again.
In addition, teams that win international competitions engage in friendly competition with each other, analyze each other's losses, and formulate strategies. In this way, esports help to nurture teamwork and leadership skills. I think that esports can also contribute a lot to the formation of character.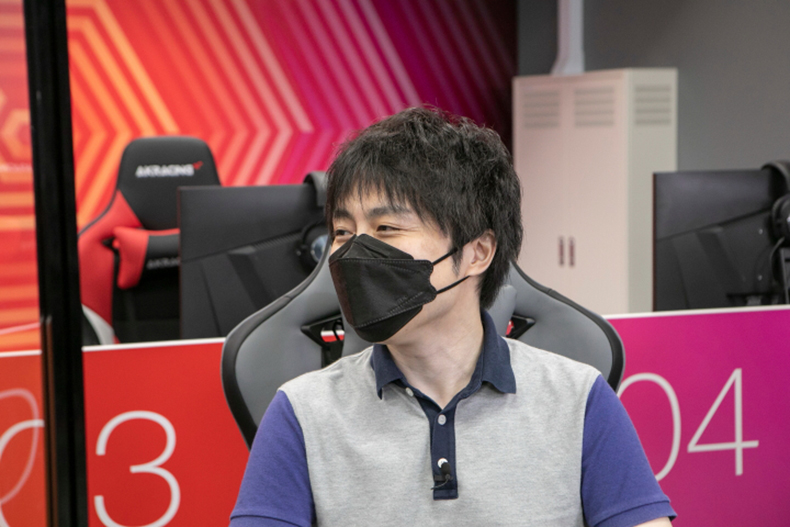 ――What do you think that esports can contribute to society?
Nakata: In the Kansai region, there are esports classes for the elderly. People who live alone or in facilities are invited to play esports and through this activity participants' communication becomes more active and they can become more mentally energetic. Some of the players have gotten quite good and are winning tournaments. As a tool for connecting people, video games are safe and user friendly. I think it is important for Fujitsu to provide innovations like this and to help connect players with each other. Specifically, I would like Fujitsu to support this with PC hardware and the creation of related infrastructure.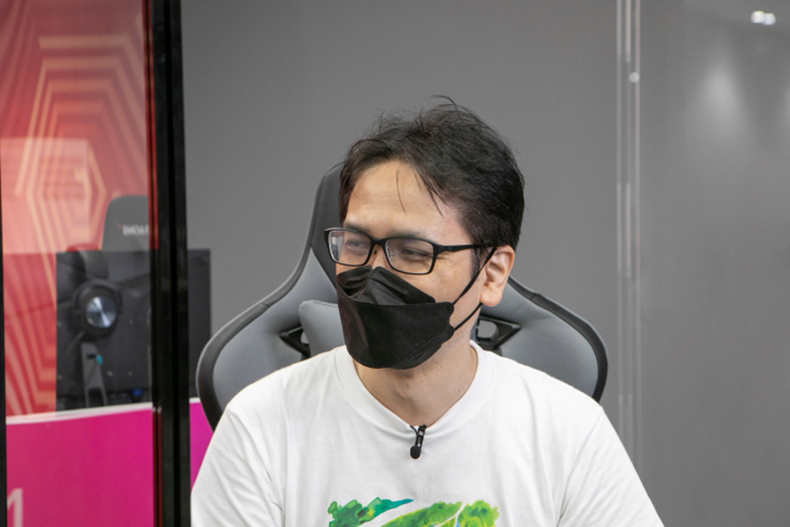 ――Finally, Kobayashi, how was your experience today?
Kobayashi: First of all, thank you very much for inviting me here today. I am very pleased that Fujitsu is supporting motorsports.
Many people don't have a clear idea of what sustainability means in motorsports, so it was good for me to be able to talk about how we drivers think about motorsports. In September, the 6 Hours of Fuji will be held right here in Japan. I hope that everyone will come and watch the race in person.
――How was today for you Arima?
Arima: Today was a good opportunity to think about what the Fujitsu eSports Club should be. As the head of the club, I want to make sure that the club's diverse range of members can truly enjoy themselves. On top of that, I want to build a team that can win tournaments. Kobayashi mentioned that he wants to increase the number of people who become interested in motorsports through racing games, and I thought it would be great if the eSports Club could also provide opportunities for people to visit actual race circuits. I'm sure that playing racing games will change the way people look at motorsports. And I'm really excited for the club to cheer on Kobayashi during a race.
――Thank you for your time today.
Watch the full version here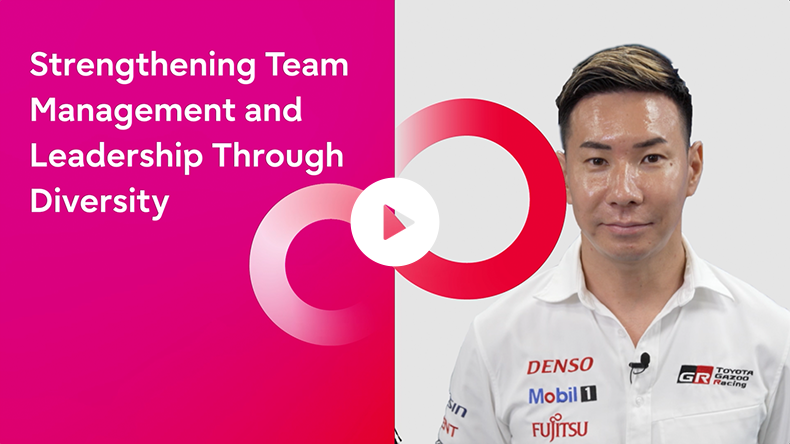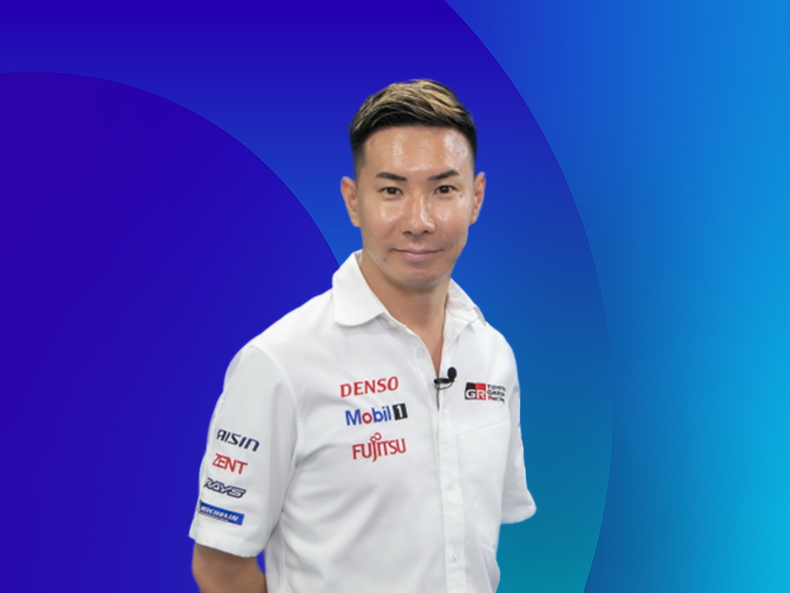 Profile of Kamui Kobayashi
Kamui Kobayashi (born on September 13th, 1986) is a racing driver from Hyogo, Japan. He started karting at age 9, then won the All Japan Junior Karting Championship in 2000 and the All Japan Karting Championship ICA class in 2001. In 2001, he got a Formula Toyota Racing School (FTRS) scholarship. In 2002 for his 15th birthday, he obtained a limited motor sports license and made his four-wheel racing debut with Formula Toyota. In 2004, he became a Toyota Young Drivers Program (TDP) driver and competed in Formula races in Europe. He won the GP2 Series in 2008 and the GP2 Asia Series in 2009. From 2010, Kobayashi started competing full time in F1, placing 3rd in the 2012 Japanese GP. In 2015, he started competing in Super Formula in Japan. In 2016, he competed full time in WEC. In 2017, Kobayashi got the pole position in 24 Hours of Le Mans and set a course record. In the 2019-2020 WEC season, he won his first championship with four wins. In the 2021 season, he won his first 24 Hours of Le Mans in the GR010 Hybrid (No. 7) Hypercar and also won the WEC for the second time in a row. In 2022, he will continue to compete in WEC and Super Formula.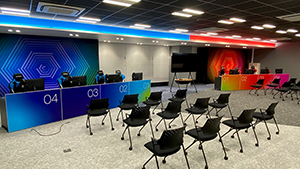 eSports Room, Fujitsu Uvance Kawasaki Tower 26th floor
The eSports Room opened in July 2022 with the aim of stimulating communication among Fujitsu employees and promoting exchange with local governments and other companies through esports. The room is currently being used for a range of events, including an esports tournament commemorating the founding of Fujitsu.
Related Information