He's back, and ready to hit the track. Fujitsu is proud to sponsor TOYOTA GAZOO Racing (a.k.a. TGR) Toyota Motor Corporation's motorsports team in the FIA World Endurance Championship (WEC).
The 6 Hours of Fuji endurance race is right around the corner, and Kamui Kobayashi, driver and team principal of TGR, is revved up to race again in his home country.
We interviewed Kamui about his passion for motorsport, and what it is that drives him forward. And by sure to check out his exclusive video comment at the end of this article.
Table of Contents
Passion for motorsport
――What do you think it the important factor in motorsport?
Kobayashi: At the heart of it, cars are simply fun to drive. Enjoyment is definitely the key.
Honestly, I get the same feeling as someone who likes to take a relaxing drive after a hard day at work – that's how I would describe the fun of driving. I think this everyone can share in this experience. If you are a confident driver, you probably already feel that way, but if not, driving could feel stressful. For those people, I'd encourage them to examine why that is. It doesn't have to be anything too complicated; I think it all starts from taking a small interest in cars.
I truly believe that boosting your driving skills can have a positive impact on your daily life. You may start to go on "driving dates," or your kids may treat you like a hero when you take them places! You might even end up discovering a great driving school to further refine your skills. I think it would be great if more people start taking an interest in motorsport, but it'd be even better if motorsport helps more people discover the fun of driving.
One of Japan's top talents
――You have been a brilliant racer since your F1 days. There have been many great racers from Japan, but many fans must have been astonished when they first saw your talent. Now that you've switched to endurance racing, what do you think is the biggest difference from F1?
Kobayashi: F1 is a high-speed sprint, while WEC is all about endurance, like a marathon. The styles may be different, but the exhilarating feeling of winning is the same.
I suppose the biggest difference would be the process of winning a race. Compared to F1, there's a greater need to develop cars specifically for endurance races. I feel that the driver's skill and the car development techniques are the two key factors. Also, endurance races take many hours, so I stay patient, which helps me inject my strength where I need to. I've also found that formulating strategies is just as important – such as judging when and where to accelerate. And last but not least, our teamwork is vital. Overall, I feel that endurance races, compared to F1, require greater mental strength.
――I see. The longer racing time means a greater need for teamwork.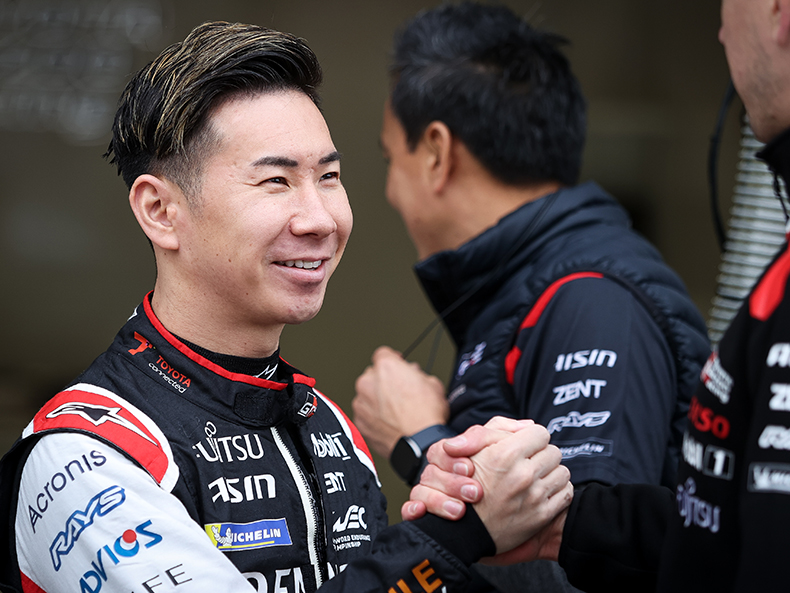 Motorsport and teamwork
――Is there anything you would like to share with our readers today?
Kobayashi: Sure! Just like any other sport, the goal of motorsport is to win. For anyone working on a business project, I think there are definitely parallels about how to progress towards a goal. In both cases, we're not just running fanatically by ourselves with our eyes only on the goal, right?
It's the same with driving; the driver is more like an anchor in a relay.
First, the relay starts off with the engineering team that develops the cars. Then the driver, who is like the anchor that receives their baton, tries to run as fast as possible towards the final goal. In other words, there are many essential members involved in the motorsport process, just like with business projects. Next time you go watch a race, it's great to be in awe of the speedy cars, but it's also a rewarding experience to notice the amazing teamwork that makes is happen.
[Video] Kamui's Goal for the Fuji race
――Thank you for a great session today. Now, that WEC is approaching the finish line, TGR is currently in first place in the team ranking, and second/ third place in the driver ranking. The next race will be the 6 Hours of Fuji endurance race in Japan. Please tell us your gameplan for the race.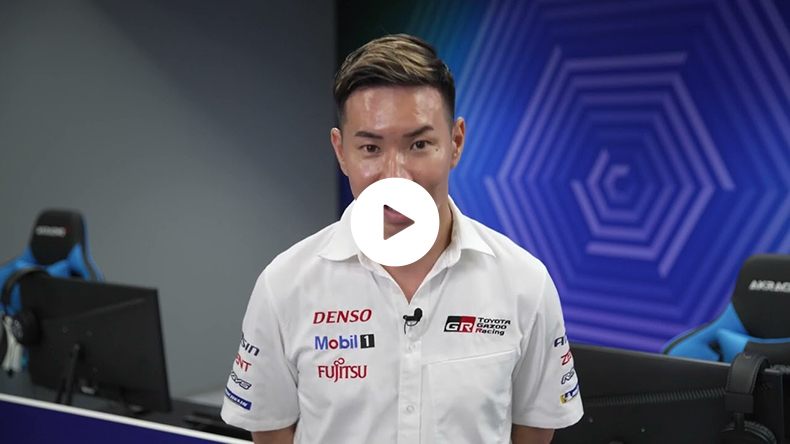 Working together towards a carbon-neutral world, Fujitsu will continue to support TOYOTA GAZOO Racing in the FIA World Championship (WEC).
Related Information