Fujitsu aims to transform itself from an IT company to a Digital Transformation (DX) company, "making the world more sustainable through innovation. " Design thinking is a method that we consider to be the key to promoting this transformation. Design thinking is the knowledge, skills, tools and mindset that is necessary to find the real issues in an age when the future is difficult to predict.
When the Fujitsu Group renovated its legacy approval system for the first time in nearly 20 years, design thinking methods were used to build the new system. In this article, we will introduce our efforts to instill design thinking, and show examples of internal and external practices to advance DX.
Table of Contents
Design thinking skills for all 130,000 global employees
Fujitsu has a Purpose Driven Management approach, in which each individual's purpose (the reason for what we do in work and life) is clarified, and the commonalities between the company's purpose and the individual's purpose are recognized. Such commonalities then become the driver and energy for transformation.
We positioned design thinking as a necessary skill for all employees, and implemented design thinking training for 8,000 business producers (BPs) ahead of other divisions, because they are responsible for directly listening to our customers' voice. The BPs' mission is to go beyond the traditional sales role and become a true business partner, not only meeting the needs of customers as they perceive them, but also solving potential issues utilizing DX technology that customers themselves may be unaware of. In order to put this into practice, it is necessary to add design thinking to the widely adopted systems thinking, and to use it appropriately for each situation.
Subsequently, design thinking training has been expanded to Systems Engineers, business divisions, and staff divisions for a total of 130,000 global employees.
Why design thinking now?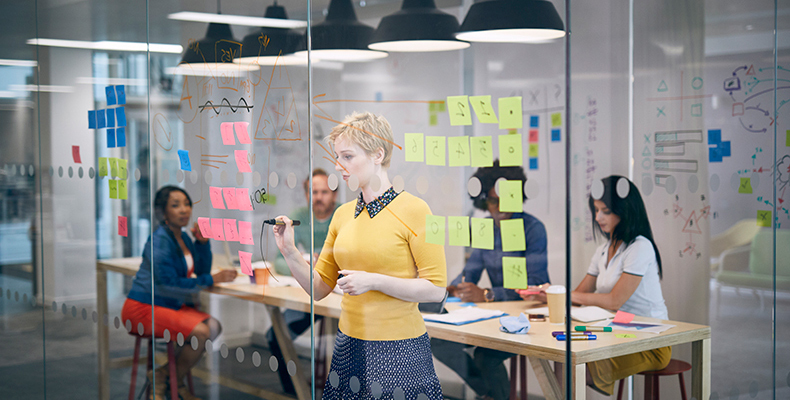 In the uncertain and fast-changing age of VUCA*, companies are required to have the ability to confront difficulties and respond with flexibility. In a situation where it is difficult to predict even a few months into the future, it is difficult to find the right issue and to formulate the best question for that issue, especially when there is no right answer to that question. Therefore, rather than aiming for a perfect product from the beginning, we develop prototypes and try them out to gather feedback and make improvements where necessary. If the idea proves to be unsuitable, move on to other ideas. It is necessary to find the optimal solution by trying a series of loops consisting of observe, orient, decide, and act (OODA) —over and over quickly. Design thinking is the appropriate method for that loop and includes the mindset, knowledge, skills, and tools to get closer to the right answer.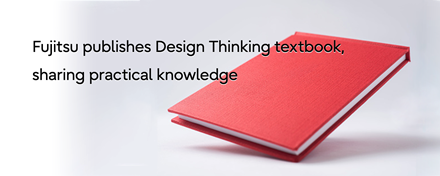 In 2021, Fujitsu's design thinking textbook (PDF) Transformation by Design: Planning Design Strategies and Services for the Next Generation Digital Challenges (Japanese and English versions) was released. This is a compilation of the design thinking that Fujitsu's design department has been leading research since 2016 and is a joint project between Fujitsu's Design Center and POLI.Design, a design school of Politecnico di Milano, Italy. The publication combines and structures Fujitsu's long-standing practical know-how based on Human Centric Experience Design (HXD) with the philosophy of Politecnico di Milano, where academic research is ongoing. The three basic points are: (1) human-centered thinking (2) diversity, and (3) prototypes. Practicing these three aspects helps to find an optimal solutions to the issues of our customers and end users.
This textbook was released free worldwide to promote awareness of design thinking, and has been viewed and downloaded by many people beyond the design industry. It became a big topic on social media as well. Furthermore, the release of the textbook triggered interest in our Design Center and design thinking initiatives in Fujitsu. For example, we began to receive requests to give lectures from companies and universities that we had no prior connections with.
*

VUCA is an acronym for "Volatility," "Uncertainty," "Complexity," and "Ambiguity," meaning a situation in which it is difficult for society and business to predict the future.
Design thinking in practice and renovating legacy systems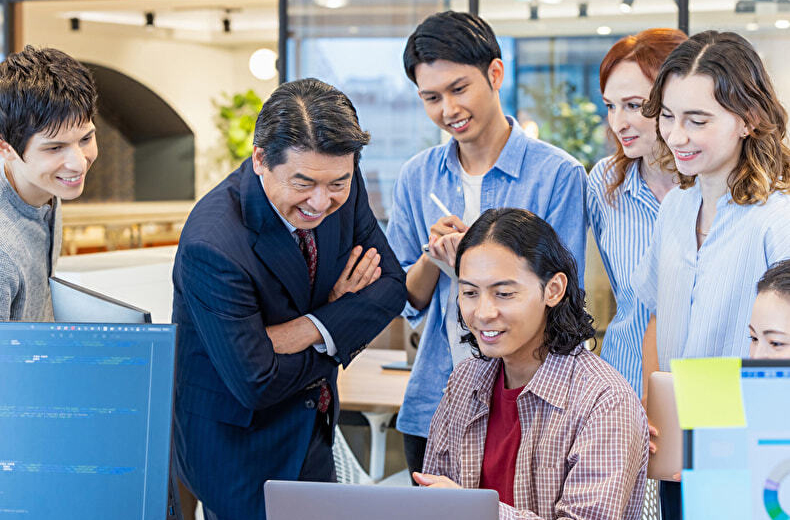 Here are some examples of practices using design thinking both internally and externally.
By considering various issues from a human-centered perspective and designing optimal solutions, we provide outcomes that are easy for people to use.
The legacy approval system used for more than 20 years was renewed to align with global standards. The company realized the needs of users that were interviewed. (e.g., increased speed of decision-making, linkage with internal systems, support for multiple devices, etc.) While the legal department took the lead in this project, designers assisted using the perspective of design thinking.

The Japan Pension Service AI Chatbot

The chatbot was realized using design from the user's point of view, overcoming the challenges of how to achieve a response that is user friendly while avoiding too much workload on the person in charge. As a result, we were able to quickly improve the UI and functionality, and the chatbot continues to undergo operational improvements.
The designers visited around 30 elementary and junior high schools to conduct thorough on-site observations. Based on several actual usage scenarios identified through these observations that the developers had not envisioned - such as stacking multiple tablets, placing them directly on the floor, and taking pictures with the keyboard still attached, the tablet's robustness was positioned as the most vital requirement for development. Design development then proceeded based on these insights.
In addition, design activities targeted at customer projects have begun as a new initiative of the Design Center.
Furukawa Electric Co., Ltd.—Novelty goods to promote copper foil

This is an example of design activity for an external customer project. To raise awareness of copper foil, one of Furukawa Electric Co., Ltd.'s main products, Fujitsu designed a novelty product that is ideal as a souvenir. The charm of the product creates interest in the attractiveness of the foil and its many uses.
Using the power of design thinking to solve real issues, and make the world more sustainable
The aforementioned freely available "Transformation by Design" textbook was published with the desire to make design thinking a more common asset, not only within Fujitsu and Japan, but also around the world. We believe it is one of the key assets to survive the age of VUCA. We hope that everyone will freely use this information , and that by drawing on our commonwisdom, we will be able to get through these uncertain times together.
Efforts to promote education and practice of design thinking within the Fujitsu Group are still ongoing. In the future, we aim to have all employees thinking from a human centered perspective naturally so that it is no longer necessary to use the term design thinking.
To realize Fujitsu's Purpose "make the world more sustainable by building trust in society through innovation." , and to help our customers solve real issues and innovate, we will further instill and practice design thinking. Through these efforts, we will continue our transformation as a DX company so that we can be closer to our customers than ever before and earn their trust.
Related Information