Under the brand FUJITSU Technology Licensing Program for SDGs, Fujitsu has made part of their corporate group's intellectual property (IP) available for others to use. licensable patents are a new form of co-creation where one company makes their IP available for third parties to license and use. Promoting the use of licensable patents leads to added value and the creation of new products that can help solve social issues. In Part 2, we will introduce Fujitsu's collaborative efforts with a robotics startup in the field of disaster recovery assistance, our IP utilization projects in cooperation with a university, and the future we hope to create by opening up our IP.
Contents
Bringing Fujitsu's Ideas to Fruition To Create Disaster Recovery Solutions
in Part 1, we explored how Fujitsu's licensable patents have been used to help fight COVID-19. Moreover, there are also examples of how our open IP assets have been used to support disaster recovery and regional development. One example is the 3D scanner BeTHERE, developed by the Fukushima Prefecture-based robotics startup Haloworld inc.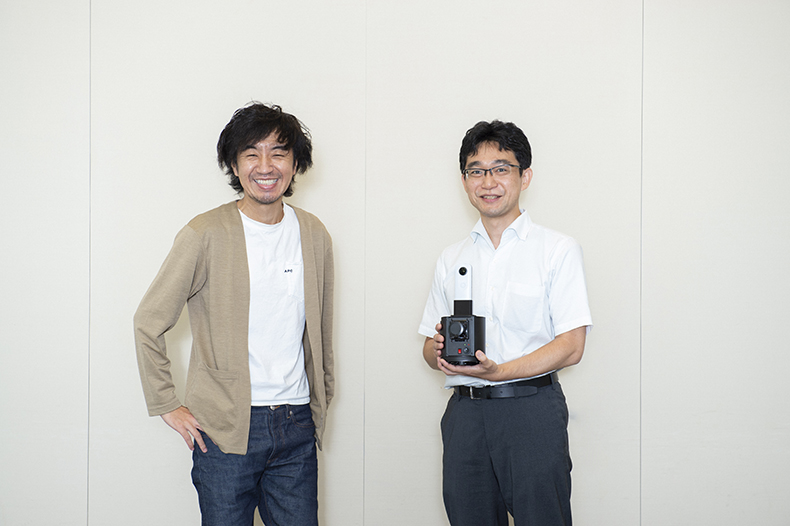 ――I heard that you founded your company because of the Great East Japan Earthquake.
Siva: I was originally involved in disaster recovery for the Great East Japan Earthquake as part of a materials trading company. There was a dire need on-site for autonomous mobile robots, but Japanese manufacturers weren't able to meet this demand at the time. We founded Haloworld because we had that experience and wanted to be of more use to society. We now develop, manufacture, and sell autonomous mobile robots.
――So, what made you decide to use Fujitsu's IP at that point?
Siva: A sensor manufacturer happened to refer us to Fujitsu's IP Strategy Office, who introduced us to Fujitsu's patented 3D digitizing technology. The division gave us a demonstration of the prototype. When we heard that Fujitsu didn't have any plans to commercialize the technology, we decided to collaborate and use Fujitsu's wonderful technology to help society. BeTHERE is the product we came up with.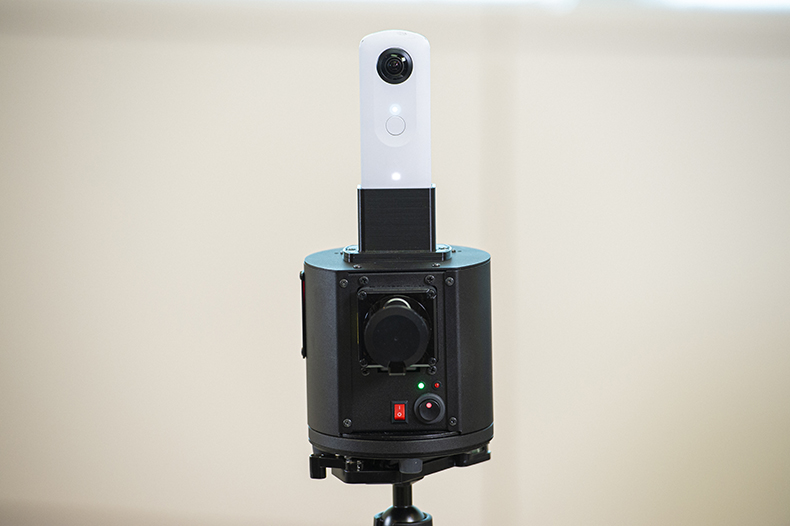 ――Could you tell us about the features of BeTHERE and the patented technology being used?
Hoshino: First, by emitting light from a 2D LiDAR (light detection and ranging) sensor, we can measure the two-dimensional distance to an object. We can then acquire 3D point cloud data by rotating this sensor 360 degrees. The camera mounted on the top captures images in all directions to create a 3D visualization model. Then, we use Fujitsu's 3D digitizing technology to quickly and easily align and integrate the point cloud data that was recorded multiple times from different locations.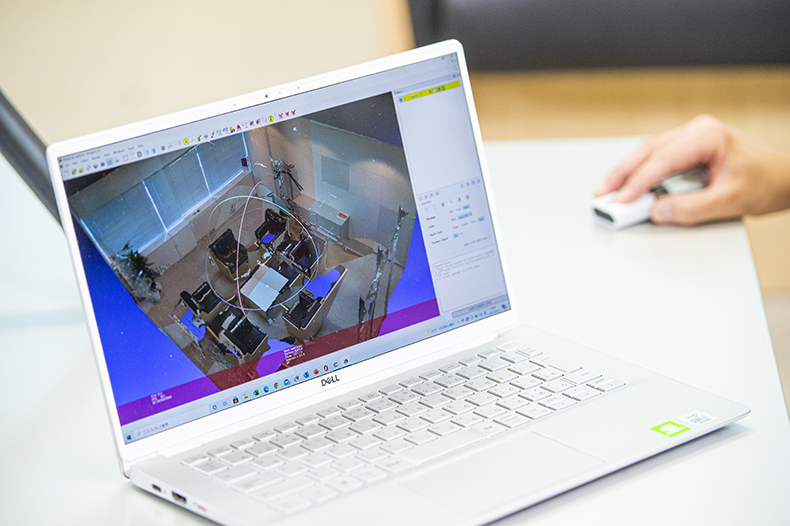 ――So, it creates a realistic 3D model in a short amount of time.
Hoshino: While existing 3D scanners take a long time, BeTHERE takes under 10 minutes to create a 3D model in which all distances can be measured. This has a wide range of uses in measuring and education, such as generating a 3D model of the interior and exterior of a building for renovation work, calculating the volume of soil to be excavated at a construction site, training workers using VR, and simulating the operation of autonomous mobile robots.
――Can it be used in disaster recovery as well?
Siva: Yes, it can. We witnessed the aftermath of the Great East Japan Earthquake in person, so we wanted to create a product that can also be used during disasters. For example, BeTHERE could be used to get an accurate understanding of the extent of damage after a landslide caused by torrential rain, as has been occurring more frequently in recent years.
――That's wonderful. What do you think of Fujitsu opening up intellectual property for these projects?
Siva: For this project, Fujitsu first sowed the seeds by creating the patented technology, then we picked up the baton and used that technology to develop a product. I think the key is making sure that the product is viable as a business and that it contributes to the solution of social issues. Even after we had developed the product, Fujitsu introduced us to a range of users and participated in every online meeting we had with those users. We're extremely grateful for Fujitsu's support throughout the entire process. I believe there are still many IP assets that have yet to be rediscovered, so we'd like to keep an eye on this initiative in the future.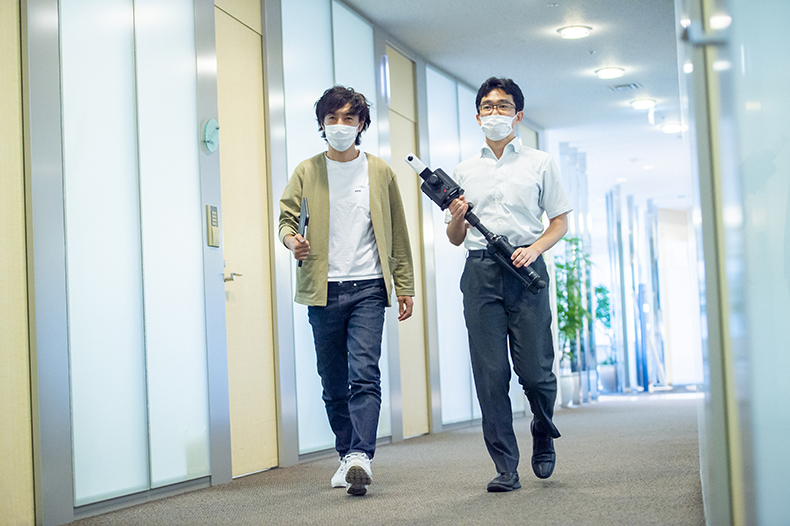 A Company, University, and a Startup Co-Create Using Licensable Patent
Fujitsu's licensable patent initiative has also given birth to an IP utilization project in cooperation with a university. We interviewed students from the Maeda Seminar at Showa Women's University (Faculty of Global Business, Department of Business Design), who won the IP Utilization Student Award (Hosted by Seibu Shinkin Bank), in which students pitch business ideas that use companies' licensable patents. After their victory, the team launched a venture to develop their next-generation baby monitoring system Tapirus.
――How did you come to participate in the IP Utilization Student Award?
Maeda: I thought it would be a fantastic experience for the students to come up with a product idea based on a company's licensable patent, so I proposed participating in this contest as a seminar assignment.
――What was it like to participate in the contest?
Maeda: When coming up with business ideas, we shouldn't only focus on how fun they are or whether they will become popular. We need to take it a step further and consider how our ideas can help solve the social issues around us. So, the students looked into problems in the care of children, which is a topic that they are very likely to experience personally in the future. They learned a lot by going through the procedures you would actually go through when creating a business, such as conducting fieldwork in the target market and calculating costs.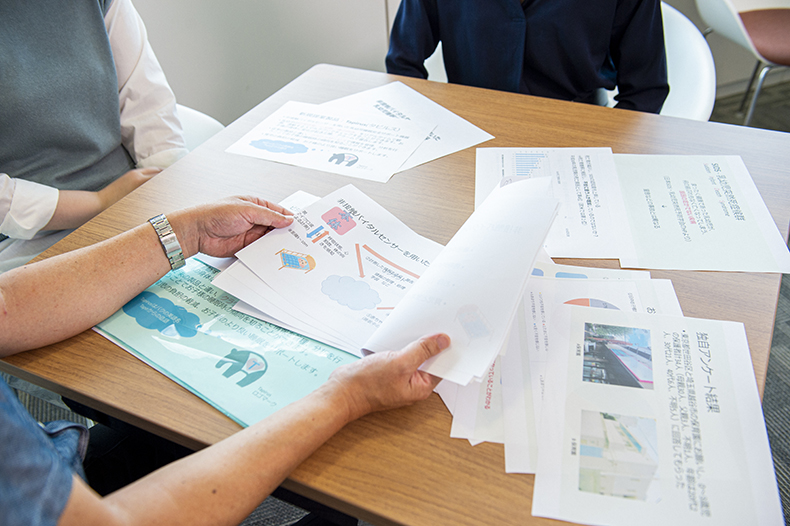 ――It's a very practical learning experience. Now, could you describe what Tapirus is?
Sugita: It's a system that sends you an alert through a smartphone app if it detects an anomaly with your infant. We used Fujitsu's patented vital sign sensor technology, which irradiates a subject's body with weak microwaves and measures the subject's respiratory rate, heart rate, and body movement based on changes in the reflected waves. It's a solution to issues such as infants disliking contact-type devices and existing sensors only being able to capture limited data.
――How did you come up with this idea?
Sugita: While brainstorming product ideas that would use this non-contact vital sign sensor technology, we learned about SIDS (sudden infant death syndrome). When we conducted a survey among parents at nursery schools, many of them were worried about SIDS. If we become mothers in the future, this issue will also become relevant to us, too. We came up with this concept so that current and future parents can feel more at ease about their children's safety. The process of drawing up a plan, solidifying our idea by conducting fieldwork, and presenting our concept to a third party was an incredibly valuable experience.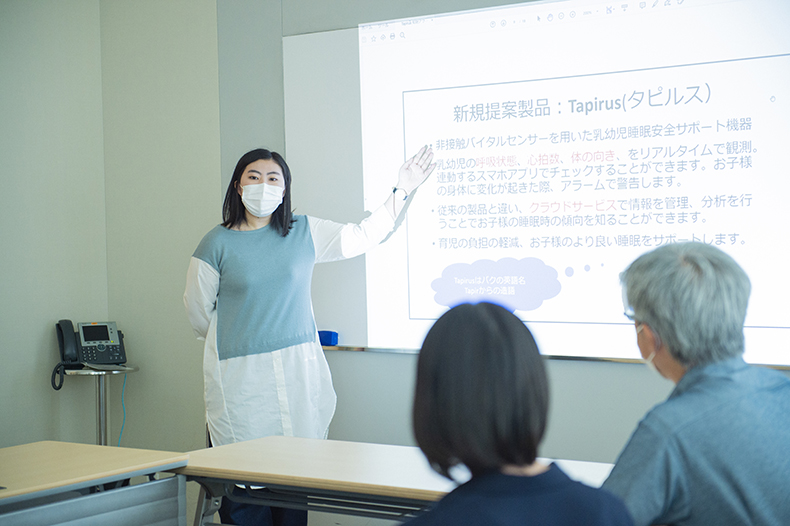 ――It's definitely an idea that will ease the worries of all families with small children. What are your plans for turning this into a product?
Sugita: It's very technically challenging, but we established our company last year and are currently searching for ways to develop this as a product.
Suga: Our company mission is to help construct a society in which parents don't have to expend too much energy to raise their children. I believe that making this product a reality will contribute toward that mission.
――Please do make it happen. Lastly, how do you feel about student business contests like the one you participated in?
Maeda: This is the only contest where students can study companies' patented technology and actually form their ideas into businesses. Furthermore, if students use the contest as a starting point to launch a startup, it's not out of the question that they could enlist the help of financial organizations and companies to put their concept out into the world as a product. Isn't it ideal that students—the bearers of the future—can make their ideas a reality and solve social issues with the assistance of other organizations? I would like to see more initiatives like this where companies, universities, and startups aim to co-create using patents.
Contributing Toward the Realization of a Sustainable Society by Opening Up IP
Fujitsu's actions in opening up our intellectual property are creating a new type of co-creation that aims to solve social issues. At the heart of this initiative is the desire to achieve things with our co-creators that we wouldn't be able to accomplish on our own.
Taguchi: I believe that society will face many social and regional issues in the future. Fujitsu will not be able to tackle all of these issues on our own, so we hope to keep meeting new co-creators through our licensable patent initiative. To this end, we would like to expand our available IP assets and share a broader range of patented technology with everyone. By making Fujitsu's IP useful to society together with our co-creators, we will continue to contribute to our company's purpose—"the realization of a sustainable society"—and our aim to achieve and balance both business transformation and the realization of a sustainable society under the Fujitsu Uvance brand.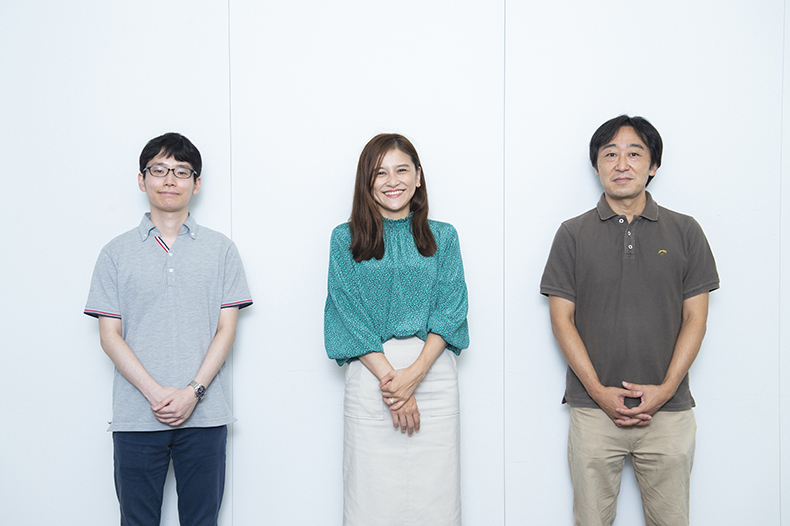 Related Articles
From the Editorial Department
Recently, Fujitsu unveiled its new business brand, Fujitsu Uvance, as part of its ongoing efforts to realize its purpose— "to make the world more sustainable by building trust in society through innovation." The company also announced that it would strongly promote business activities focused on resolving social issues to realize a sustainable world. "Uvance" is a portmanteau of the words "universal" and "advance," and embodies the concept of making all (universal) things move forward (advance) in a sustainable direction. It demonstrates Fujitsu's commitment towards "building new possibilities by connecting people, technology and ideas, creating a more sustainable world where anyone can advance their dreams." The brand name was selected through a global employee poll.
Under the Fujitsu Uvance brand, we aim to achieve and balance both business transformation and the realization of a sustainable society.