Fujitsu released its Global Digital Transformation Survey Report 2021, highlighting the results of a survey drawing on the insights and experiences of 1,200 CxOs and key decision-makers in 9 countries to understand the status and trends of digital transformation.
The survey findings show how organizations responded to changes in the business environment brought about by the COVID-19 pandemic, shed light on the organizational capabilities necessary to respond to such changes, and highlight management priorities in the post-pandemic world. This article is a three-minute summary of those findings.
Contents
How did organizations respond to the pandemic?
The three main factors selected by organizations which effectively responded to the changes in business environment caused by the pandemic included agility, digitalization, and employee well-being. Instead of sticking to the existing business process these organizations prioritized the well-being of their customers and employees, and were able to flexibly respond to changes and risks by using digital technology or accelerating the introduction of digital technology.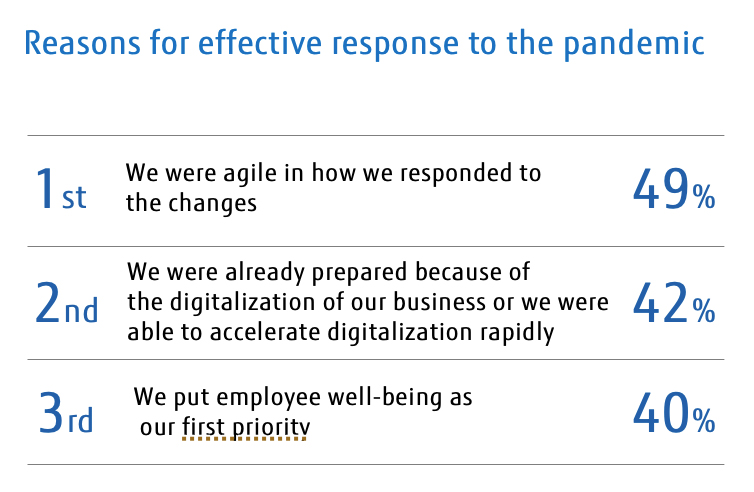 What are the essential organizational capabilities to respond to the pandemic?
The results of our global survey have consistently indicated that leadership, value from data, a culture of agility, ecosystems, empowered people and business integration are the organizational capabilities that lead to success in digital transformation. We call these 'digital muscles'.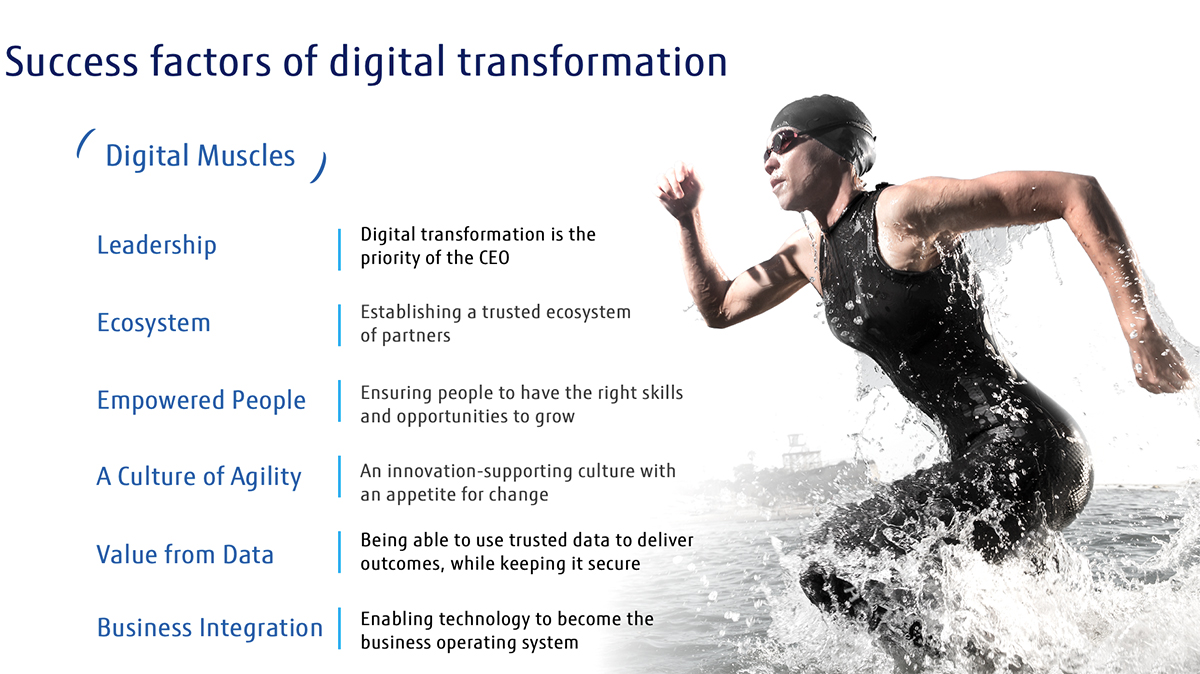 The survey found that organizations with stronger digital muscles responded more effectively to changes in the business environment brought about by the pandemic.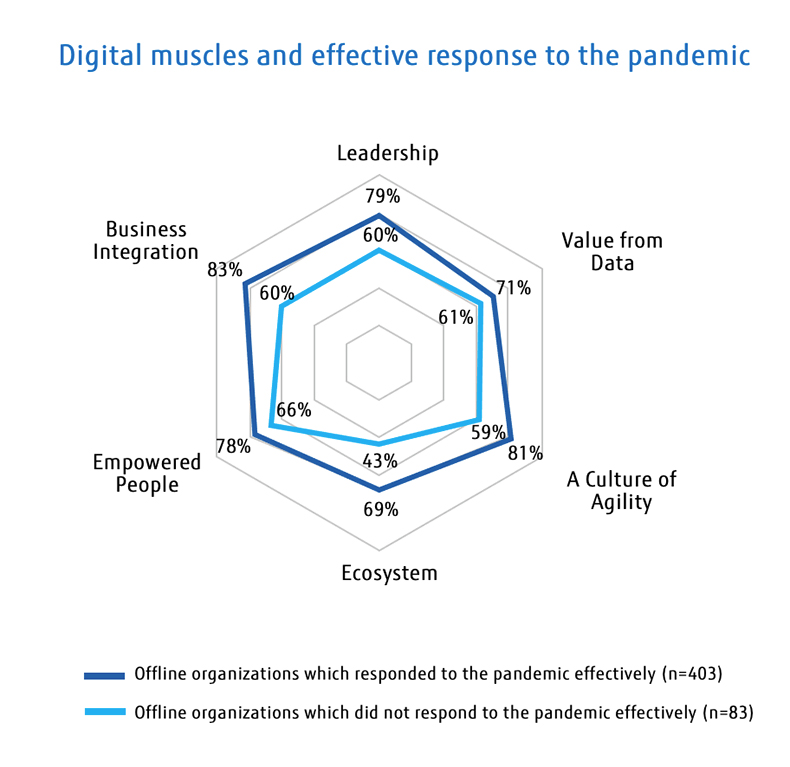 Being aware of each element of digital muscle in organizational transformation may help you not only succeed in digital transformation, but also respond to changes in the business environment effectively.
What are the business priorities in the post-pandemic world?
Resilience is perceived as the top business priority in the post-pandemic world. The second priority is automation of business processes followed by data-driven management.

The survey results indicate that resilience, an attribute discussed in a previous Fujitra article, is essential for success in the post-pandemic world.
Among the organizations which delivered outcomes, most of them confirmed that their digital transformation had helped them deliver value to society. Below are the top three social values they delivered through their digital transformation.

These results indicate that digital transformation is an important element in solving social issues and delivering social value.
Future initiatives and developments
Fujitsu defines its purpose as making the world more sustainable by building trust in society through innovation. The findings of this survey will help Fujitsu to continue to serve as a trusted DX partner, simultaneously helping customers to succeed in business and to provide even greater value to society.
Please stay tuned for future updates from Fujitra News, as we continue to introduce Fujitsu's actions to solve social issues.
The full survey report is available in the "Related Information" section below.
Related Articles