Contents
At the Global Digital Summit 2021 on June 7-8, 2021, influential business managers and experts from Japan and overseas leading in digital technology were invited to speak on the theme of "Post-New Normal: Towards a Resilient Society," and Fujitsu's Takahito Tokita (CEO, CDXO) presented the direction in which a post-new normal society and companies should advance.
With the purpose of making the world more sustainable by building trust in society through innovation, how does Fujitsu think of a post-new normal society while grappling with its own transformation? In his presentation, Tokita explained that despite the unforeseen effects of the pandemic, a steady resilience with the self-sustaining and flexible strength to overcome changes while transforming oneself is most important when creating a new society.
Furthermore, Tokita emphasized that while various efforts to achieve the Sustainable Development Goals (SDGs) determined by the United Nations are taking place in the modern world, for all to realize a sustainable, green world by 2030, resilience is crucial, and it is vital for companies and academia to now combine their diverse strengths to tackle a common goal.
Here are a few excerpts from the presentation.
Impact of the Pandemic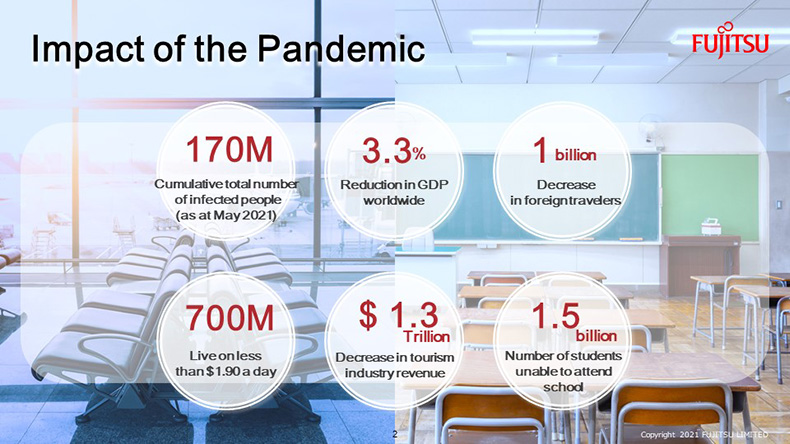 "2020 was a year that will live in history. Due to the COVID-19 pandemic, the world has changed. Due to the pandemic, global GDP has decreased by 3.3%. It is said that the income of the tourism industry, in particular, has suffered a loss in excess of 135 trillion yen due to restrictions on people's movements.
Schools around the world have been closed, and 1.5 billion students around the world have been unable to receive lessons in their classrooms. The pandemic has had massive impact on the economy and on people's daily lives, such as with people no longer working from offices and the cancellation of large-scale events where people would physically gather, and has even had an impact on our values themselves. We are being told that we will no longer be able to return to our previous lives."
At the same time, digitalization is proceeding rapidly in a variety of fields, taking advantage of the opportunity provided by the great reset brought about by this pandemic. Because people's movements were restricted by lockdowns, online shopping has been a lifeline for people's daily lives. This has caused the amount of ecommerce transactions globally to increase by 27.6% over the previous year. (Source: eMarketer Global Ecommerce Update 2021)
Five Trends Shaping a New World
"We conducted a survey of 1,200 people with decision-making authority in companies across nine countries around the world, asking what issues need to be addressed as priorities in corporate management in the world of the new normal.
In the survey, over half of respondents, 57%, raised the issue of resilience, or the ability to respond to changes. (Source: Fujitsu's survey of global business leaders, 9 countries*, 1,200 people. *9 countries : Japan, US, Australia, UK, Germany, Spain, France, Singapore, China)
We have organized the insights gained from this survey, as well as from our conversations with those in management positions, into five broad topics for building a new world.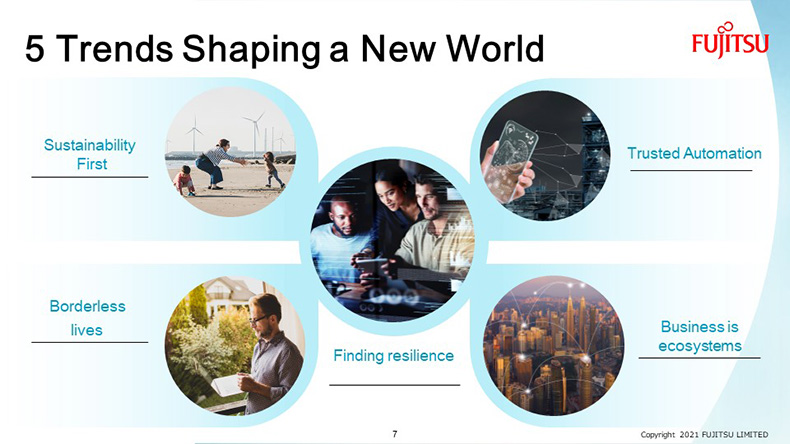 The most important topic I want to address among them is resilience. Resilience refers to the strength to flexibly stand on one's own, to overcome, to respond to changes by changing yourself, without falling to unexpected blows. To achieve resilience, speed is the key. At Fujitsu, we implemented remote work at an early stage, with the goal of continuing our business and supporting our customers, and we can say that in this pandemic, the difference in recovery in businesses and our daily lives comes down to the question of whether a company or a city was able to change their mindset as early as possible, and utilize technology to respond to dramatic changes."
The Role of Companies in Creating the Future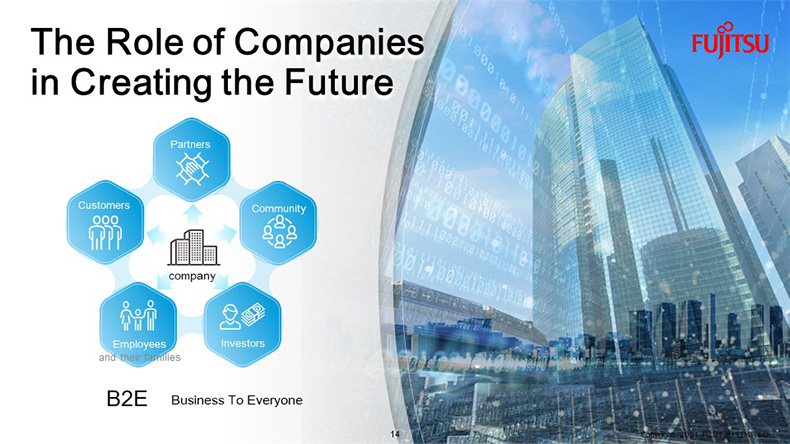 "We also thought about the role of companies in these uncertain times. Until now, the goal of companies in business, historically, has been to provide value to specific stakeholders, such as consumers (B2C) or other companies (B2B). Going forward, this will shift to business to everyone (B2E), which is focused on a broad range of stakeholders centered on people, including not only the company's customers and business partners, but also employees and their families, investors, and communities. In order to resolve the increasingly complex issues facing society, and to make the world stronger and more sustainable, the ability companies have to connect with people in this way across the boundaries between countries and regions and provide value will be an essential capability in resolving these issues. Companies' ability to transform themselves, make themselves more resilient, align the goals of their businesses with the goals of society, and deliver the value necessary to resolve issues in society through their businesses, will be the foundation for building a more resilient future for society."
Fujitsu's Purpose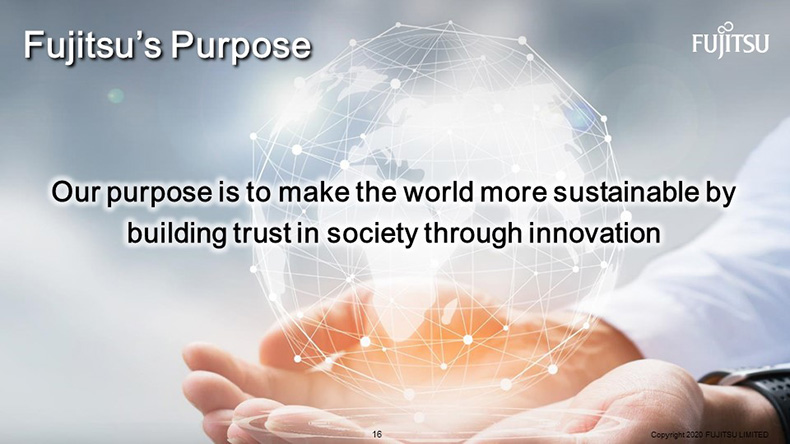 "We at Fujitsu have defined our purpose, our reason for existing in society and the role we feel we ought to play in these uncertain times. It is, "to make the world more sustainable by building trust in society through innovation." We are now working to ensure that all of our corporate activities are aimed at achieving this purpose."
The World in 2030
"We thought about how the world would be in 2030, the target year of the SDGs.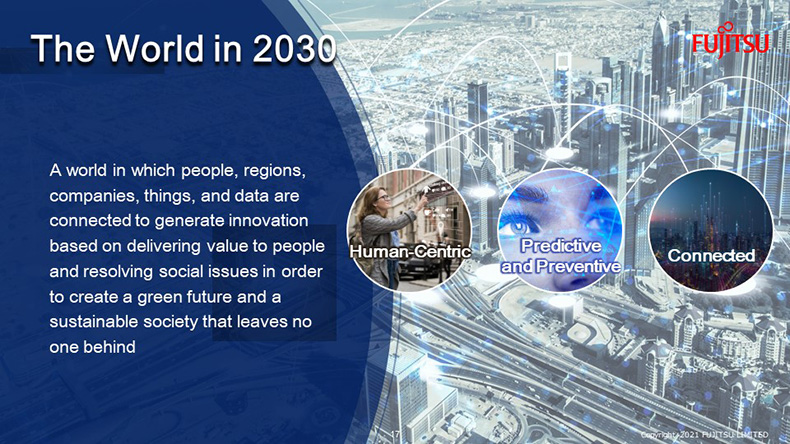 We feel that in 2030, we will be generating innovation rooted in resolving issues in society and in values based on the perspectives of ordinary people in their daily lives, aimed at creating a green future and a sustainable society where no one is left behind.This future will be human-centric. We will generate more personalized services that focus on the wellbeing of individuals and the value of individuality.This future will be predictive and preventive. This will involve, for example, expanded use of AI-based predictions of disasters and other issues, and of preventive medicine in the healthcare field, among other applications.The future will be connected. We will create connected lives, where everyone can live their lives with safety and peace of mind, connected to a digital society they can trust."
DX Bringing About a Sustainable Society
"In order to clarify what we ought to be working on in order to create this sort of world, we have defined priority areas we will focus on in cross-industry areas centered on the issues in society that we believe will arise going forward in a dramatically changing world.
These four areas are Sustainable Manufacturing, supporting the making of things, Consumer Experience, supporting usage, Healthy Living, supporting our daily lives, and a Trusted Society, which implements the previous three. Our initiatives in these four areas will support the creation of a sustainable society.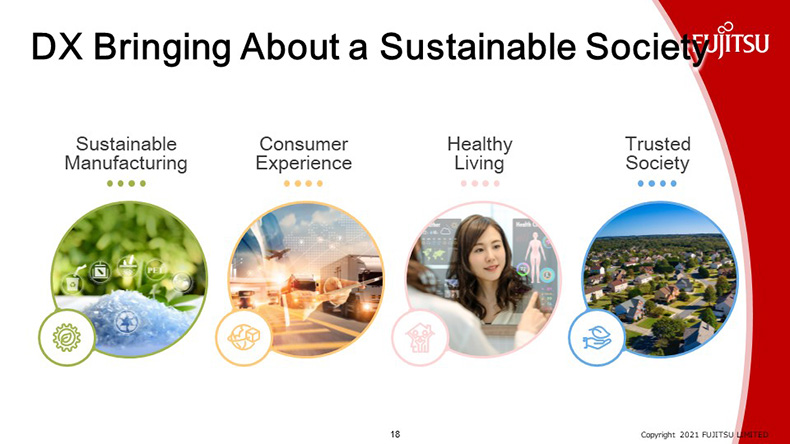 Among these four fields, I will use 'Sustainable Manufacturing' and 'Trusted Society' to introduce our direction and actions to connect to the future."
Sustainable Manufacturing
"Anheuser-Bush InBev, the world's largest beer manufacturer, has put a great deal of focus on whether the natural materials that are the raw ingredients for its beer, such as wheat and hops, are being produced in a high quality and sustainable way. The company therefore has a goal of making the entire supply chain completely transparent, from the farmers who produce the ingredients to the mills, breweries, warehouses, transport companies, and so on, all the way to the consumer. To accomplish this goal, the company has begun trials of a systems linking everyone involved in the process through blockchain technology.
In France, one million bottles of the company's beer have been labeled with an experimental QR code, enabling consumers to scan the code and find out where the wheat for the beer was grown, harvested, and malted. The company is also using the data collected in each step of the process with the goal of not only improving traceability, but also supporting more sustainable cultivation."
Trusted Society
"The town of Osaki-Kamijima, Hiroshima Prefecture, is on an island located more or less in the middle of the Seto Inland Sea. About 45% of the town's population of approximately 8,000 is over the age of 65.
In Osaki-Kamijima, which is seeing a decline in population, the continued existence of public transit institutions is threatened, while at the same time increasing numbers of elderly face difficulties driving private vehicles, so in order to ensure that satisfactory lifestyles can continue and support people in their daily lives, we are conducting a trial to convert the town into a smart island using autonomous driving technologies.
One initiative is a pickup and drop-off service using autonomous vehicles. Users can reserve a vehicle online or by phone, and an autonomous vehicle will pick them up at the specified time and place and drop them off at their specified destination.
Another initiative is a delivery service using autonomous vehicles. When the company providing the goods to be delivered receives an order from a customer, the company can make a reservation, and an autonomous vehicle will pick up the goods, and deliver them to the customer's home.
We have also heard from participating residents about their expectations of the trial, and we plan to continue to evaluate the effectiveness of new transport and logistical methods on the island."
Data Usage that Supports DX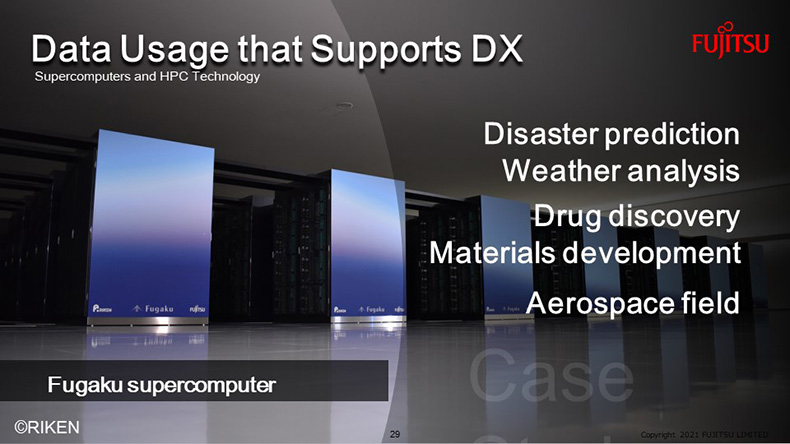 "In the coming era, the question of how to effectively use large volumes of data will become ever more important. Cloud technologies for collecting and storing data, along with cutting-edge technologies for analyzing and using it, will support this endeavor.
The Fugaku supercomputer, developed in collaboration with RIKEN, is particularly good at large scale, high speed computational processing, and is already being used in applications such as the development of compounds for new drugs and in the analysis of climate and ocean data that may lead to the prediction of natural disasters."
Creating a Green Society
"While technology is advancing and the world is becoming more convenient, concern for the environment is essential, such as in the increase in energy consumption.
Global data volumes are increasing year over year, and it is said that by 2030, they will be approximately 30 times current amounts, and as much as 4,000 times current amounts by 2050. Operating the datacenters that will hold all of this data will require massive amounts of electricity, for cooling devices and other purposes.Fujitsu has announced that we will switch over to 100% renewable energy by fiscal 2022 for all of the electricity necessary to provide services that utilize datacenters.We are also implementing initiatives that help our customers contribute to the environment by utilizing our services."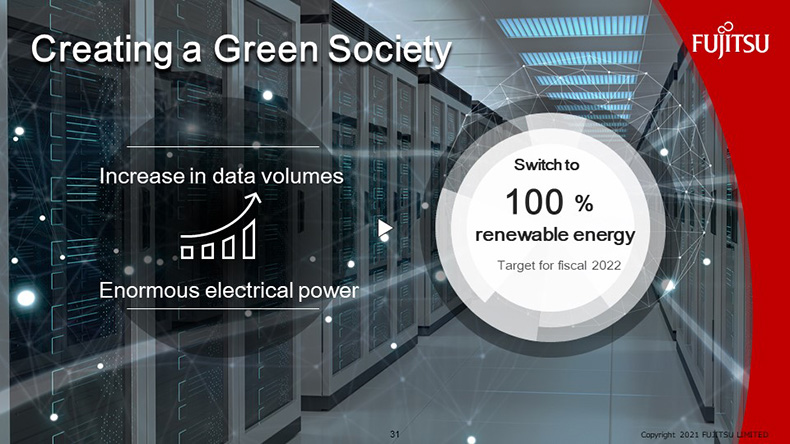 Aiming to Create a Resilient Society
"Currently, an extremely lively discussion is ongoing about the role that companies ought to play in creating a sustainable society. We recognize that, in order to create a society where people can lead full lives with peace of mind by 2030, it is essential that we connect with our colleagues for that purpose, and work together going forward to increase the resilience of society. We at Fujitsu will become a strong and flexible company capable of delivering value to you, and we hope to work with all of you, with your various strengths, while sharing the same goals."