Right now, we are headed toward a great revolution in the mobility world that only happens once in 100 years.
By efficiently applying the data from drive recorders and in-vehicle CAN networks that are rapidly gaining popularity, and the data gathered from connected cars that are expected to see an explosive increase by 2030, contributions are expected to be made to a new mobility service generation and the resolution of social issues such as reducing environmental impacts, decreasing traffic accidents, and alleviating traffic congestion.
Fujitsu aims to create a safe and comfortable mobility service with the "Mobility Digital Twin," a digital reproduction of the real world informed by the various data collected from vehicles. What exactly is a safe and comfortable mobility service? And what kind of world will Fujitsu's "Mobility Digital Twin" create? We asked the development leader Tomoya Oshita ("Oshita" below) from the Solutions Division of the Digital Transportation Headquarters.
Contents
The Desire to Connect All Mobility Data to the Resolution of Social Issues
――What is this "safe and comfortable mobility service" brought about by the application of data gathered from vehicles?
Oshita: By applying sensor data gathered from vehicles such as speed and acceleration, we are able to grasp the performance of that automobile. And through the analysis of images from drive recorders and other technology, we can also understand the surrounding conditions. It is possible to reproduce and understand a moment in the past and the current world, as well as predict what could occur in the future, by combining and analyzing such mobility data and external data.
Because of this, for example, even in the unfortunate situation that an accident occurs, we can smoothly offer an objective and convincing solution by recreating the conditions of the accident. In addition, by continuing to create and predict the latest traffic conditions, we can provide optimal driving routes. We are also preparing other solutions to actualize a range of other services.
――I see. In that case, why has Fujitsu decided to pursue this?
Oshita: After discussing with a range of customers from whom we gathered vehicular data, many of them expressed that they wanted to apply the data to resolve social issues, and we realized that we, too, have the same sentiment.
For instance, we would like to realize a world where traffic accidents would not occur. Nowadays, with the evolution of electronic technology for cars and the popularization of safe driving guidance services, traffic accidents are decreasing, but there are still many issues that need to be resolved, like the increase in accidents involving elderly drivers. Through discussions with like-minded customers, we gained conviction that we could resolve social issues by using customer data in combination with our technology.
The answer to that is the "Mobility Digital Twin," which can digitally reproduce the present world.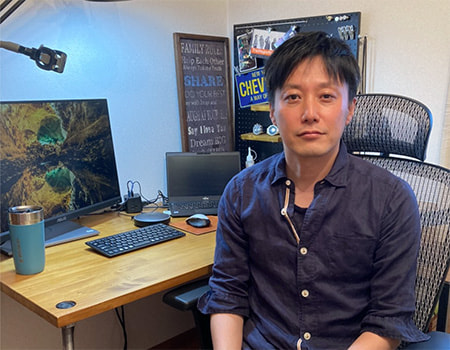 Where the Real World is Reproduced in Real Time: The World of the "Mobility Digital Twin"
――Could you tell us about the world of the "Mobility Digital Twin" that Fujitsu is proposing?
Oshita: The "Mobility Digital Twin" is a platform that takes real-world information, such as about cars and roads that continuously changes by the second, and uses this to reproduce, analyze, and predict a digital world in real time. The Mobility Digital Twin comprehends individual conditions by perceiving each car and person in the real world as separate objects, and by tackling and analyzing those individual conditions cumulatively, is able to understand data such as the position of roads.
Because of this, changes in the city, the trajectory of moving objects, potential risks, related traffic conditions, etc., can be faithfully reproduced, and a digital world that surpasses the real world can be actualized. Please watch the following video to learn more about the process of reproducing, analyzing, and predicting real-world data in the digital world in order to maximize value.
Innovations to Experience Mobility Firsthand
――By copying the real world in real time and reproducing three-dimensional data, how could this change our day-to-day living?
No Need to Report Accidents? Insurance Companies Can Analyze Accident Conditions from Images for Rapid Response
Oshita: When an accident occurs, drivers contact the police and insurance companies to notify them of the accident conditions. However, there are cases when drivers are too distraught to accurately report the circumstances. In such situations, if it's possible for images from the drive recorder to be automatically sent to insurance companies, and for the state of the accident to be reproduced and analyzed with high precision, insurance companies can swiftly respond to the accident.
Actually, Aioi Nissay Dowa Insurance Co., Ltd has adopted the Mobility Digital Twin technology to develop "telematics automobile insurance."
The term "telematics" comes from a combination of "telecommunications" and "informatics," a generic term for services such as car navigation systems and GPS that use mobile communication systems. It is a service that applies digital data gathered from specialized drive recorders installed in automobiles in order to respond to accidents.
Until recently, whenever accidents occurred, damage insurance companies had to handle the situation based upon the information received from drivers about the accident's location and circumstances, and there were cases when settlement negotiations with the opposite party took a long time. With the telematics service, by analyzing drive recorder images through AI image recognition as well as location and speed estimation technology, circumstances surrounding the accident can be more objectively and precisely identified. Because of this, the pace at which accident cases are settled can speed up dramatically, and the burden on drivers can be substantially reduced.
Stress-free Mobility through Real-time Data Collection
Oshita: Road conditions change by the second. Hasn't everyone had the experience of getting caught in a traffic jam despite following the car navigation system? Navigation to the best route can be improved by analyzing traffic reports in real time using data from the car and transmitting precise traffic congestion information. Moreover, sudden rear-end collisions that occur at the start of traffic congestion are increasing, so we want to provide advance notice of where congestion begins so that the driver can be prompted to decelerate and brake, thus preventing other future accidents from occurring.
Recommending Places at the Destination According to Individual Preferences
Oshita: The enjoyment of road trips and visiting places for the first time can be increased using recommendations from the destination determined by analyzing past locations where cars have stopped and, for instance, individual preferences cross-referenced with external purchasing behavior data. Furthermore, we also want to provide a more comfortable mobility experience by combining this service with traffic information and information about the state of congestion around the destination.
Pursuing a Kind, Future Mobility Society to Bring People Together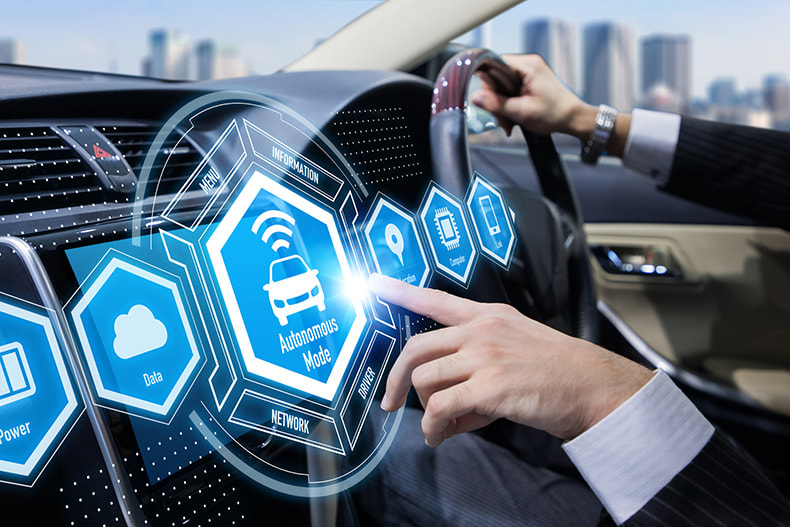 ――Tell us more about future developments.
Oshita: In May 2021, Fujitsu started a collaboration with Amazon Web Services, Inc. ("AWS" below.) By combining Fujitsu's solutions starting with the Mobility Digital Twin and AWS's cloud services ("AWS Cloud" below,) this initiative is jointly developing new company services in the mobility industry and fully-managed mobility solutions that support business creation that are to be provided through the AWS Marketplace. This will be developed not only in Japan, but globally, starting with Europe and North America.
What Fujitsu is pursuing is a kind, future mobility society that brings people together. For that purpose, not only must we realize a world of comfortable mobility where accidents do not occur, but we must also contribute to social issues related to the environment such as the reduction of CO2 emissions. By placing pressure on not only ourselves but other types of industries as well, together we can make a future mobility society possible.
"Digital Twin Analyzer," the In-vehicle Camera Image Analysis Platform for Actualizing the Mobility Digital Twin
In order to actualize the Mobility Digital Twin, great quantities of image data need to be gathered in order to understand not only the information relating to the car, but also the surrounding conditions. The "Digital Twin Analyzer" can understand the surrounding information with high precision using a general drive recorder that can be installed manually without a specialized camera needing to be set up.
Heading toward the actualization of a safe and comfortable mobility society, this technology is being developed across various types of industries and is contributing to resolving social issues.
Related Articles