On July 5, Global Digital Conference 2021: Towards a Resilient Society - Society and Business Transformed by DX (hosted by Nikkei Inc., supported by NEC, NTT, KDDI, Softbank, Fujitsu) was held, and Mr. Iwao Nakayama, Fujitsu's Chief Evangelist and a member of the Board of Directors, took to the stage.
As we look back on the Global Digital Conference 2021, two of our company's evangelists will take a deep dive into the key points from this event!
Contents
Post-Presentation Interview with Our Chief Evangelist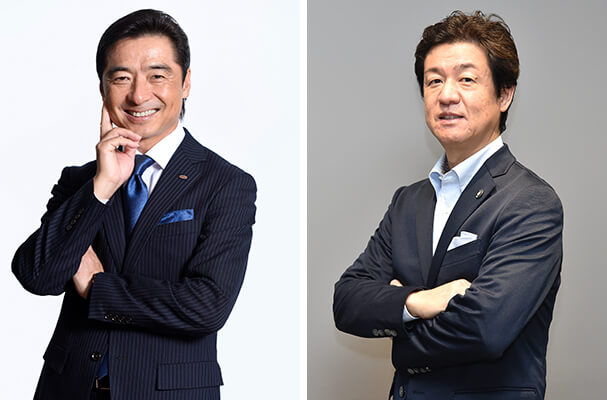 Koji Takeda: Thank you for your presentation. You spoke last year as well. How did it go this time?
Iwao Nakayama: I feel very honored to have been given this opportunity two years in a row. Last year, the theme was What is Digital Transformation in the New Normal Era?, so I made a proposal for the new normal era titled Reimagine Corporate Strategy. This year's theme was Towards a Resilient Society, so I simplified the title to The Power of Resilience and talked about society in the future using case studies on the latest technology and DX.
Koji Takeda: I think that both years the content was very easy to understand, with last year's presentation focusing on proposals and this year's focusing on the latest DX case studies. Evangelists are responsible for communicating Fujitsu's efforts to solve social issues to our customers in an easy-to-understand manner. Now, I would like to mention that for the second year in a row your presentation was given without an audience in the main hall. Was it difficult?
Iwao Nakayama: I get a lot of questions about this, but in reality, it's the same as usual because I'm explaining to the customer from behind the camera.
Koji Takeda: Is that so?
Iwao Nakayama: Hahaha, honestly, it's actually hard to do. I want things to go back to normal as soon as possible so I can give a speech in front of everyone in person. On the other hand, I think this style of presentation will become the standard from now on, and I want to train not only myself but also Fujitsu's employees to be able to deliver high-level presentations.
It's been four years since I moved to Fujitsu, and many excellent evangelists have been born through the Iwao Juku (in-house training course for evangelists), and they are giving presentations all over Japan. I hope you will continue to raise the bar Mr. Takeda (laughs).
Koji Takeda: Yes, I will do my best (laughs). Now, evangelists and economists are also working together, so if there is a request for a presentation on trends, the latest technology, or cutting-edge case studies, we would be happy to be invited.
What is Resilience?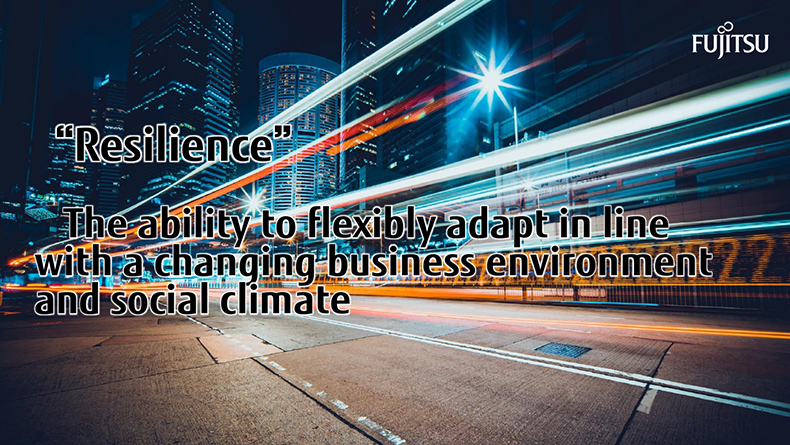 Koji Takeda: Now, let's talk about the content of your recent presentation. The opening was about "the coming of the age of uncertainty". So, what is required of companies in this era?
Iwao Nakayama: I would say it is resilience, which was the theme of this year's presentation. We conducted a survey of 1,200 decision-makers in nine countries to find out what issues should be prioritized in corporate management. More than half (57%) of the respondents cited "resilience," the ability to cope with change, as a key issue. Once again, resilience refers to the ability to flexibly adapt in line with a changing business environment and social climate. I think the most important thing that companies need now is to be able to respond to dramatic changes while maximizing the use of technology.
Koji Takeda: You give over 200 presentations a year, so this must be something that you have witnessed firsthand. What we need to do now is to build organizational capabilities and culture that can realize agile change, and to implement people-centered management.
Iwao Nakayama: That's right. In the past, companies strove for greater business efficiency in order to achieve maximum results at minimum cost. However, in the future, it will be necessary to emphasize the ability to respond to change more than efficiency. And I think the most important thing is how to create a plan for the future.
For the Realization of a Sustainable and Better Future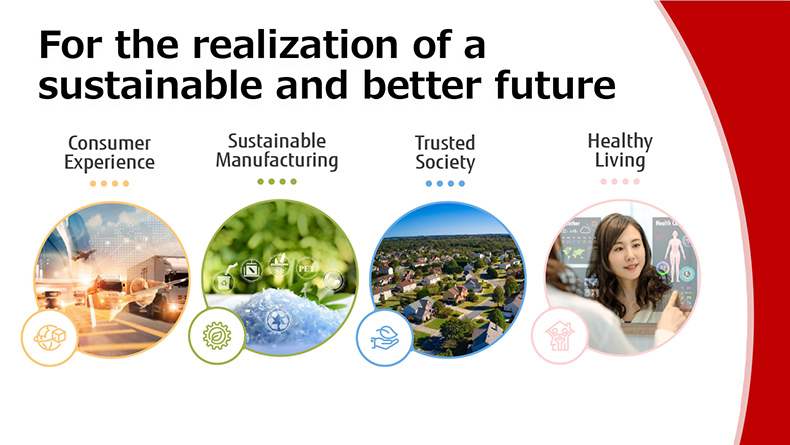 Koji Takeda: In your presentation, you mentioned that Fujitsu will create a sustainable society through innovation. Could you explain more about this?
Iwao Nakayama: Over the past 86 years of our history, Fujitsu has had the privilege of doing business with customers from almost every industry and business category. I believe that Fujitsu will support the realization of a sustainable society by making the most of this valuable experience and by focusing on the four priority areas listed here for the coming new normal era.
Koji Takeda: That's right. It is a cross-industry, cross-sectoral focus area that is driven by social issues. The evangelists, including myself, and people from each business unit in the company, worked hard on the presentation materials.
Iwao Nakayama: Yes, there were so many advanced case studies, including global achievements. Unfortunately, I could not introduce all of them, so I wanted to focus on some of the most recent ones.
Koji Takeda: You knew all of the press releases from the last year by heart! To be honest, I was pretty surprised.
Iwao Nakayama: I really wanted to introduce all of the advanced case studies, but unfortunately, due to time constraints, I could not talk about all of them. I'm sure there will be many more press releases to come, and I hope to introduce them at different events in the future. I hope you can check them out.
Consumer Experience (supporting usage)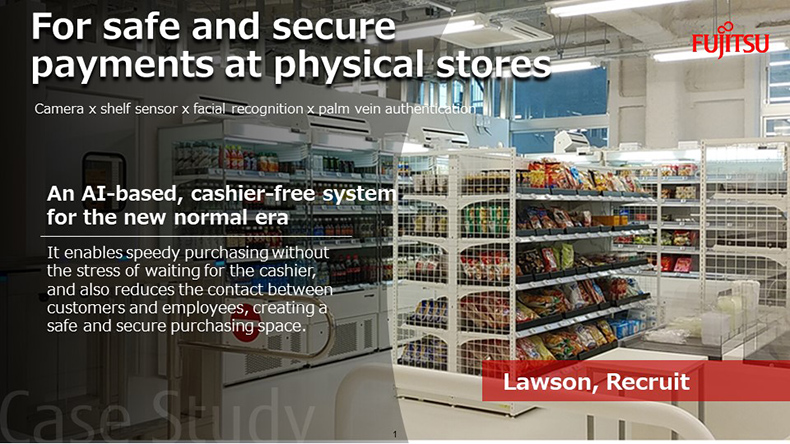 Koji Takeda: Now, let's touch on the four key areas. The first one is the future of consumer experience. What exactly does the integration of real and digital worlds mean for personalized consumer experiences?
Iwao Nakayama: By combining IoT devices such as cameras and shelf sensors with AI in the cloud, the system can identify the movements of customers and the products they intend to purchase, and automatically make a payment. This enables speedy purchasing without the stress of waiting for the cashier, and also reduces the contact between customers and employees, creating a safe and secure purchasing space.
Koji Takeda: In addition to the penetration of electronic money and barcode payments, the Covid-19 pandemic is changing traditional ways of paying for and receiving goods.
Iwao Nakayama: For example, the company Recruit recently introduced an AI-based cashier-free system that enables touchless shopping at its in-house Bee There Go convenience store. At Aeon Retail, an AI-based camera system has been used for safe and secure store operations and to improve the quality of customer service, and at Lawson, a multi-biometric authentication system has been used to create a contactless and clean store environment where customers can be identified even while wearing a mask. I believe that we will be able to create new customer experiences at an even faster pace in the future.
Sustainable Manufacturing (supporting manufacturing)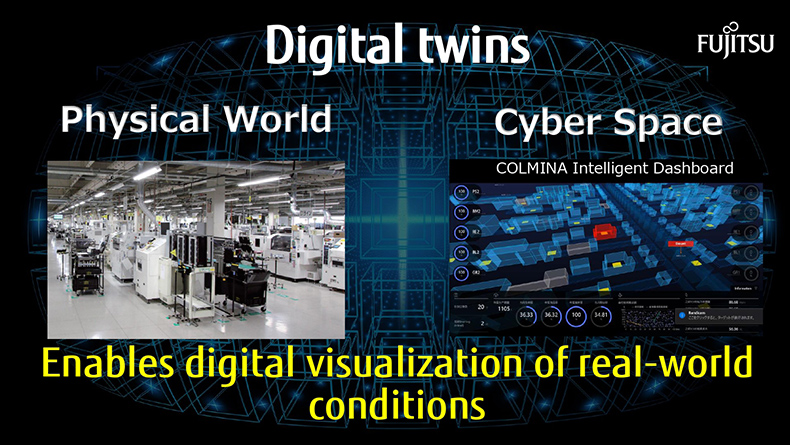 Koji Takeda: The second area is the future of manufacturing. Here, we are talking about restructuring the entire manufacturing ecosystem using data and digital technology to realize resilient and sustainable manufacturing. As a former system engineer in the industrial field, I am very interested in this.
Iwao Nakayama: With the spread of Covid-19, the question of how to achieve sustainable manufacturing is an urgent issue, isn't it?
Koji Takeda: Digital twins are one approach.
Iwao Nakayama: Yes, we have been talking about digital twins with our customers more and more lately. In my presentation, I showed the "COLMINA Intelligent Dashboard" as an example, but digital twins make it possible to visualize and control the future, not only in the factory but also in the supply chain, don't they?
Koji Takeda: Yes, not only visualizing the present, but also visualizing the future. This is exactly the kind of world that supports "creation" and it is about to be realized.
Trusted Society (supporting industry)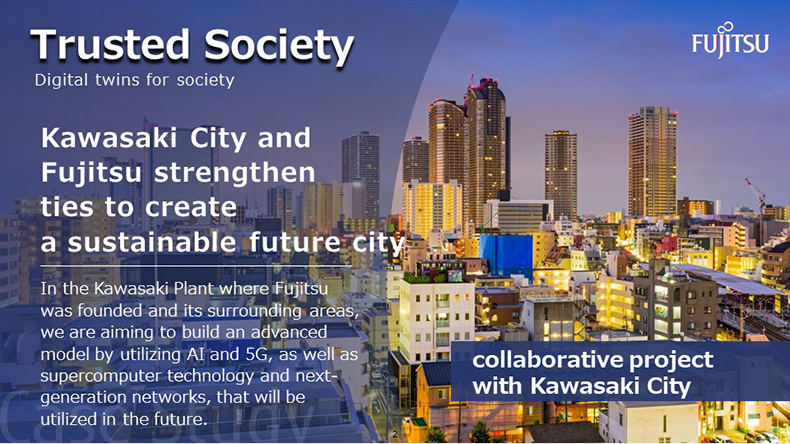 Koji Takeda: The third area is the future of public services and cities. It sounds a bit grandiose, but it's about connecting the diverse data generated by cities and utilizing it in a secure manner to realize a sustainable society where no one is left behind.
Iwao Nakayama: We are focusing on using technology to create a resilient and reliable society so that people can live with peace of mind. In the Kawasaki Plant (Nakahara-ku, Kawasaki City), where Fujitsu was founded and which is the company's core base for technological innovation, and its surrounding areas, we are aiming to build an advanced model by utilizing AI and 5G, as well as supercomputer technology and next-generation networks, that will be utilized in the future.
Koji Takeda: Recently, we collaborated with a certain local government by giving a presentation to the chief executive and holding a workshop, and there are high expectations for the future. What do you think are Fujitsu's strengths in this area?
Iwao Nakayama: Well, I think koe = "voice". A single voice can be that of an employee, a local resident, or a local government, and by listening to these different voices and conducting data-driven, multifaceted analysis, I believe we can make proposals that are uniquely Fujitsu.
Healthy Living (supporting living)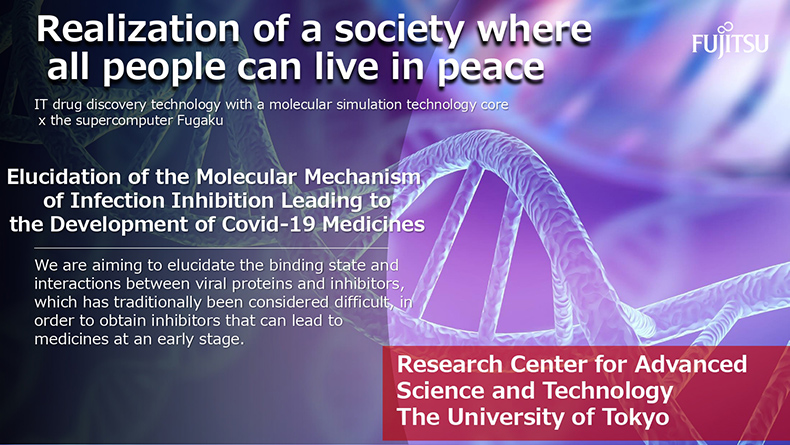 Koji Takeda: The fourth and final area of focus is the future of healthy living. In order to realize a society where no one is left behind and where people can live long and healthy lives, the use of medical and health data and digital technology will play an important role.
Iwao Nakayama: In order to realize the wellbeing of all people, in addition to the advancement of medical care and the development of more effective medicines, data-based prevention and prediction are moving forward. In response to the spread of Covid-19, vaccinations are being promoted to prevent infection and the spread of disease, while effective medicine is also eagerly awaited.
Koji Takeda: The early acquisition of small molecule medicines and the development of specific drugs for mutant strains is a timely topic at the moment.
Iwao Nakayama: Based on the IT drug discovery technology obtained as a result of our joint research with the University of Tokyo, we have started full-scale joint research using the supercomputer Fugaku to acquire inhibitory compounds that will lead to the development of medicine for Covid-19. By enhancing the synergy between simulation technology and supercomputers, I would like to support the early development of medicines for Covid-19 and contribute to the realization of a society where all people can live in peace.
Conclusions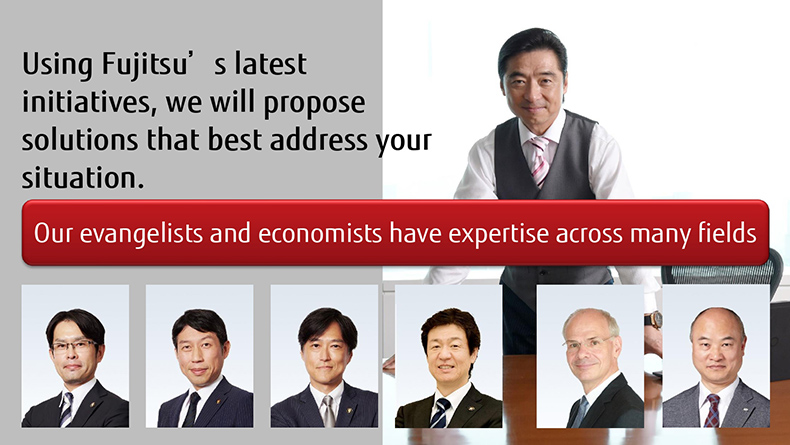 Koji Takeda: It's almost time to finish, so could you give a final message to the readers of Fujitsu Transformation News?
Iwao Nakayama: I was very honored to be asked to give a presentation again this year, but at the same time, I was worried about what kind of message I should convey to everyone. I decided to base it on the Fujitsu Technology and Service Vision (FTSV), which Fujitsu publishes every year, because this is the story of our insights that tells us what kind of future we can create together. I believe that technology has great power to help people tackle the world's toughest challenges and transform it into a better society.
Koji Takeda: Thank you for taking time out of your busy schedule for a friendly chat.
Iwao Nakayama: Thank you too. It's nice to have an interview like this after giving a presentation. I'd be grateful if anyone reading this article would like to watch the presentation. Lastly, as I mentioned in the presentation, Fujitsu has both evangelists and economists. I would be happy to give a presentation tailored to people's needs, so please feel free to contact me.
Koji Takeda: What did you think of today's interview with the member of the Board of Directors and Chief Evangelist Iwao Nakayama? We will continue to report on Fujitsu's latest initiatives from the perspective of an evangelist. Stay tuned!
Related Articles