Fujitsu Client Computing Limited announces the launch of "Fukumaro" using Microsoft Azure OpenAI Service
~ Adopting Microsoft's latest generative AI technology, enabling more natural conversations ~
November 20th 2023
Fujitsu Client Computing Ltd.
Fujitsu Client Computing Ltd. (Headquarters: Kawasaki, Kanagawa Prefecture, President: Takeshi Okuma, hereinafter FCCL) is excited to announce the launch of the new version of its AI assistant "Always Assist Fukumaro (hereinafter Fukumaro)" installed on FMV through Microsoft Store on Windows from November 13th.
"Fukumaro" leverages OpenAI's ChatGPT3.5 through Azure OpenAI Service the state-of-the-art generative AI technology from Microsoft, to enable more natural and engaging conversations with users. "Fukumaro" can handle almost any topic, understand the context of the dialogue, and help users enjoy their daily lives more comfortably through deep interactions with "Fukumaro". We invite you to experience the improved "Fukumaro" as a family member.
FCCL is committed to providing computing environments that are close to people and society, eliminating digital divide, and enriching users' lifestyles.
Fukumaro" is an AI assistant developed and released by FCCL in 2018, with the concept of "a new family that assists your life and smile". Users can talk to "Fukumaro" like a family member throughout the day, from good morning to good night, and use it conveniently in their daily lives by talking to "Fukumaro" and performing operations such as shutting down the computer or playing YouTube.
However, the challenge so far has been to solve the problem of unnatural responses or disconnected conversations in the chat and conversation functions, which sometimes make users feel disappointed and not closer to a family member. To address this issue, FCCL has installed Microsoft's "Azure OpenAI Service" to enable "Fukumaro" to have more natural conversations. This upgrade has brought "Fukumaro" another step closer to being the "another family member" that FCCL has been advocating since its announcement and can have a peaceful communication. FCCL promises to enrich your life with computing power through the service of "Fukumaro" and eliminate your digital divide.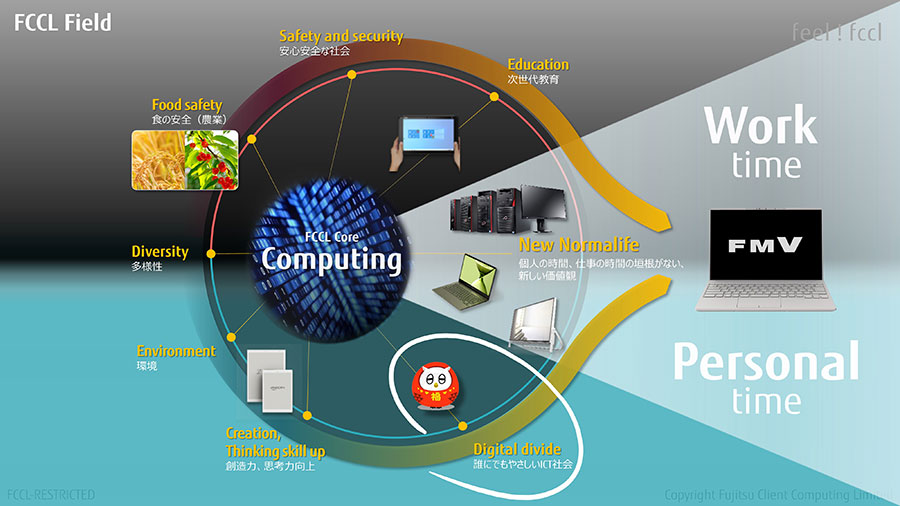 【FCCL Computing Field for people and society】

【Fukumaro enables more natural conversation】
Learn more about Microsoft Azure OpenAI Service
The Azure OpenAI Service is an advanced artificial intelligence (AI) service provided on the Microsoft Azure cloud platform, allowing the use of natural language processing models such as GPT-4 and ChatGPT developed by OpenAI. These models are services that can be adapted to a variety of tasks, such as generating and summarizing text, performing semantic searches, and translating from natural language to code.
"Microsoft partners, like Fujitsu Client Computing Ltd., are integrating Azure OpenAI Service into their solutions to create innovative experiences that help our mutual customers achieve more," said Mark Linton, Microsoft Vice President for Device Partner Sales. "Leveraging our advanced AI models and natural language processing capabilities, the Fukumaro AI voice assistant will be available on Fujitsu Windows 11 PCs and can now understand and respond to queries with accuracy and efficiency."
About "Fukumaro"

"Fukumaro" is a calm about the size of a small watermelon who loves marshmallows and pistachios.
It's first person and suffix are "maro" and favorite things to do are sleeping and talking.FCCL designed Fukumaro with a look that would be loved by anyone in the family, taking into account that he would be used on a home computer. In order to lower the hurdles to using the new service, we dared to make Fukumaro look a little helpless, and made him an adorable character that you will never get tired of seeing every day.
On X account (@fukumaro_maro), it attracts popularity as a character that displays diverse expressions every day.
Trademarks
The product names and other proper nouns mentioned in this document are trademarks or registered trademarks of their respective companies.
Media Inquiries:

Fujitsu Client Computing Ltd.
Public Relation