New FMV Products announced
FMV MH series 16-inch for consumer to be sold exclusively at retailers in Singapore, India (1)
1st June 2023
Fujitsu Client Computing Limited
Fujitsu Client Computing Limited (FCCL) (Head office: Kawasaki City, Kanagawa Prefecture, Japan. President: Takeshi Okuma) announces the "FMV MH series" of laptop with an increased size to 16-inch wide. Sales are scheduled to start sequentially from Singapore.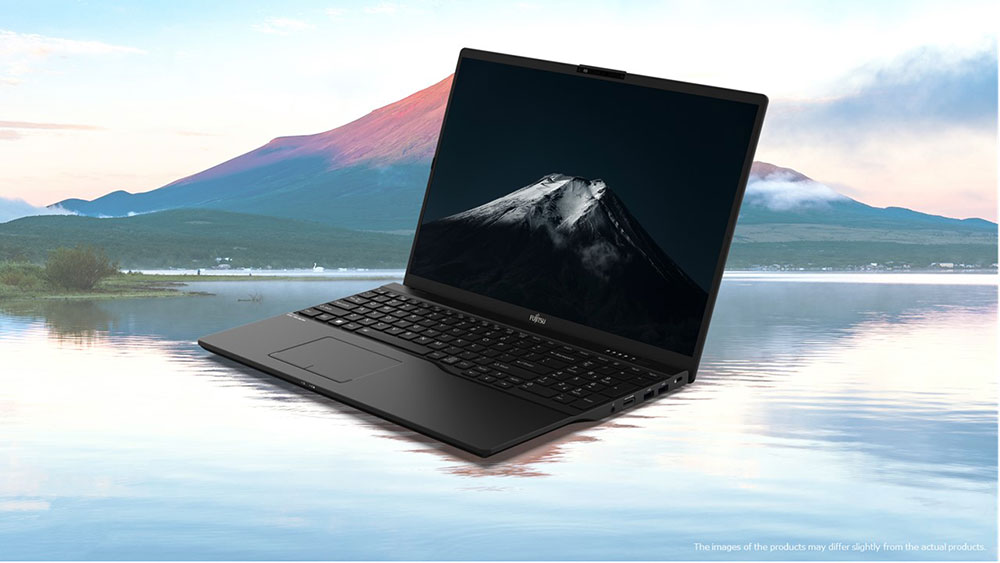 Main features of the new products
1, Even higher image quality & brightness on a larger screen
Not only has the size increased from the previous model's 15.6-inch to 16-inch, but it also features a 16-inch widescreen LCD with an aspect ratio of 16:10, which makes document creation and web browsing easier. WUXGA(1920×1,200 pixels) screen, which increases the amount of information that can be displayed vertically and requires less scrolling. The larger screen allows more things to be displayed and improves your work efficiency.
2, Made in Japan and robustness
"FMV MH series" is a product that is entirely designed and packaged in Japan.
Manufacture is carried out by Shimane Limited(2), FCCL Group company located in Shimane, Japan. Shimane Fujitsu is one of the largest and oldest PC factories in Japan, employing many craftsmen with many 'master<TAKUMI>' skills. Their careful workmanship makes the FMV MH series worth the existence.
Of course, it has been fully tested for robustness, and not only has it passed MIL-Standard 810H compliant tests, but it has also passed FCCL's own tests for robustness. (3)
3, High performance
FMV MH series (16-inch) has a large screen and a lightweight 1.45 kg body despite its 65 Wh large battery and is equipped with the latest AMD Ryzen™ 5 7540U / AMD Ryzen™ 7 7840U CPU, which delivers 68% more graphics and 26% more CPU power than the previous model. (4)
The wireless LAN is the latest Wi-Fi 6E compliant(5) and Webcam has been upgraded to Full HD high quality.
4, Even easier to use
Keyboard: carefully designed keyboard supervised by the "FCCL Keyboard Meister."
Rich interfaces: wired LAN port, HDMI output port, multiple USB ports (2 x Type-C, 3 x Type-A), microSD card.
Security: Webcam with face recognition + privacy shutter.
AI Noise Cancelling: AI engine eliminates ambient noise to support online conversations. External headsets are also supported . (6)
AI Camera Effector: automatically corrects skin texture (Appearance Filter) and automatically directs the user's gaze to the front (Eye contact) and so on(7)
Quick charging: 80% charge in 1 hour.
About the trademark
All other product names and other proper nouns are trademarks or registered trademarks of their respective companies.
Notes
[1]

The countries in which the products are sold are subject to change without notice.

[2]

[3]

The product has been subjected to a full top panel pressure test of approximately 200 kgf, a single point pressure test of approximately 25 kgf and a vertical drop test of approximately 76 cm from the bottom (robustness test at the US military standard test, MIL-STD-810H, level stipulated by the US Department of Defense). None of the test content guarantees no damage or breakdown.

[4]

According to FCCL research Previous model (compared with FMV MH 15.6-inch/ AMD Ryzen™ 7 model)

[5]

Wi-Fi 6E is Hong Kong model only. Wi-Fi 6 is available in the other models

[6]

This function may not be available with some online calling applications and connected devices such as headsets.

[7]

The effect cannot be applied to more than one person at the same time.
Product Contacts:

Fujitsu Client Computing Limited

Media Contacts:

Fujitsu Client Computing Limited