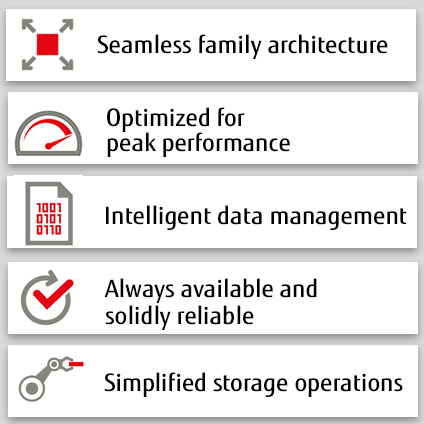 In the digital world data is at the heart of business operations. It is imperative that you are prepared for this shift today with an eye on tomorrow. We understand professional data management is vital for all businesses, small and medium business as well as for large organizations. While SMB's operate with lean IT staff and budgets it must be assured that the right storage technology delivers the right balance of functionality, scalability, and cost, a mid-level organization will have a different set of challenges that they would like to address.
However, the new Fujitsu ETERNUS AF S3 and ETERNUS DX S5 systems are solutions for all your requirements. We are here to take you beyond the boundaries of all-flash or traditional hybrid storage array.
One ETERNUS Family. Infinite possibilities.
---
ETERNUS AF S3 and ETERNUS DX S5 are the new generations of the ETERNUS AF and ETERNUS DX family, and they are designed to offer efficient and intelligent data management affordably. ETERNUS AF and ETERNUS DX systems understand your business objectives:
We are here to take away all your storage worries. Come be a part of the ETERNUS family and invest in a storage solution which is simple, powerful and always available.