<!-Subtext (optional)->
Inline Amplifier
1FINITY™ L200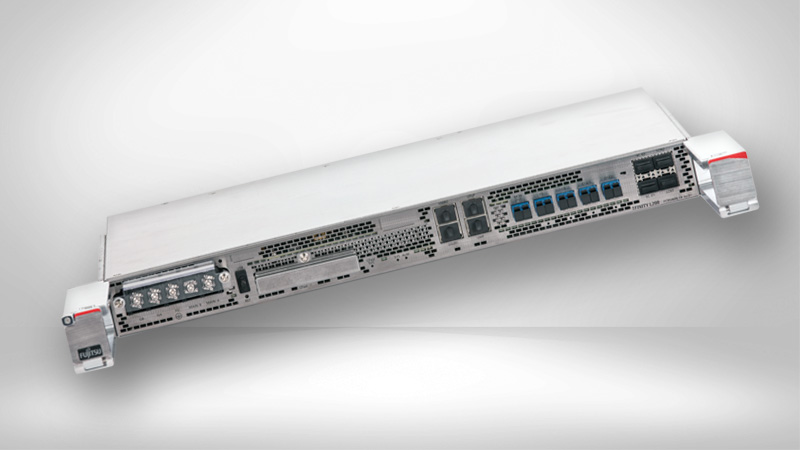 1FINITY™ L200 Inline Amplifier
The 1FINITY L200 bidirectional DWDM amplifier provides a simple, economical solution for adding long spans to metro, regional and long-haul optical networks. The platform's fixed 1RU form-factor fits into the smallest of remote ILA sites/huts as well as space-constrained environments such as data centers.
Small Footprint, Big Performance, Reduced Costs
The easy-to-use front-access design of the L200 Amplifier takes the worry out of deploying ILAs when space is limited or energy efficiency is an issue. This compact, purpose-built blade is designed to work with other platforms in the 1FINITY Lambda family, facilitating simple and scalable networks that easily accommodate rapid bandwidth growth. The L200 is highly suited to a disaggregated NFV network with remote management and SDN control.
The optical specifications of the L200 provide high-performance connectivity up to 35 dB spans, which can be cascaded up to 6000 km over ultra low-loss fiber when used with the 1FINITY T200 transponder. The L200 employs automatic gain control for fully automated setup when operating in a Fujitsu network environment. Furthermore, the L200 amplifies all 96 or 128 flex-grid optical channels and provides control of optical tilt and transients. Amplification is achieved by means of a C-band bidirectional EDFA for 1528.77–1566.77 nm, with 96 channels at 50 GHz and flex-grid up to 128 channels at 37.5 GHz. Fiber types include Single-Mode Fiber (SMF), Dispersion-Shifted Fiber (DSF), and Non-Zero Dispersion-Shifted Fiber (NZDSF).
View Product Datasheet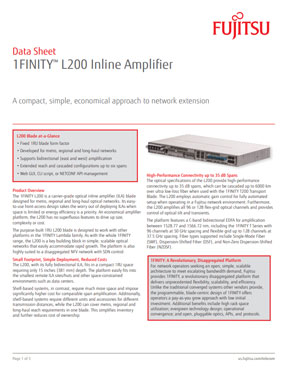 Find the perfect solution for you
Contact us to discover how Fujitsu Network Communications could transform your organization