<!-Subtext (optional)->
1FINITY™ L140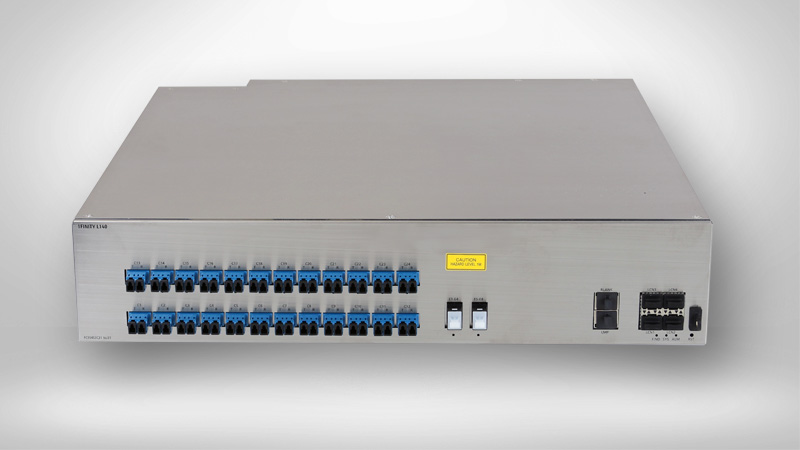 8 × 24 WSS CDC ROADM Add/Drop Blade
The 1FINITY L140 Add/Drop blade brings performance, scalability, and flexibility to busy ROADM hub and ring sites. As a member of the 1FINITY L-Series, the blade helps operators to right-size their ROADM networks. The L140 is specifically designed to provide higher-capacity support for larger sites and those that need longer reach.
High-Performance, Massive Expandability, Long Reach
Controlled by the 1FINITY L130 ROADM-on-a-BLADE, the gridless, Colorless Directionless, Contentionless (CDC) L140 blade features twin 8 × 24 high-performance, low-noise Wavelength Selective Switch (WSS) capability. Unlike older multicast switches (MCS), the L140 WSS eliminates Out-of-Band (OOB) interference and avoids splitters/ and couplers to greatly reduce noise.
High-Capacity, Large-Scale Options for Growing Metro/Regional Networks
The L140 blade can accommodate any flex-grid channel width across all 24 ports, enabling it to expand to baud rates far beyond any available today. By adding L140 blades to an existing 4-degree CDC ROADM node based on the L220 add/drop blade typically used for smaller sites, the flexible L140 can increase site capacity up to 144 add/drop channels. In addition, L140 blades can be deployed in concert to provide up to 600 ports per ROADM node. This superior scalability supports network operators in right-sizing their ROADM networks.
View Product Datasheet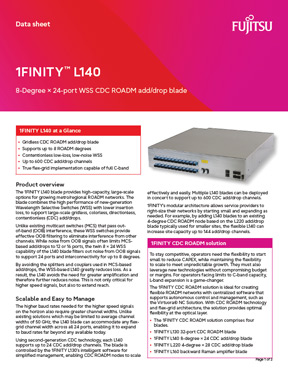 1FINITY™ L140 Blade at a Glance
Gridless CDC ROADM add/drop blade
Supports up to 8 ROADM degrees
Contentionless low-loss, low-noise WSS
Up to 600 CDC add/drop channels
True flex-grid implementation capable of full C-band
Performance and Scalability for Right-Sizing the ROADM Network
The 1FINITY L-Series blades together offer multiple configuration options and migration paths to right-size the spur, ring and hub sites in your ROADM network. L-Series blades offer an economical mix of active and passive blades in a modular, pay-as-you-grow architecture that supports efficient network design without sacrificing flexibility. With Fujitsu's 1FINITY L-Series, you have the freedom to choose an interoperable ROADM solution that meets your needs today, while remaining open to future functionality enhancements and capacity expansion.
Find the perfect solution for you
Contact us to discover how Fujitsu Network Communications could transform your organization.