Utilities
Promises Kept, Potential Fulfilled
As a prime network integrator, we understand the commitment utilities make to the communities that rely on their services. We match this commitment with a promise of our own: the networks we design, build, operate and maintain help you make a difference by unlocking opportunity and potential for your utility and your customers.
Building a modern broadband network is a smart decision, a crucial step towards digital transformation. A Fujitsu network solution makes that smart decision even smarter.
Turnkey Broadband Made Simple
Many rural electric cooperatives and public power utilities begin their digital transformation journey by building fiber to their substations, a key step in evolving a smarter, more resilient grid.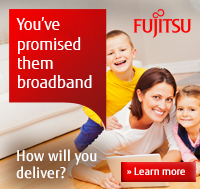 Utilities are also investing in new high-speed fiber and wireless networks using existing infrastructure and rights of way to create a new revenue source: community broadband. 

When utilities bridge the digital divide with better broadband, the benefits go beyond revenue.  Residents experience an expanded range of choices in education and health care through distance learning and telemedicine. Broadband makes a community better able to compete in a globalized, digital economy, which helps create jobs and attract investment and economic stimuli such as technology incubators, makerspaces, and enterprise zones.
How a Fujitsu Turnkey Solution Can Help—Low Risk, Lower Stress
You may be unsure of how best to proceed and minimize project risk. We can help your utility navigate the entire process—vision to completion—to create a successful broadband network.
Our promise is to understand your utility's and community's priorities, and work in partnership with you—first to shape the optimal implementation plan and then to put that plan into action. We'll handle as much or as little of the project as needed, using best practices and ecosystem partners, so that your project is completed on schedule and within budget:
Business strategy consulting 
Market analysis and go-to-market planning 
Project, vendor and supply chain management 
Network design and engineering 
Network deployment and integration services 
Network operations and management 
Fiber assurance and cybersecurity services 
Multivendor wireless and wireline solutions 
Network and technology refresh 
Custom indoor and outdoor cabinets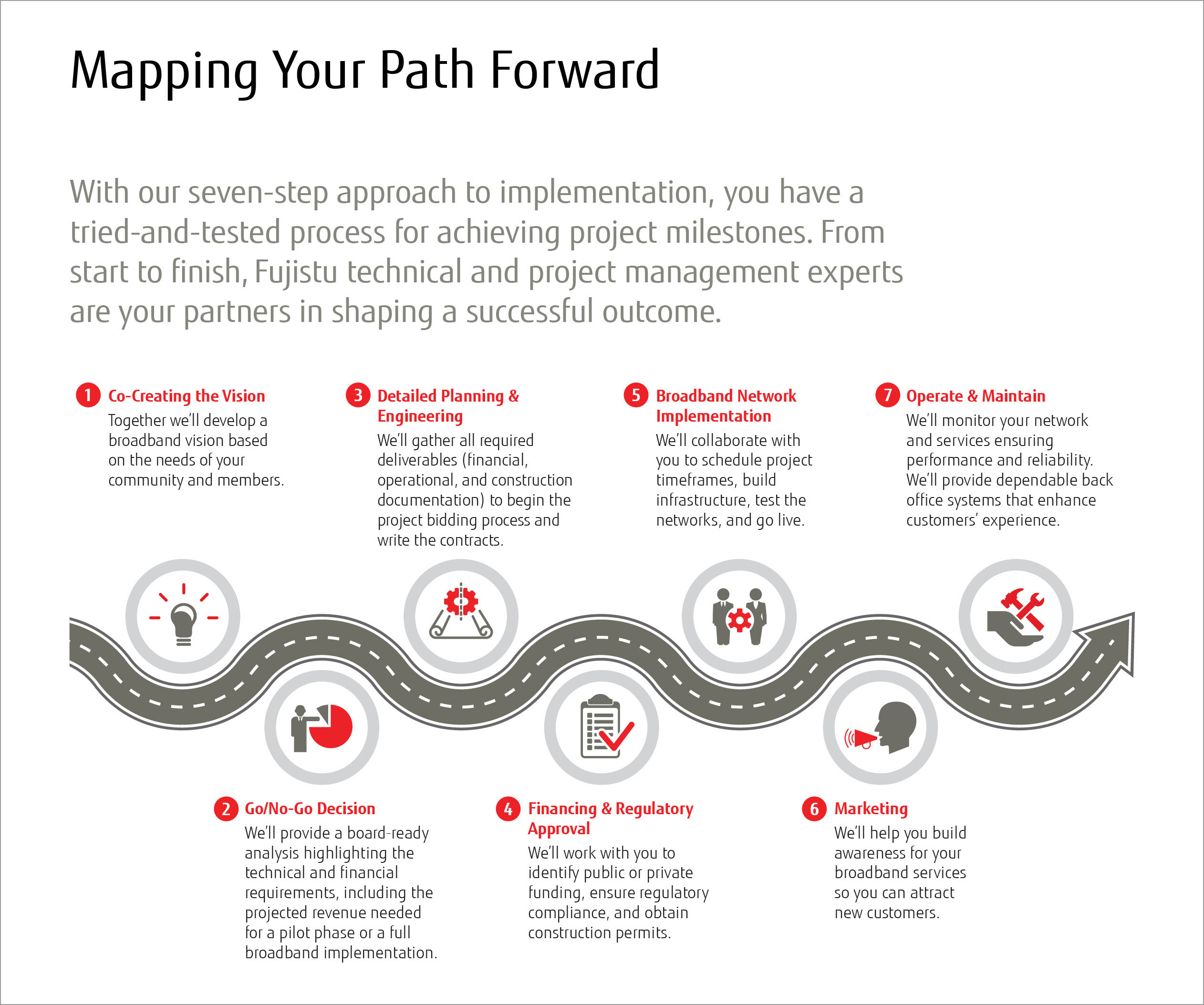 Smart Utilities Start with Smart Infrastructure
Utilities of all types want to evolve their operation towards connected, sensor-enabled technologies that make energy delivery more efficient, sustainable, and economical—what the industry calls "smart utilities." This evolution is a step-by-step process that begins by putting the right foundations in place—a smart infrastructure.
What is Smart Infrastructure?
Smart infrastructure includes several components: sensing devices; communications network; data management platform; smart services; and user applications. These essential parts together enable capabilities that improve services and business management; solve pressing issues like capital preservation, regulatory compliance, and load management; and ultimately enable utilities to offer better quality of service and customer experience. With a smart infrastructure in place, you collect data to support informed decisions about keeping your utility's operation and personnel performing at their best, so you can provide safe, reliable energy.
With Fujitsu, it's Simpler than You Think
Whether you're evolving an existing broadband network to a smart infrastructure or replacing an outdated network from the ground up, we're not here to tell you what's best. We're here to co-create the right solution with you, as an advisor and a close member of your team. We'll help you determine what network infrastructure and technology solutions you need, and identify the types of smart data you want to collect and manage.
From solution design to integration, deployment, operation, and maintenance, our processes and expertise will make your digital transformation simpler. Fujitsu smart solutions for your utility and community might include:
Smart lighting 
Intelligent remote monitoring 
Active security 
Weather sensing
Our Commitment Speaks for Itself
When you choose Fujitsu as your prime network integrator, you choose a level of commitment and support that's unique in the communications network industry. It's the kind of commitment that only decades of experience delivering network solutions and beyond that, guiding customers through the critical journey of digital transformation.
Disaggregation
Packet Optical Networking
FLASHWAVE CDS
FLASHWAVE 9500
Multiservice Provisioning Platform
ROADM / DWDM
SDN/NFV
Network Design
Network Management
Element Management