S1300i Deluxe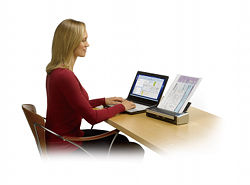 ScanSnap Deluxe is a product package of Fujitsu's latest one-button scanning solution, ScanSnap S1300i and Rack2-Filer Smart's digital file organising system with Magic Desktop. The two products complement each other seamlessly, and as a combined solution meet the demands of personal document organisation perfectly, may it be in a professional business environment, at home or on the move
ScanSnap S1300i can be powered either directly from the laptop USB ports or via an AC adapter, making it ideal for business people on the move - in the car, in clients premises etc etc. (Scanning speed is reduced when using USB power).
The S1300i is supplied with two versions of ScanSnap Manager: one for Windows and one for Mac.
The ScanSnap software automatically creates Adobe PDF files which have become the de-facto standard for document exchange, enabling you to send documents anywhere in the world safe in the knowledge the recipient will see the document exactly as you see it. The PDFs can be made searchable, either in the background of ScanSnap Organizer or directly at scan time.
To make scanning as simple as possible, ScanSnap inspects each document to decide if a document should be scanned in black and white or colour, what the size of the page being scanned is and eliminate blank pages, all of which serve to speed the scanning operation and minimise your storage requirements. In addition each document will have misaligned text corrected (Auto Deskew) and each page will be have its orientation automatically adjusted.
ScanSnap S1300i incorporates a 10 page automatic document feeder, duplex capability and colour scanning within a surprisingly small footprint and it can be powered directly from your laptop making it ideal for business travellers.
ScanSnap S1300i offers a Quick Menu mode. Just place documents onto the input hopper and press the S1300's scan button. All pages are scanned and the user is presented Quick Menu, from where you can easily direct the resulting PDF file to either ScanSnap Organizer, Email recipients, file folders or even printing devices.
The ScanSnap S1300i Deluxe comes with a linking function to popular cloud services including Dropbox, Google Docs, Evernote, SugarSync and Salesforce CRM. It is now easy to seamlessly link and save your scanned image data virtually anywhere and anytime. If no scanning interface is available Windows users can select the 'ScanSnap folder' option within the cloud application which then allows you to scan directly to the cloud through the import capability
Scan to iPad and iPhone and now to Android™ or Kindle™ devices*, via the downloadable ScanSnap Connect application. Upload your document fast, securely and easily; instantly display and share.

For existing ScanSnap users, ScanSnap Manager and ScanSnap Organiser may need to be updated. Visit http://www.fujitsu.com/emea/products/support/support-en-20111019-1.html
*The application supports many devices running Android 2.2 or later versions. For a list of Android smartphones/tablets supported, go to: http://www.fujitsu.com/global/services/computing/peripheral/scanners/ss/feature/ssca-requirement.html
Get more organised with the Deluxe bundle
ScanSnap S1300i Deluxe comes bundled with Rack2-Filer Smart and Magic Desktop (Windows only) – making it easy to organise, manage and use the data from document scans.
Rack2-Filer Smart allows you to save your scanned and existing digital data in realistic looking bookcases and files that can then be easily retrieved and flipped through – just like you would with regular paper files. Access and utilise this data anywhere through your cloud services; edit, add comments then save or redistribute via a smart mobile device.
Magic Desktop enables you to organise/edit image files or scan data imported from ScanSnap in a workspace simulating an actual desktop. It allows users to seamlessly organise their work by categorising data in groups and can also share information with a group via a built-in Facebook link.
ScanSnap Manager [Windows]
Fast & easy creation of PDF documents
Easy access to predefined scanning profiles
Allows files to be renamed at scan time
Continuous scanning, easily create PDFs greater than the ADF capacity
Password protect PDF files
Auto orientation alignment
ScanSnap Organizer [Windows]
ScanSnap Organizer is a virtual filing cabinet which allows you to file, organise, email, print and browse your scanned documents without the need to open them in Acrobat,It can also convert Scansnap scanned PDF's into fully searchable PDF as a background process.
ScanSnap CardMinder [Windows] & CardIris [Mac OS]
This application will intelligently capture the information from business cards. Cardminder now includes IntelliSync which enables the data to be exported to a number of PM applications. Alternatively data can be exported in the CSV file format.
The information captured is available across the range of Windows applications, simply highlight a person or company name within your document or application, press Alt-F3 on the PC keyboard and the related business card images will pop onto your screen as an instant aide memoire of that persons job function, address, contact details etc.
The underlying database can be stored and exported to a variety of PIM software such as OutLook, ACT and Goldmine via the IntelliSync.
ABBYY FineReader for ScanSnap™ [ Windows® ]

Editable files can be created by scanning directly to Microsoft® Word, Excel¹ and PowerPoint files.
¹ Only Microsoft Word & Excel are available for Mac OS
Evernote for Win 4.4, Evernote for Mac 2.2
Scan to Microsoft SharePoint 3.4
For your peace of mind the S1300i Deluxe is covered by a 2 year Product Exchange warranty.