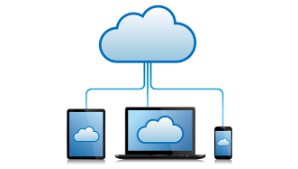 What is the Hosted Virtual Desktop?
The Hosted Virtual Desktop is Fujitsu's flagship product for GoDaaS; it delivers a virtual desktop with an evergreen, managed SOE, 41 packaged common applications, a self-service portal, patching and deployment; and a remote access facility via a high availability, dual-data centre platform.
Fujitsu's Hosted Virtual Desktop is a solution designed to offer a seamless desktop solution across multiple platforms, accessible from anywhere. Fujitsu uses AppSense Technology to provide end users with a truly personal mobile desktop experience, designed to retain data and application preferences centrally; keeping your workforce productive from any terminal at any location around the clock.
What options are available?
Our Hosted Virtual Desktop (HVD) solution has two options available to suit the requirements of your end users. Our standard HVD is geared towards standard corporate users; while the power HVD is aimed at users who require more computing power for high demand applications and multi-tasking.
Brief overviews of the specs are listed below:
Standard HVD is a dedicated virtual desktop using 1vCPU and 4Gb RAM with a persistent session;
Power HVD is a dedicated virtual desktop using 2vCPU and 8Gb RAM with a persistent session, designed for high-end Users.
What does the service include?
The GoDaaS virtual desktop Service includes:
Administration consoles for managing traditional desktops
GoDaaS desktop management platform;
41 Common Applications (e.g. Adobe Reader, Java Runtime, Internet Explorer, Microsoft .NET plus many more)
Standard SOE with quarterly releases;
Security patch management and deployment;
Second level service desk to manage incidents and service requests specific to the GoDaaS platform and Services;
Standard reporting and billing;
Self-service portal delivering end-User self-provisioning
Virtual desktop remote access delivering a virtual or shared desktop accessed over the internet via single-factor authentication on a Citrix access gateway