Fujitsu Product Support Hardware: Fujitsu EMEA
Fujitsu Support Pack and ServiceContract Hardware
Fujitsu Product Support Hardware encompasses the diagnosis and the elimination of hardware faults by repair or replacement. Fujitsu will respond to an incident and solve the fault in accordance with the contracted Service Level Agreement which can be an Offsite or Onsite support.
Fujitsu Support Pack Hardware is a Product Related Support contract with once-only remuneration and for a fixed contract term of 1 up to 5 years. The service period can be extended by purchasing a corresponding follow-on Support Pack. Service levels can be selected from standard options.
Fujitsu ServiceContract Hardware can, unless otherwise explicitly regulated, be acquired at any time during the product lifecycle until 12 months before the end-of-service for that product. It offers more flexibility than a Support Pack allowing service levels to be agreed in accordance with customer's needs.
Offering
Product Support Hardware comprises the diagnosis of hardware faults and their elimination by repair or replacement. The service levels are as follows: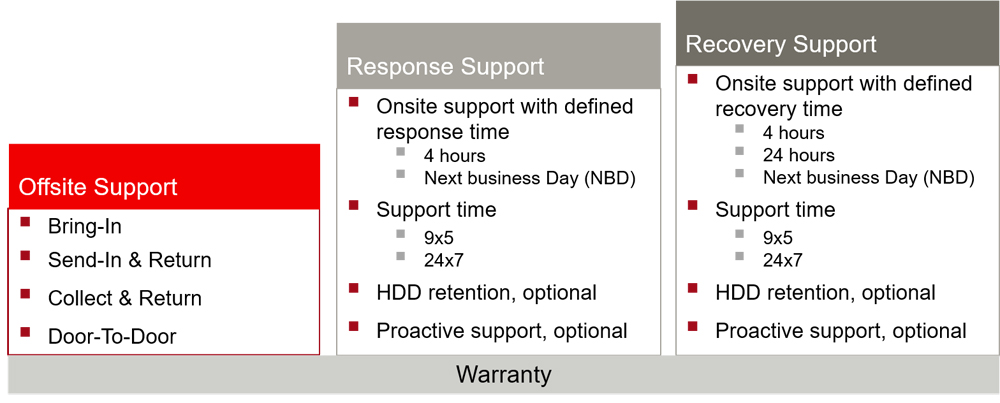 Benefits
Smooth IT operations right from the start with the shortest possible downtimes 
Range of service level options enabling the right level of availability for hardware
Freedom for your internal IT specialists to concentrate on their core business
Selectable payment terms: front up once-only payment with Support Pack or regular installments with ServiceContract
Flat fee pricing: well projectable, no hidden costs
HDD Retention
Hard disk replacement without returning the defective disk (additional offering)
In case faulty data media (hard disk drives, SSDs, UFM-Devices, SATA-DOMs, DCPMMs or Boot Disk Utilities…) cannot be repaired and needs to be replaced, the exchanged component needs to be returned to the manufacturer. But what happens with the company-confidential data stored on the faulty device? With the HDD Retention offering, the exchanged device remains customer's property. This ensures that company-confidential data won't leave a company.
Benefits
Security for confidential data
Full data control remains with the customer
Meets data protection and company guidelines
Civil liability risks are reduced