Ever experienced language barriers in ServiceNow?
Translator Bot will help you solve these challenges with translations directly in ServiceNow. It provides a range of modules to support language barriers between stakeholders. Translator Bot utilizes the cutting-edge machine learning capabilities to provide a seamless user experience, saving you time and resources on translations.
Conversation Translator Bot
Makes it possible for the end-user to answer tickets in their own language.
Chat Translator Bot
Provides real-time translations in chats, allowing users to engage in their preferred language.
Notification Translator Bot
Enables the administrator to create notifications in one language and automatically translate it into the receivers preferred language.
Knowledge Translator Bot
Knowledge articles can be written in preferred languages and shared with the rest of a multilingual organization.
Platform Translator Bot
Aiding the ServiceNow administrator in translating the platform or portals into several languages.
Vendor Translator Bot
Assisting process integrations, by automatically including translations in the integration to a vendor.

Translator Bot Business case
Download our business value assessment calculator to see the financial benefits
Translator Bot can give your company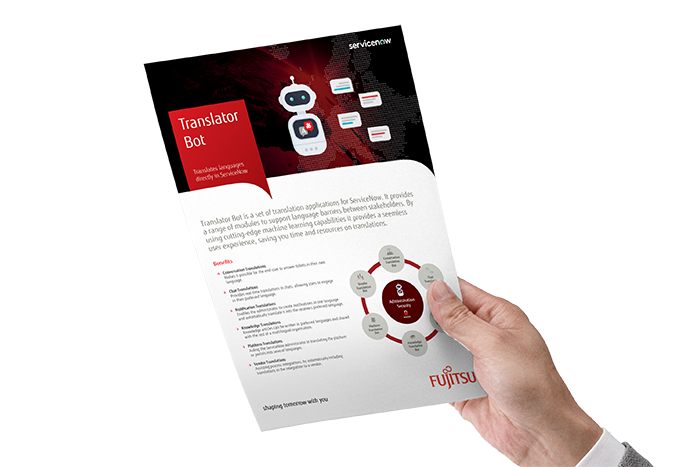 Find out how Translator Bot can support your organization by downloading the datasheet.
REQUEST A DEMO
Fill out this form and we will provide you with a free demo of the Translator Bot solution.