FIA World Endurance Championship (WEC)'s final round of 2022 (Round 6) "8 Hours of Bahrain Race" will finally be held on Saturday, November 12.
At WEC Round 5 "6 Hours of Fuji Race" held at Fuji Speedway on September 2, Hypercars by TOYOTA GAZOO Racing (TGR) won the race with one-two finish. We interviewed Kazuki Nakajima, Vice President of TGR Europe, about his enthusiasm for the important final race to determine the World Champion of the season and about the sustainable world that motorsport aims for.
Table of Contents
First race in 3 years in my home country
――Congratulations on the one-two finish at the Rd.5 Fuji! I was there to cheer for the race, but it was the first time in three years that the event was held at Fuji Speedway, so the audience was very excited. How was the race?
First of all, I would like to express my gratitude to everyone who supported the race at WEC Fuji. After all, the reason why the race held in my home country is special is because of the support of Japanese motorsports fans, related people, and partners such as Fujitsu, and I think that turning that into energy has led to the wonderful race result.
It was our first race in 3 years, and not only our team members but also other teams and organizers were looking forward to it.
Also, since a race takes place around the world, unfortunately there are not many opportunities for our partners to see and learn about the race. In that sense, we wanted WEC Fuji to be a place where we can deepen our bonds with our partners by having direct contact with our activities and teams as well as the race. There was a lot of discovery and learning that I still had to do, and it was a very informative race.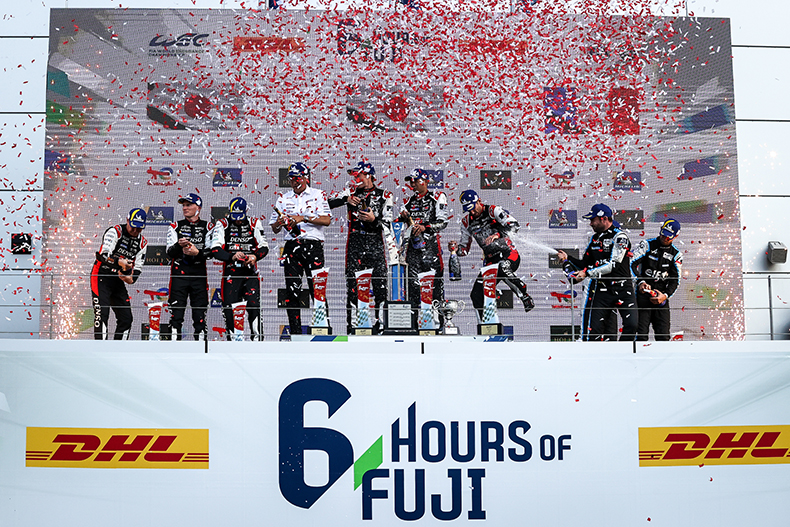 What's important to win
――Our victory at Fuji significantly widened the gap between us and Alpine, who is in the second place of the competition for the Manufacturers' title this season. Also, we tied with the top in the drivers' ranking. Both teams want to win the championship of the series in the next final match.
Our strategy for the final match is very simple and we just play for victory. Of course, in order to win the race, it is absolutely necessary to proceed without mistakes in all aspects of operation, car reliability and driving. In terms of title competition, it would be good if we could finish before Alpine, but we would like to play with a higher sense of goal as a team rather than being conscious of the title.
Regardless of where the title goes, cars #7 and #8 of our team will have a showdown at the finale. Please pay attention to the outcome of the match where each player puts his or her own will!
――I'm looking forward to the final match because there are many things to see. Looking back on this year, I think it was the first year for Nakajima-san to be in the position of vice chairman. How do you like it?
Personally, I have played a new role in the past year, but I honestly feel that I am still studying.
What can I do in my new role? It was a season that we were looking for, but I think this is an endless question.
I get asked if I feel uncomfortable not racing when I am at the race site, but I feel that even when my position changes, the fact that I like racing itself doesn't change. I am grateful that I can continue to participate in the WEC race, and I will continue to convey the greatness of this race and the significance of TOYOTA GAZOO Racing's activities, "Making Better Vehicles through Motorsport".
――What do you think is the most important thing to win the season?
It's a pretty solid answer, but I think continuity and consistency are big factors. The phrase "break, fix, or train" is often used to describe better cars, but we have been practicing "break, fix, or train" for more than 10 years for WEC. Not everything was going well this season, but I think the team's strength will ultimately come from continuing the cycle of how to deal with and improve the issues.
Taking WEC as an example, many competitors have entered the race since 2023. We have to keep our eyes on these competitors and keep on turning the cycle of improvement toward higher goals.
―― "break, fix, or train". Continuing to pursue that practice leads to strength. It's easier said than done.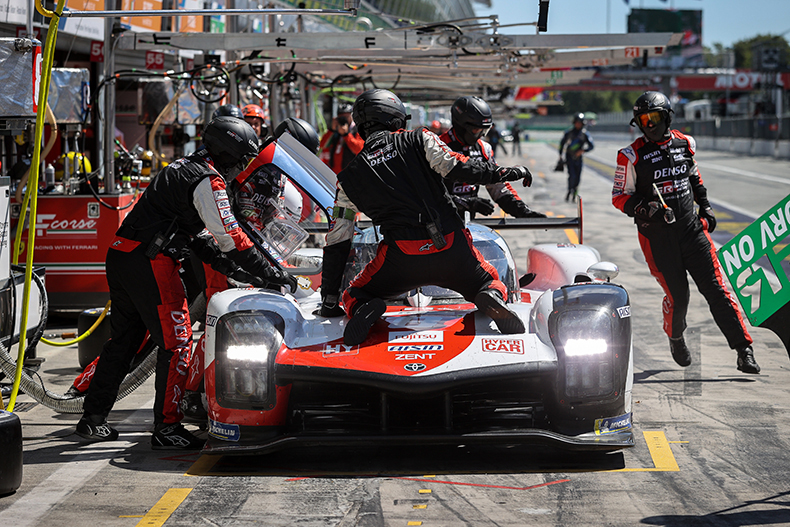 Realizing a sustainable world with motorsports
――In the Fuji race, there was a plan to experience riding a hydrogen engine car ("Corolla Cross H2 Concept" equipped with a hydrogen engine). In the WEC series, the introduction of hydrogen category racing was announced for 2025. What kind of future do you think lies ahead of these efforts?
I am curious about the impressions of everyone who drives a hydrogen engine car!
I myself had the opportunity to test drive a hydrogen-powered car with people from ACO (Le Mans organizer, the Automobile Club de l'Ouest), and I felt a great potential. *1
Most of all, it's carbon neutral, but with the sound and vibration of the engine, something that's hard to say for a car or racer. ACO is already working to introduce hydrogen technology into the race, and has demonstrated its commitment to be carbon neutral throughout the event, not just the race. We feel the same way, and I think it's important to make friends with the same spirit. In order to realize a sustainable world, I would like to increase the number of options that are not limited to EVs and connect them to great possibilities with my colleagues.
――You're right. I was in a car with a hydrogen engine, but I was overwhelmed all the time by not only the difference in feeling of a gasoline car but also the powerful driving on the hill and the curve. It's exciting to think that the age of hydrogen engine cars running around town is not so far away.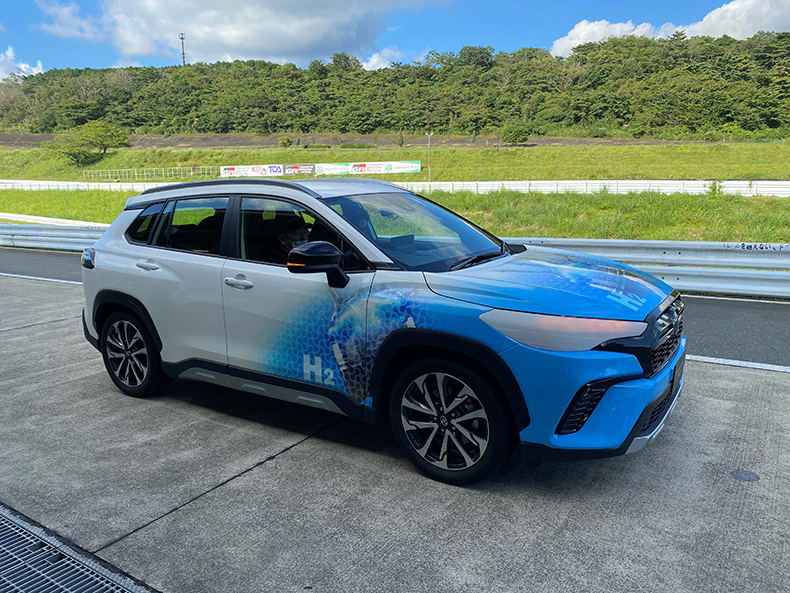 ――Fujitsu is committed to using technology to help create a sustainable society.
Our company engineers participated in the discussion at Fuji. Could you tell us again what you expect from our company?
At Fuji race, we discussed various topics with people from Fujitsu. Thank you very much. As we were able to discuss the possibility of further technical cooperation this time, I felt that there are various fields that can be utilized at the WEC, and I think that the form has become concrete.
I would like to work with you to expand the possibilities and continue our efforts to realize a better society. In order to continue fighting WEC, a race that takes place all over the world, we need not only Fujitsu's technology but also the values of challenge, empathy and trust that support it. We look forward to working with you in the future and putting that technology and values into the team.
――Thank you. We would like to challenge together.
Toward the Final Race in 2022
――Please tell us your ambition for the final round in Bahrain.
The final game of the 2022 season of WEC is coming up soon, but first of all, thank you for playing with us this past season!
Bahrain will be the final round in which the world champion's title will be at stake for both the drivers and the manufacturer. This is a race that will be the culmination of what we've built up so far this season, so I have a sense of tension, but I want to turn that into energy for the race.
Because of the time difference in the race, it is midnight in Japan time, but I would like to share the joy of winning the title with everyone, so please support us!
This season's final race "8 Hours of Bahrain" will finally be held on Saturday, November 12. I would like to support cars #7 and #8.
By taking on challenges in new fields such as motor sports, Fujitsu will work to solve social issues, including realizing a sustainable world such as carbon neutrality.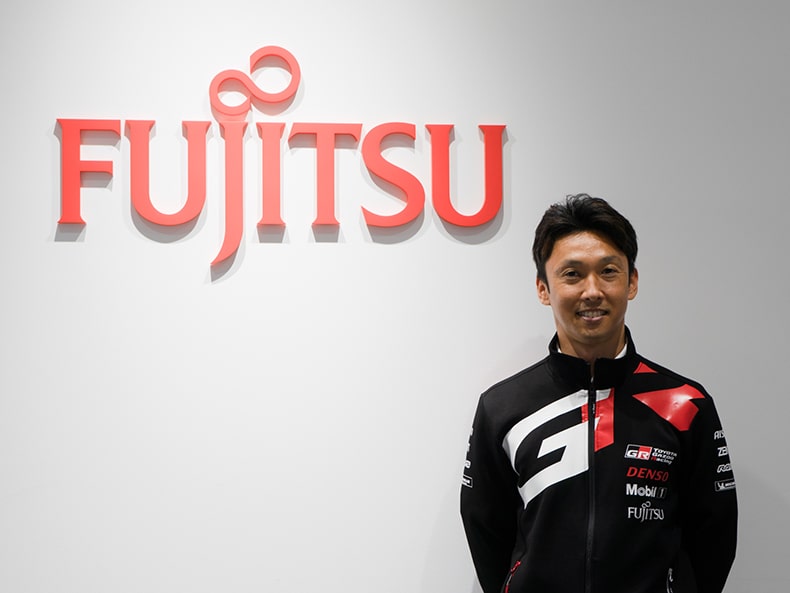 Profile of Kazuki Nakajima
Kazuki is a retired racing driver from Aichi Prefecture. He became an F1 test driver in 2007, and was an F1 driver for two seasons from 2008. Starting in 2012, he participated in the WEC. Between 2018 and 2020, he won the Le Mans 24 Hours three years in a row. And in the 2018 -2019 season, he became the first Japanese driver to win the WEC. He retired in 2021 and is currently the Vice Chairman of TOYOTA GAZOO Racing Europe.
Related Information