Fujitsu holds the Fujitsu Festival on a regular basis to promote the Fujitsu Group's DX activities with the participation of all employees. From May 30th to June 3rd, the seventh FUJITRA Festival was held under the concept of "Heart-to-heart talk" enabling participants to have open discussions. As a special guest, TOYOTA GAZOO Racing Europe Vice President Kazuki Nakajima had a session titled "Extreme conditions train people and their skills".
Over 300 people participated in the talk live, and 150 questions and supporting comments were received. Among them, there were comments such as "What a surprising guest !" and "Can't believe it's an in-house event !" This article introduces a part of the talk session, which turned out to be a great success.
Contents
Overall content of the session "Extreme conditions train people and their skills"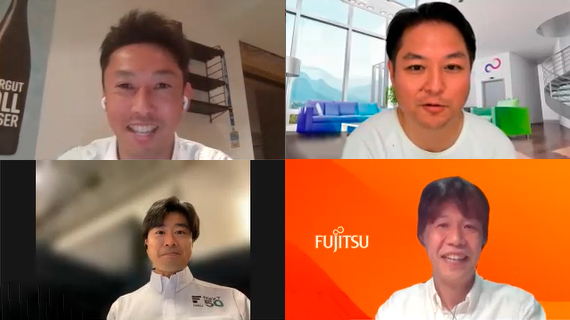 ――What kind of race do you think is the 24 Hours of Le Mans?
Nakajima: The Le Mans 24 Hour Race (hereinafter, Le Mans) is a race that has been held for 100 years as a opputunity to train car skills. Le Mans believes that it is important not only to compete for speed, but also how much you can drive with limited energy.
I have participated in the race as a driver before, but it is a difficult race where you don't know what will happen in 24 hours and you won't lose your mind no matter how many times you participate. On the other hand, the spectators can enjoy the race until the end.
Fukuda: There is an extreme condition unique to endurance racing. I used to focus only on speed when it came to motorsports, but now I realize that Toyota has a will to "advance technology" behind it. In what situations did you realize "Extreme conditions train people and their skills"?
Nakajima: As Mr. Fukuda said, there is an extreme condition unique to endurance races. In this context, we find meaning in training machines (cars) and people, and we are fighting against them. Technology has changed significantly over the past 10 years. The use of hybrid engines has improved energy efficiency in each stage. Compared to a machine that runs on an ordinary engine, a machine with a hybrid engine can achieve the same speed and orbit with only 60% of its energy. In addition, the lap time has been shortened by 10seconds, and I feel that our skills has also been considerably improved.
The fact that the technology is constantly evolving means that the moment you stop walking, we are immediately left behind by other teams. I feel that the severe situation affect the engineer's mind. In 2021, the rule was changed to allow each machine to run as equitably as possible by adjusting its performance, so that people could control the outcome of the race. In addition to the skills, people are also greatly trained.
Fukuda: You mean that you are fighting not only during the race, but also for 365 days to improve your skills? I think it's synonymous with "agile" in the Fujitsu industry. Toyota is also challenged with agile and the engineers and drivers are fighting together.
Nakajima: In 2014, Toyota won the championship for the year (series champion), but the following year they improved beyond what their competitors had imagined and lost in seconds. It was the moment when I realized that if I slowed down the development speed even a little, I would be left behind, and that racing trains people and trains skills.
――I think data plays an important role in motor sports. How do teams leverage data for performance?
Nakajima: We run simulations with data before actually running the machine, but the analysis of data while running in real time is still largely human dependent. Even if the final decision is made by people, I hope that technology that automates real-time analysis will develop.
And because Le Mans has so much data, it's likely that AI will be able to pick up data faster and more accurately than humans when they look back at the race. I think this will directly affect the results and reliability of future races.
More Questions for Kazuki Nakajima
During the session, many questions and comments were exchanged from participants about Kazuki Nakajima and the race. He offered to answer them as much as possible within a limited time.
―― Why can racers keep driving for 24 hours on a public road like Le Mans?
I think there are various things such as concentration, physical strength, mentality and skills, but what is the difference between top athletes that win and one's that don't ? Also, please share any tips to ensure safety driving for general drivers.
Nakajima: To put it simply, I think that the fact that we have repeatedly trained in actual matches, practice, and daily training, and the experience we gained from that is a big factor. In motor sports, there is a limited amount of time that you can actually practice on a machine, so I think the difference will be how you can use that time effectively and create many drawers from your experience (including failure). At Le Mans, in particular, we are constantly involved in accidents, such as passing other machines, so we try to drive with our instinct based on our experience. As you may have heard before, this is a very useful mentality for safe driving.
――From this year, you participated in Le Mans as a manager, but what kind of change was there in your awareness compared to when you were a racer?
Nakajima: What I felt the most is that even if I watch the race, the sense of responsibility and the sense of tension in the race has not changed comparing with the time when I was a driver. In that sense, I was more aware of the fact that everyone on the team shared the same thoughts which made me rediscovered the greatness of motor sports.
In addition, there were several questions regarding IT and data unique to Fujitsu employees could ask.
――If there is anything you would like to do with the power of Fujitsu technology, please let us hear about it. For example, I think you can obtain information on the machine (Oil temperature, water temperature, air pressure, etc.) and the road surface in real time, but do you have any data that you would like to be able to analyze like this?
Nakajima: The amount of data you can get from the machine during a race or between practice sessions is enormous. Currently, most of the data analysis work for performance improvement and defect detection relies on manual work by human hand, so if data can be visualized more clearly for analysis prioritization and efficiency, the burden on engineers can be reduced.
――Please tell us what you would like to achieve through motorsports.
Nakajima: Making better cars through motor sports, including carbon neutrality, is a major goal. In addition, I have seen a great deal of drama and excitement from my own childhood as a motor sports fan and driver. I also want as many people as possible to know and empathize with the beauty.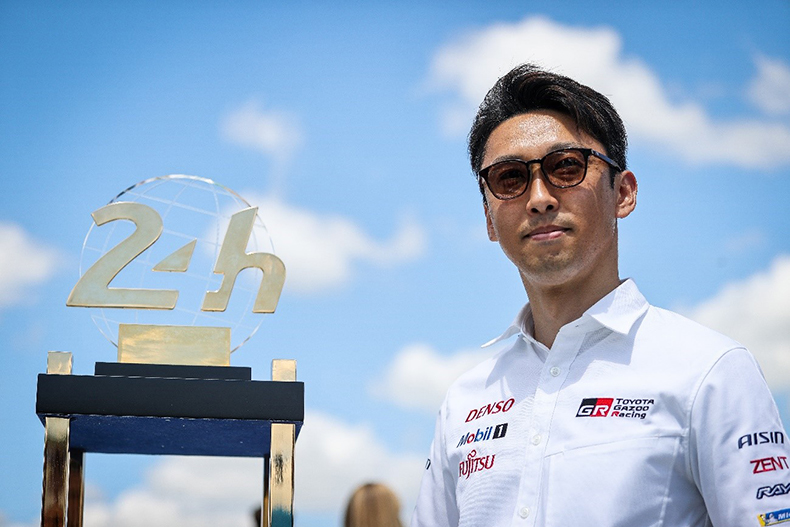 Congrats on 5 consecutive wins in Le Mans 24
Ten days after the FUJITRA Festival, on June 12th, the Le Mans race was held, and the TGR team, which had 2 cars, won the championship with car 8 led by Ryo Hirakawa, and achieved 5 consecutive victories. Car 7, including Kobayashi Kamui, finished in second place, making an incredible one-two finish two year in a row.
After Le Mans, Toyota is currently in first place of the season with 103 points.
Ryo Hirakawa and other drivers of car 8 are ranked second while car 7 with Kamui Kobayashi are ranked fourth. Three more games to go. We are looking forward to TGR's success for the overall championship.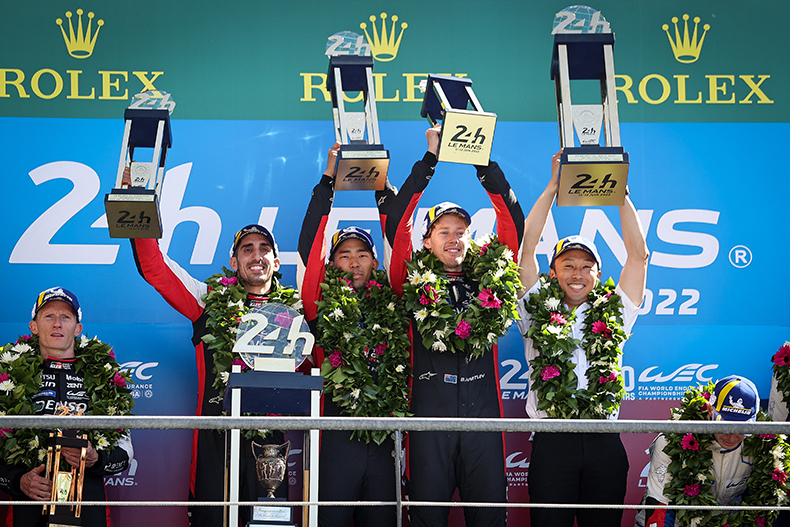 Message from Kazuki Nakajima
I would like to thank all of you for supporting the 2022 Le Mans together.
People said thwe had no rival candidates, but the competition between two cars within the team was very high level and exciting. As experiencing this course as a former driver, I'm proud of the drivers and the team.
However, it was also true that the machine trouble decided the outcome of the two cars, and it made me realize that there is still room to improve. Next year will be the 100th year anniversary of Le Mans, and I'm looking forward to confront many competitors coming back. Thank you!
Fujitsu would like to express our heartfelt gratitude to Kazuki Nakajima for participating in the FUJITRA Festival and responding to the questions asked by participants. We wish you good luck to win the overall championship in the remaining three games!
Fujitsu aims to achieve a carbon neutral world, and will continue to support TOYOTA GAZOO, which participates in the FIA World Championship (WEC).