Table of Contents
Efforts to promote Remote working projects
The spread of COVID-19 caused a social change and a major change in people's lives and values. In these days when the new normal is becoming common, there is a need for changes in conventional common sense, customs and working styles. Amid these circumstances, the Fujitsu Group is promoting the digitization of various operations within the company with the aim of becoming the "Creating trust in society through innovation and making the world more sustainable" as purpose of our company. In April 2020, as part of our digitalization efforts, we launched a company-wide project to accelerate the shift to remote work within the company. In this article, we will focus on activities aimed at the computerization of documents and seals, under the concept of reducing the use of paper and seals, which are part of this project.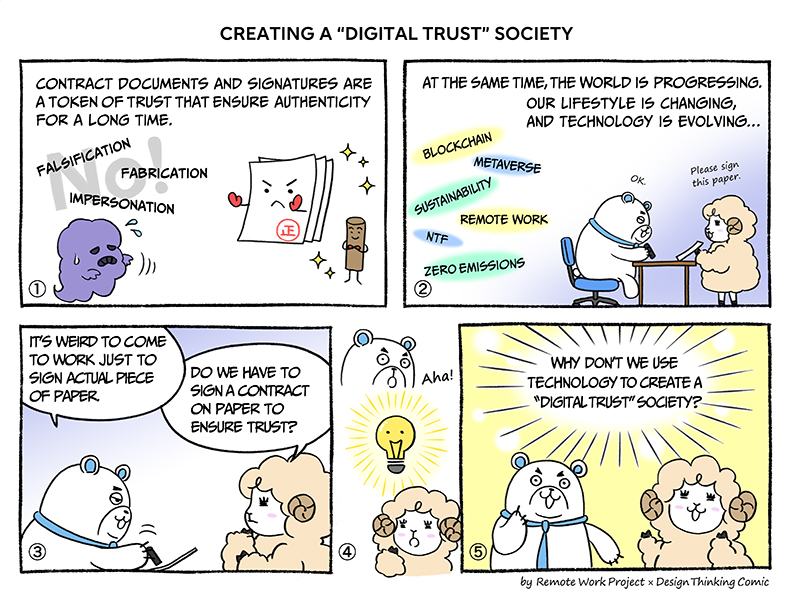 We have begun working to digitize paper and seals, which have been widely used in the Japanese business scene, but we immediately faced various challenges, including company-wide systems, individual rules and laws in each department. How do we understand and overcome these hurdles?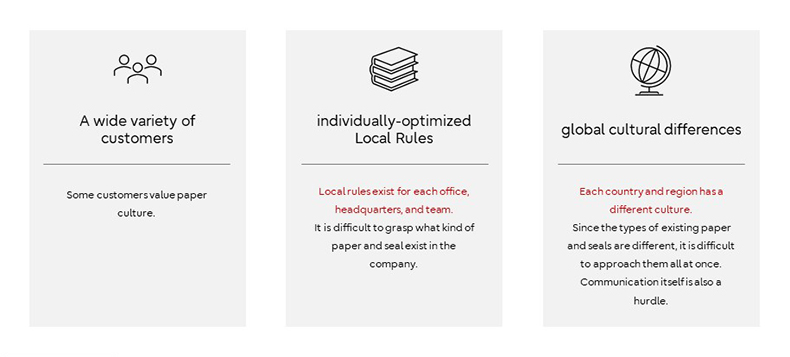 Organizational structure across divisions
At Fujitsu, which has 130,000 employees worldwide, the organizational structure of the project is extremely important. In the remote working project, in addition to the various corporate-rate departments, such as the Information Systems Department, Legal, Human Resources, General Affairs, and Finance and Accounting, personnel were assigned to the business areas to which sales and SEs belong, and a cross-functional project was organized. By establishing this system, we were able to communicate quickly.
Collecting voices from all fields
It doesn't make sense to have only project staff. It is also important to listen to the voices of the field. Therefore, we used the "VOICE" system as a means of gathering feedback from the workplace, and conducted a survey on the paper usage rate and types of paper in order to collect data on the current situation.
Leverage internal events
We also hold an online event called the Paper and Handbook Disposal Festival as an alternative means of gathering feedback from the workplace. During the event, participants will be given the opportunity to freely and pleasantly express their opinions about the paper and seals that remain in their daily lives and the ways to reduce them, using a tool that allows them to post comments anonymously. As a result, we have been able to raise awareness of new issues that could not be understood by the management alone.
Review of the paper and seal process using technology
Next, we will introduce specific measures we are taking to reduce the use of paper and seals.
workflow of document delivery
In the past, Excel printed documents were used for the main delivery of in-house reports, but the introduction of a no-code/low-code tool (* 1) enabled computerized workflow processing. Delivery of paper documents is gradually decreasing.

Contract work is also computerized
We have introduced an electronic contract tool for documents that are sealed or signed with external customers. This makes it possible to sign, seal, and approve contracts online and to store more reliable contracts. In the 2 years since its introduction, the electronic contract tool has been used approximately 76,000 times. (As of September 2022)

Promoting the use of online business cards
Fujitsu is also promoting the use of electronic business card tools. In addition to making it possible to exchange business cards with other companies as online business cards, business cards that were previously received and stored from customers have been digitized, allowing customers' information that had previously been managed and managed separately to be managed centrally on data. We now have more than 1.9 million business card data. (As of September 2022)
*1

No code/Low code: A technique that allows you to develop applications and build websites with no or minimal source code.
Data on Fujitsu's Progress Toward Remote Work
Fujitsu's implementation rate of remote work has increased dramatically as a result of the accumulation of measures to promote the shift to internal remote work. At the same time, the number of sheets printed has also decreased. In fiscal 2022, the number is expected to be less than 100 million sheets, which is about half the number 4 years ago. Through internal events and the introduction of tools, we can say that the effects of the remote working project are steadily appearing.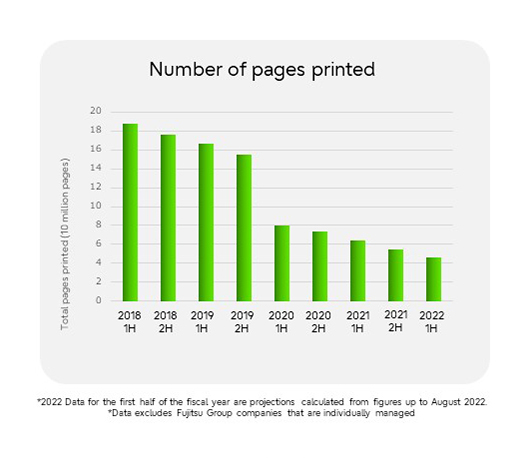 Cost reductions, such as transportation and printing costs, are also among the major benefits. At the same time, however, it is also inferred that effects that cannot simply be quantified, such as increased employee engagement and productivity as a result of changes in the way people work.
What Fujitsu wants to achieve through this project
As a global company, we believe that digitalization is essential for contributing to social change. As part of this effort, Fujitsu is using technology to create work styles that are not tied to fixed locations or fixed times. We also believe that this initiative itself will be an element in changing the way we work.
As an example, we introduced our activities to promote the use of electronic documents and seals. What is important is to continue to persevere in tackling difficult issues involving systems, organizations, practices, or customer circumstances. It is about responding flexibly to the changes of the times and repeating challenges with a sense of speed. First of all, we aim to be a company that can lead changes in customers and society by changing Fujitsu itself through such internal practices. We will work with you to achieve a sustainable world.
*

The goal of this initiative is to create a more productive and comfortable work environment for employees in line with Fujitsu's work life shift and to remove physical limitations. It is not an activity to eradicate paper and seals from the workplace.