How many times a day do you say thank you? Now that remote work has become commonplace, the number of face-to-face communications is decreasing. As a result, the number of "Thank you" seems to have decreased. As work styles have changed, Fujitsu has launched the Thanksgiving Project as an effort to establish a culture in which people can express their gratitude more than ever before.
Table of Contents
Effect of Gratitude
Data shows that the moment a person feels grateful, the brain produces a mixture of dopamine, which brings happiness and joy, oxytocin, which plays a key role in reducing stress, and endorphins, a hormone that helps relieve pain and increase happiness. (* 1)
In recent years, the "peer bonus" system has begun to attract attention. "Peer bonus" is a combination of "peer" (colleagues) and "bonus" (rewards). Rather than having supervisors evaluate subordinates, employees can evaluate each other and give each other small incentives.
The scientific evidence of the positive effects of gratitude and the fact that more and more companies are adopting peer bonuses are starting to make people aware of the importance of communicating gratitude.
On the other hand, what is the situation around you? Is there an environment where we can express our gratitude comfortably? As remote work reduces communication, so does the number of "thanks" inevitably decrease? Even if you treat your customers and bosses politely, you may not communicate with them or your subordinates, or you may focus too much on advising them on the missing parts, and forget to praise or thank them. In my work, it's natural that I can do it, and if I can't do it, I'll be scolded, but if I can, I want to work happily and comfortably. With that in mind, Fujitsu employees gathered and the Thanks Project began.
What is the "Thanks" Project?
The purpose of the Thanksgiving Project is to encourage employees to respect each other, enhance their psychological safety, and transform their culture into a DX company. In order to make it a common practice for employees to communicate with each other in a way that is difficult to see, we have developed a dedicated web application and linked it with Yammer to make it possible to visualize the gratitude that employees give to each other. In addition, we quantify the amount of gratitude given to each other as "Thanks Points," and every half year, the highest points are awarded and a realistic reward is sent.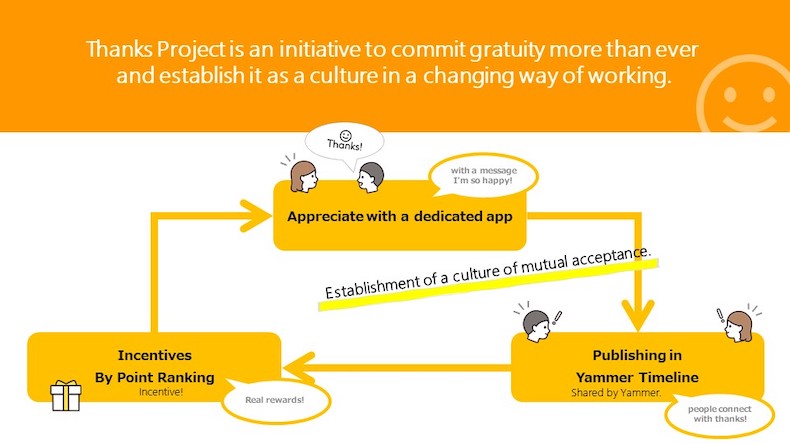 You can send a thank you (message) by starting a dedicated web app. When you give them a thank you, they'll be notified via a Teams chat, and your post will be reflected in Yammer. Thanksgiving points are added to both the giver and the recipient, and you can check the status of getting the points with the dedicated app.
Are you happier than you thought when you get it? Voice of the actual user
The number of Thanksgiving app users continues to increase. In the meantime, new employees who just joined the company this year are using the app more. This time, as a representative of such new employees, I asked Risa Senoo, who works as a SE at Fujitsu FSAS Service Business Headquarters, to tell us her impressions of using the app.
I want to support people who are working hard.
During the training for new employees, I had the opportunity to talk with my seniors, and I told them that I wanted to create a tool to support people who are doing their best, and that I was aiming to become a system engineer. Then my senior told me, "There are people doing such activities," and I learned about the existence of the Thanks Project for the first time there.
so that class synchronization will naturally send thanks
From there, thank you for writing the team daily report! I used to send a thank you to the sync through the app at a short time. Those who suddenly receive the thank you are "What is this app?" at first. However, it gradually spread by word of mouth, and on the last day of the training, "Send thanks to the lecturer!" It was natural that. The lecturer, who suddenly received a lot of thanks from a new employee, was surprised but very happy, and we have continued to communicate. I think the Thanksgiving app is a very good tool for people to communicate with each other.
I got used to the feeling that the app sent me a thank you.
Most of my impressions are that I am happier than I expected to receive a thank you. One time, when I was sick, one of my classmates said, "Are you okay?" he asked me with some sweets, and I sent him a token of my gratitude. When I asked him later, he told me that he had been spending the whole day on the thank you that was sent to him (laugh). In our generation, we may be able to convey even more gratitude than verbal "thank you.". It's because I feel the politeness and thoughtfulness of the other person because of the trouble of opening the application and thinking and sending the text. Thanksgiving app is a concept that is very compatible with our generation.
Thank you to the app users. Thoughts of project members that have been in operation for six months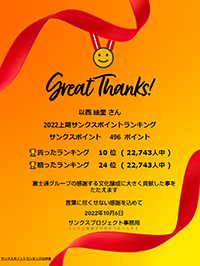 About six months have passed since the Thanksgiving Project was launched in March 2022, and in the past six months, more than 100,000 gifts were given to each other. All users receive a digital certificate, and the top 1000 users receive a gift card.
The person in charge of the project who has been working with the Thanks Project for the past six months says,
Eri Isai, Cloud Services Division,
Digital Systems Platform Unit, Fujitsu Limited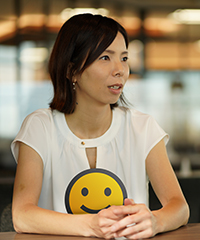 Over the past six months, we have been developing a project to increase the number of early adopters as a catalyst for cultural change. At first, there were many people who were puzzled by receiving a thank you, but now one out of three people has received a message. When I actually received it, I often heard that I was happier than I thought. Through this project, I hope to create a culture where not only superiors and subordinates, but also coworkers praise each other for their efforts. If you continue the habit of expressing your gratitude in words again, you will become an antenna to find a good place for people around you! I hope it will be an app that can be inspired by people who are active in other departments and can be connected to your own growth.
Noboru Hosoda, Manager of Cloud Services Division,
Digital System Platforms Unit, Fujitsu Limited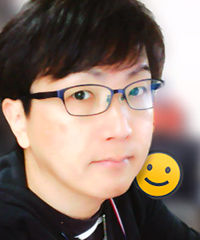 I try to say "Thank you" directly in meetings and emails, but sometimes I look at the timing and send a thank you to my subordinates and people involved as a sign that I'm watching you hard. Even if it's not a long sentence, it's a different way to convey, so the other person will often be pleased. I hope this Thanksgiving app will help motivate employees to work.
To a company full of gratitude. Future Outlook
The Thanks project has only just begun. We will continue to consider various plans to increase the number of employees, and in fiscal 2023, we will continue to promote the project with a view to expanding overseas.
It may not necessarily be directly linked to a company's business performance by communicating gratitude. However, we believe that awareness of a small amount of gratitude on a daily basis and instilling in the organization the habit of communicating will strengthen the power of individuals, teams and ultimately Fujitsu as a whole. Going forward, the Thanksgiving Project will continue to be a major part of Fujitsu's drive to transform its culture into a DX company, while turning many of its Thanksgiving activities into energy.
Through these projects and initiatives, Fujitsu aims to achieve a sustainable world by gaining the sympathy of as many people as possible.
Related Information