Contents
As part of corporate social responsibility, companies are now expected to proactively contribute to establishing a sustainable society.
Over ten years ago, Tatsuya Kasai realized that the T-shirts that he sold may be connected to farmers' suicides. He then launched PEACE BY PEACE COTTON, a General Incorporated Foundation centered around "sustainability first." He is currently the foundation's representative director. Iwao Nakayama, a member of the board of directors and chief evangelist at Fujitsu, interviewed him about his project. (CEATEC 2021 Online).
The Circular Project Supporting Cotton Farmers in India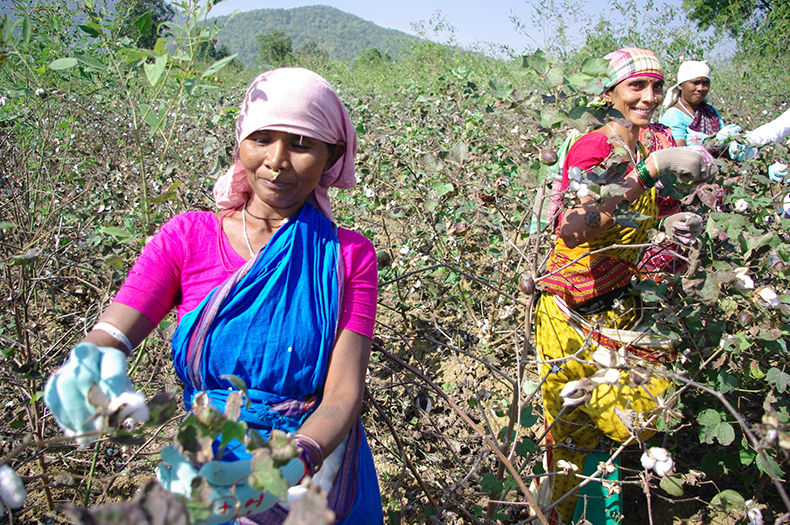 Nakayama: What does the PEACE BY PEACE Cotton Project do?
Kasai: Since 2008, we have developed and sold products made from organic cotton grown in India and used a portion of the proceeds to help farmers transition from non-organic to organic farming and financially support farmers' children to start or resume schooling. In India, 30,000 cotton farmers commit suicide every year after they struggle to repay high-interest debts that they are forced to take on to purchase chemical fertilizer and genetically modified seeds. Furthermore, children in these poor farming families are often put to work in the cotton fields and never attend school.
That's why we created a "circular system" in which we produce pesticide-free organic cotton, sell products made of this organic cotton, and then use a portion of the sales proceeds to help farmers transition to organic farming and help farmers' children go to school (Figure 1). 13 years after we initiated the PEACE BY PEACE Cotton Project, we have been able to support approximately 16,000 farming households and over 90,000 people in India through our project. We've also been able to help 2,137 children escape child labor and go to school, with 928 of those children progressing to higher education.
Nakayama: It truly is a sustainable project. You've contributed in a monumental way.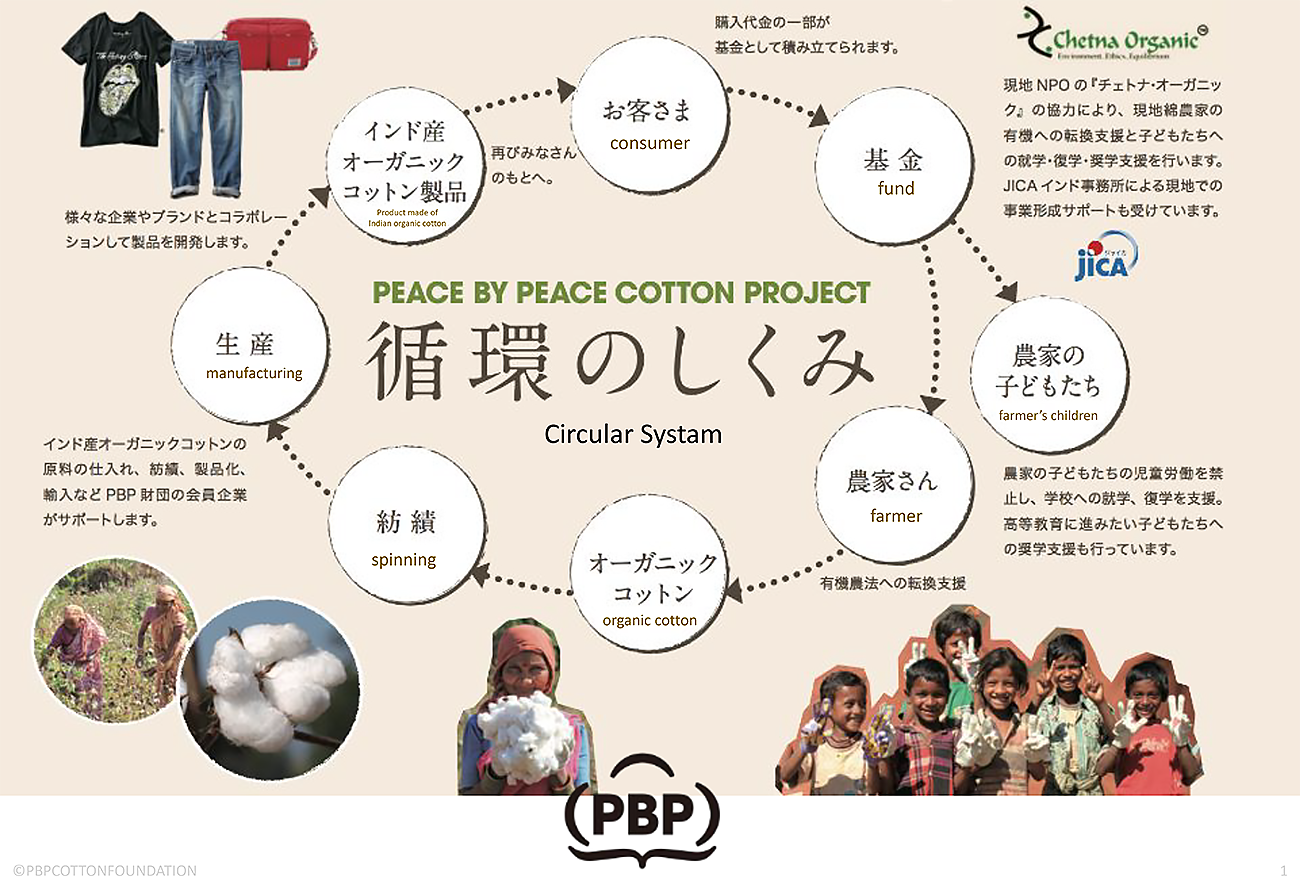 Finding Out That Charity T-Shirts Sold To Support Children Were Tied to Increased Suicide Among Farmers
Nakayama: What prompted you to start this project in the first place?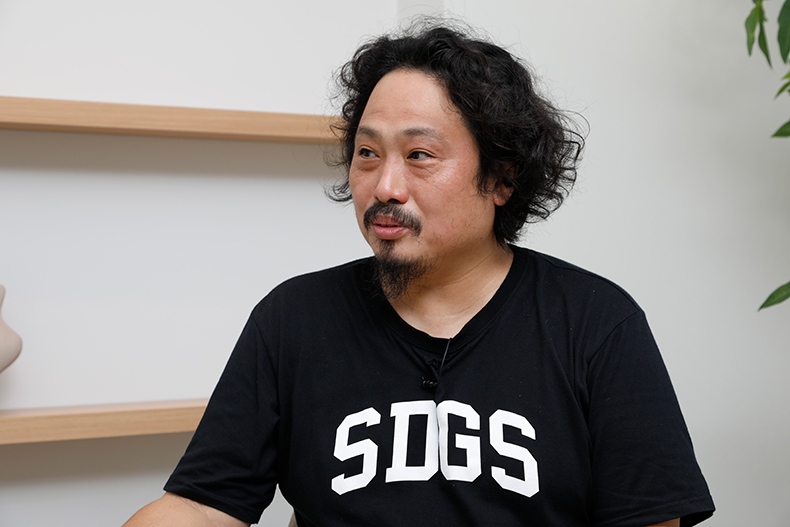 Kasai: It all started in 2001, when I was an employee of a mail order company. I planned and launched an anti-war charity t-shirt campaign after being shocked by the September 11 attacks in the United States. In the end, we were able to donate a total of 20 million yen to children affected by the events in Afghanistan and New York. By 2008, we had sold a total of 200,000 t-shirts.
But then, someone asked me, "How many farmers do you think died for the 200,000 t-shirts you've sold?" It was only then that I learned that the production of cheap clothing came at the cost of farmers committing suicide. Around that time, fast fashion was just starting to become widespread, and I feared that it would exacerbate the problem. I began this project because I wanted to do something about this injustice and contribute to society in a way that was related to my work.
"If It Weren't for You, There Wouldn't Be People Who Don't Have Support"
Nakayama: Did you face any challenges while working on this project?
Kasai: It was difficult to juggle both this project and my regular job duties. It took three years to actually establish a system. When we finally accomplished this, my collaborators and I celebrated. However, one person involved in the project pointed out that, "if it weren't for you, there wouldn't be people who don't have support." I was struck by those words, and I initially argued, but they were right. It was impossible for us to immediately support everyone that needed help, so we inadvertently created inequality between people who had support and people who didn't. Up until that point, I thought that I was purely doing a good thing. But I shouldn't think like that. I became keenly aware that in reality, sustainability is far more complicated. Even so, I made up my mind to move forward and support as many people as I can, one person at a time.
My Duty Is To Provide Children With Choices for Their Future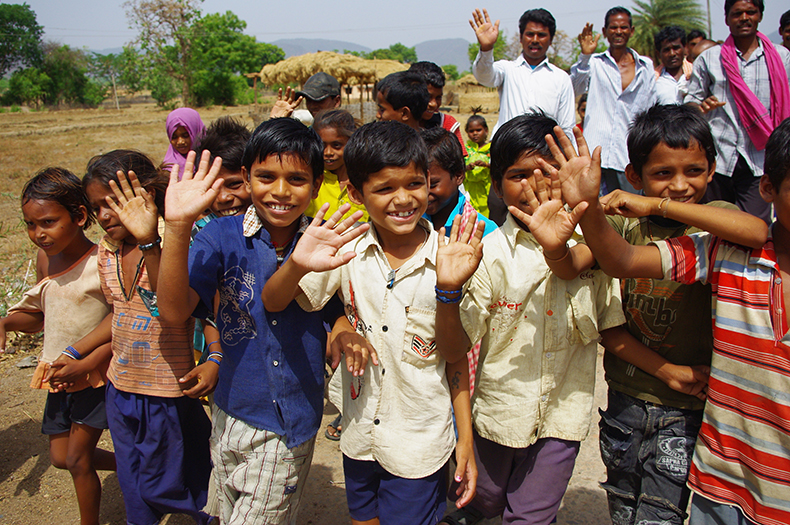 Nakayama: Could you tell us about your efforts to help children attend school?
Kasai: When I first met these children, I asked them, "What is your dream?" They didn't know how to answer my question because farming was all they had ever known. They had never been given any other choice. At that moment, I realized that my duty is to provide these children choices for their future, not to just give them money. Among the many life choices available, once you decide on a path, you are responsible for your own failure or success. We experience true independence only when we have choices, and that independence leads us to create our own future. One child that we helped advance to higher education, after continuing their studies, has now taken up a position in the state government where they are in charge of agriculture. That is, they are now in a position to decide future agricultural policies in their state. We wouldn't be able to create this kind of virtuous cycle if all we did was give them money. We must provide the next generation with choices and support them in a way that enables them to make their own decisions. That is one of the most important things that these children have taught me, and it's a perspective that I've kept in mind ever since.
The Key to Project Success Is To Have a Shared Vision for the Future
Nakayama: What do you think is the most important thing for your project?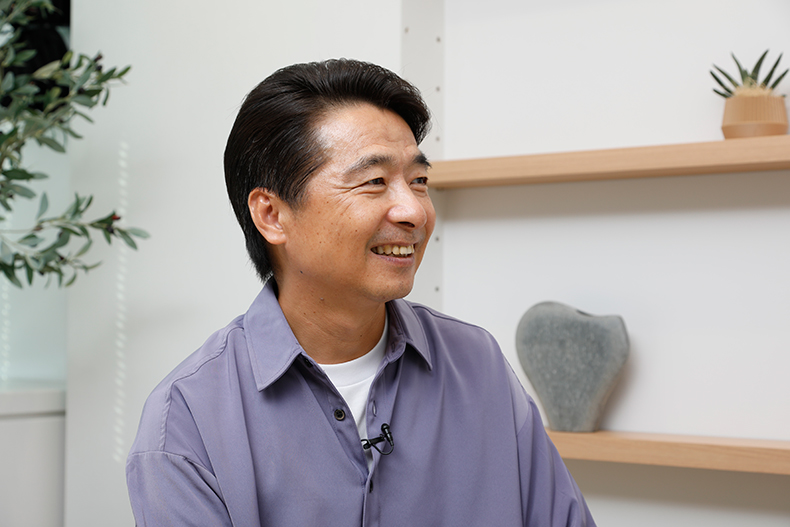 Kasai: The most important thing for our project is to have people perceive our cause as their own. It's not easy to unite everyone in a company or organization since people all have their own ideas and perspectives. But I believe that if the company or organization sets out a clear vision that the purpose of their current work is to create a better future and shares that vision with its stakeholders, that enables each individual to see the project as their own personal agenda.
Nakayama: I see, so it's important for everyone to have a shared objective. This actually goes for all companies and is why companies all around the world have a corporate purpose. A company's purpose defines why a company exists. I was actually involved in defining Fujitsu's corporate purpose last year, which is to make the world more sustainable by building trust in society through innovation (Figure 2). We practice purpose-driven management, in which all of our corporate activities are geared toward achieving this purpose.
At the same time, Fujitsu also practices data-driven management. It's a management style in which our decisions and actions are based on the results obtained by collecting and analyzing the necessary data, and we don't rely solely on intuition or experience. We believe that data will ultimately transform our business model and how we work, and we are working to impart our experience to our customers.
What do you think of Fujitsu's purpose and data-driven management?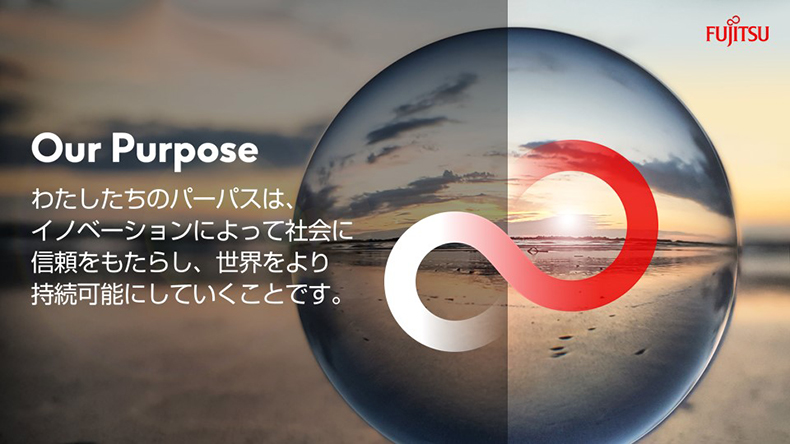 Kasai: Up until now, my image of IT companies in Japan was that they were closed off. But I feel that purpose-driven management makes IT companies very open. I also think that activists like us should emulate Fujitsu's data-driven management. Many activists that strive to make society a better place, myself included, tend to be driven by passion and, when in doubt, we listen to our conscience. But in order to keep our projects going, we need to put systems in place. Data is vital to building those systems. In the past, I've also struggled because I didn't have the data I needed, so I would like to learn from Fujitsu's data-driven management style.
I was surprised to learn today that Fujitsu has the same objective as we do, and I'm motivated to work alongside your company.
Nakayama: I believe that to make society even a little better and more affluent, it's important to first orient our actions towards solving social issues at hand.
We at Fujitsu will continue working with our customers that share our vision for the realization of a sustainable society. Thank you very much for your time today.
Video
Watch this video to listen to this conversation.
Related Information