Due to the unprecedented size of typhoons and localized downpours caused by training rainbands affected by global climate change, there has been a series of landslide disasters throughout Japan. Against this background, Hiroshima Prefecture launched Hiroshima Sandbox, a place for open demonstration experiments to solve administrative issues using digital technology. Fujitsu's involvement in one of the Hiroshima Sandbox projects, a road inspection demonstration project*1, has brought about positive outcomes through collaboration with several local companies. How did this project to protect the lives of residents from natural disasters begin and what are the goals? We interviewed representatives from Aratani Civil Engineering Consultants CO., LTD. based in Hiroshima and Fujitsu, both of which are leading this project.
Contents
Hiroshima's Natural Disaster Situation in need of Solutions
――Please tell us about the current situation of natural disasters such as landslides and falling rocks in Hiroshima Prefecture.
Mr. Motohiro Watanabe, Chief of Sales Planning Section, Sales Planning Department, Aratani Civil Engineering Consultants co.,ltd. (hereinafter Mr. Watanabe):
Hiroshima Prefecture has the highest number of landslide hazard areas in Japan, as surveyed and announced by MLIT, the Ministry of Land, Infrastructure, Transport and Tourism. There are various reasons for this, but the fact that about 40% of Hiroshima's land area is composed of granite, which is fragile and prone to collapse in rain, is considered to be a major factor. In fact, Hiroshima suffered a lot of damage from landslides in the 2018 torrential rains in western Japan and lost many lives. Natural disasters occur frequently in the prefecture, including slope collapses that aren't reported in the media, so I think that the people of Hiroshima are highly aware of disaster prevention and vigilant against landslides.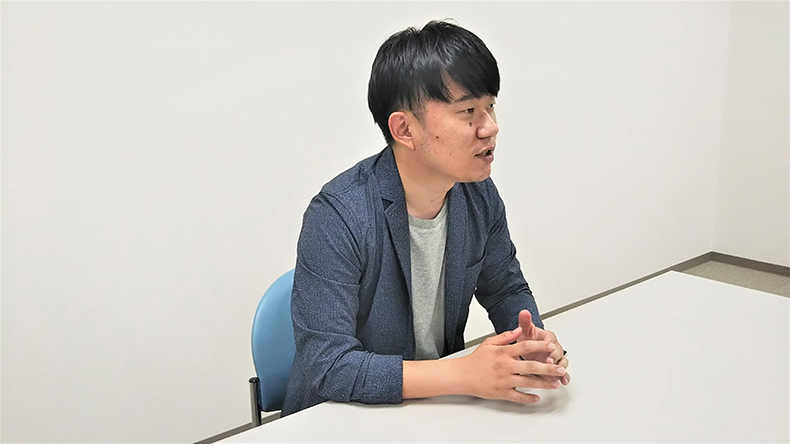 ――How do landslides and falling rocks affect community life?
Mr. Watanabe: Direct damage includes the risk of injury or loss of life, but secondary damage such as blockage of roads and other infrastructure can have a significant impact on people's lives. It can take days or even weeks to restore a road that has been blocked by a collapsed slope. In some areas, people have only one road leading to their homes, so avoiding blockage of road infrastructure is a major challenge. There's also a possibility that the property value of damaged houses and land might decrease.
――What kind of measures have been taken so far?
Mr. Watanabe: In many cases, it's quite difficult to inspect roads for abnormalities in real-time, so road administrators may take reactive measures after receiving reports of collapses from road users and take emergency measures. In normal times, road administrators and contractors regularly patrol the roads by car and visually check for fallen rocks, leaks, and cracks on the slopes, which are signs of a collapse. However, it's not easy to predict and take actions in advance, which leaves us with the issue that we often end up dealing with problems after they occur.
New Initiative with Hiroshima Sandbox, Bringing Together the Expertise of Different Companies
Roads managed by Hiroshima Prefecture are inspected once a week by humans to check the condition of slopes. However, due to the fact that slope collapses occur every year and that it's difficult to predict slope collapses and falling rocks in advance, more frequent inspections have become necessary. To solve this problem, Hiroshima Prefecture invited applications for ideas to promote digital transformation.
――What were the ideas on how to solve the issue?
Mr. Watanabe: In order to catch the signs of slope collapse, we first needed to increase the frequency of inspections. By doing so, we thought it would be possible to capture daily changes and detect signs of slope collapse and falling rocks.
So we decided to install cameras on buses that run the same route every day.
――Using buses is a great idea.
Mr. Watanabe: Yes. Buses run along the same route at the same time every day. By installing cameras on the buses and taking pictures of slopes, we can detect slight changes daily and catch signs of slope collapse. This allows for more frequent data updates and can be done at a lower cost. The next stage is to develop a system to automatically and objectively evaluate slope abnormalities based on the captured data. We consulted Fujitsu, who had already been working on other Hiroshima Sandbox projects regarding this field.
Satoshi Tajima, Social Systems Group, Disaster Prevention Systems Division, Fujitsu (hereinafter Mr. Tajima) :
We have experience with AI technology in the construction and civil engineering fields. For example, we can detect unusual conditions such as cracks in the concrete and rusting metal of bridge piers by analyzing images taken by drones. Projects related to social infrastructure require reliability as they directly affect the lives of people. For this project, we wanted to bring our experience to help protect Hiroshima Prefecture from disaster.
――So this is a project working together with Hiroshima Prefecture, Aratani Civil Engineering Consultants, and many other people.
Akira Noda, Social Systems Group, Disaster Prevention Systems Division, Fujitsu (hereinafter Mr. Noda) :
Hiroshima Prefecture, Akiota Town, Hiroshima Electric Railway (bus), Aratani Civil Engineering Consultants, and Fujitsu have teamed up to protect the lives of local communities, sharing our knowledge and utilizing our respective areas of expertise. I feel that this kind of initiative is something that has never been done before.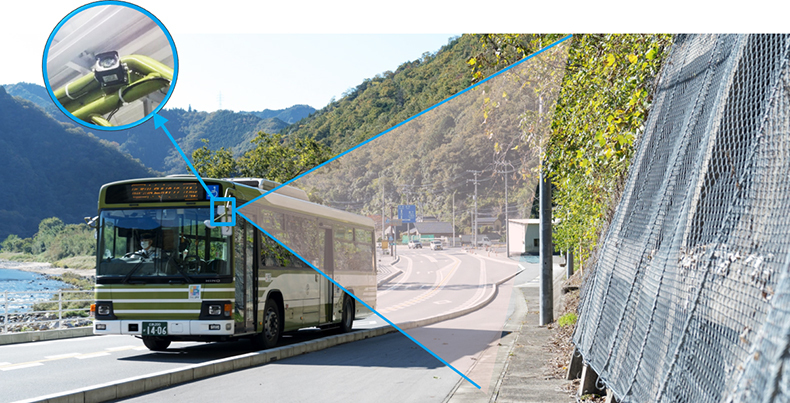 What Technology Can Do to Protect People from Slope Collapses
――Please explain the AI technology used on-site.
Mr. Noda: We initially thought that it would be very difficult to detect slope abnormalities using AI. To begin with, some slopes, though artificially constructed, have plants growing on them, while others are left in their natural state. In addition, there are so many different types of slope abnormalities. So we discussed with Aratani Civil Engineering Consultants, a civil engineering expert, and narrowed them down to three types: "fallen rocks," "cracks," and "sediment deposition." Although not all slope abnormalities can be covered by them, most events include these factors, and we thought it was important to get the project started first.
The next task was to select cameras to be attached to the buses and verify the position of the cameras. We adjusted the resolution and shutter speed so that the images taken would not be blurred by the vibration of the bus. We continue to verify whether placing the camera on the side of the bus is better for capturing the slope from the front or diagonally in front of the bus for wider images.
――Did the detection by AI go smoothly?
Mr. Noda: It's relatively easy to detect "fallen rocks," "cracks," and "sediment deposition" in images using AI, but judging whether or not these are slope abnormalities was difficult. For example, we're unable to determine how dangerous a crack in a slope is or how much sediment should be deposited to be considered hazardous. In order for the AI to correctly detect abnormalities, it is essential to reflect the wealth of knowledge and know-how that Aratani Civil Engineering Consultants possesses in the AI.
To be more specific, as shown in the photo, there are places where protective nets are stretched over the blocky slopes, and sediment deposition can be detected in the recesses of the blocks. A small amount of sediment is not a problem, but if there's a lot, it needs to be dealt with. The knowledge of Aratani Civil Engineering Consultants helps determine at what point it becomes abnormal. I believe the significance of this project is how to collaborate construction technology and AI in an integrated manner like this.

We're considering using an infrared camera to detect "spring water" on slopes in the future. We also use AI that combines optical sensor data and images to distinguish between stone piles on slopes and fallen rocks. For example, in the photo below, only the rocks on the road are detected as abnormal. (Joint patent pending with Aratani Civil Engineering Consultants)

――I see. So the key is how well it fits the site.
Mr. Noda: Yes. And also, to improve the accuracy of AI, training data, which is the source of AI learning, plays a crucial role. Training data obtained from local sources, not from other similar areas, directly leads to improved accuracy. I've visited Akiota Town in Hiroshima many times to acquire data and realized the importance of roads used in daily life in mountainous areas and the necessity of increasing the frequency of road inspections to protect them.
Mr. Watanabe: It was highly meaningful for us to have Fujitsu visit the sites and experience the issues firsthand and have the same perspective as the people of the prefecture. We've also received feedback from our partner, Hiroshima Electric Railway that runs the buses. We asked the company to help us with its infrastructure that would allow us to shoot the same route regularly. Hiroshima Electric Railway, which plays an important role in our daily lives, also wishes to avoid blocked roads at all costs and has high expectations for this project.
Aiming for an Infrastructure for Safe and Secure Living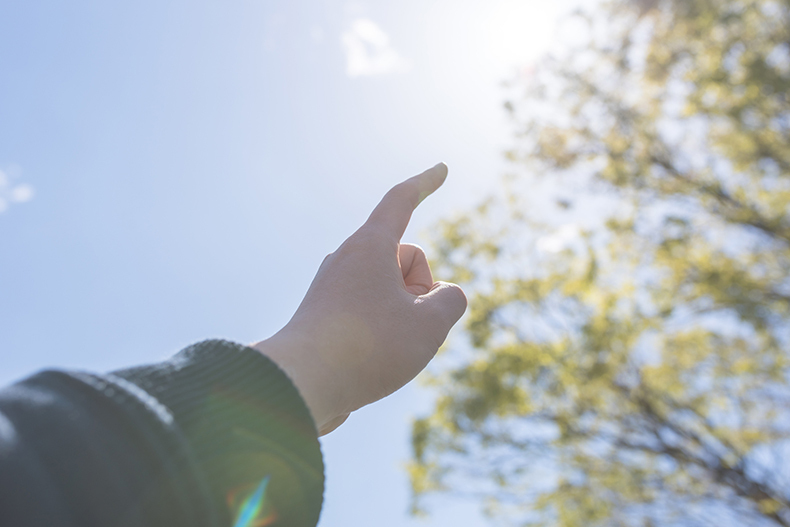 ――Please tell us about your future plans.
Mr. Watanabe: We'd like to achieve positive results from the demonstration experiment to create towns that are comfortable to live in and an environment where all residents can use the roads safely and securely. We'll continue to make efforts in solving issues with technology through activities rooted in the community while keeping costs and the use of human resources low. According to the plan by Hiroshima Prefecture, the demonstration experiment will run through this fiscal year, followed by preparations for a full-scale operation in the fiscal year 2022, with the aim of full-scale operation starting in the fiscal year 2023.*2 We hope to solve the issues little by little and contribute to public safety and security.
Mr. Tajima: I believe that no one should ever have concerns about roads and other infrastructure, even if they're minor. To get rid of their concerns, it is necessary to eliminate the risks. Using this experience as a basis for detecting signs and predicting collapses, we should be able to minimize the concerns of people.
Mr. Noda: The focus has been on technical verification until this year, but from next year, operational verification will be our main focus. Demonstration experiments tend to center on technology, but operability is extremely important in making the system truly usable. For example, the position and direction of the camera on the bus is one of them. We also need to be able to detect abnormalities under different sunlight conditions such as early morning or evening or bad weather such as light rain. Furthermore, the large amount of image data captured must be transmitted to the cloud without delay. Thus, it is necessary to be able to respond to nature, which is ever-changing. In addition, we'll be looking into collaboration with the post offices, cleaning trucks, and delivery service providers to inspect roads other than bus routes. Only when all these different moves are smoothly coordinated can the system be used on-site.
Landslides and other natural disasters are pressing issues. To maintain safe and secure living, we hope to ensure the stability of our services and spread them nationwide. For that purpose, we'll continue to work together with the people on-site and Fujitsu Japan to solve issues one by one.