Contents
In July 2020, Fujitsu announced Work Life Shift, an innovative working style created for the age of the New Normal. One year later, in October 2021, the company launched Work Life Shift 2.0. This new initiative aims to close in on the essence of work style reform and focuses on the "life" component within Work Life Shift. This article will explain what Work Life Shift aimed for and achieved, as well as what its successor, Work Life Shift 2.0, aims to accomplish.
The New Work Style Brought About by Work Life Shift
After developing a working environment where employees in Japan can work from home, in July 2020, Fujitsu announced Work Life Shift, an innovative working style created for the age of the New Normal. This initiative, which aims to completely transform conventional ideas of "work" and "life," is composed of three core principles: Smart Working, Borderless Office, and Culture Change.
In Smart Working, employees optimize their working styles by utilizing teleworking. The Borderless Office frees employees from working within the constraints of a predetermined time and place. While Culture Change is Fujitsu's efforts to further improve our corporate culture.
Fujitsu attained Smart Working and Borderless Office by implementing a highly secure virtual desktop service that enables efficient operations. Within this teleworking environment, we have established a renewed corporate culture based on this remote working style. This culture includes revitalizing communication and sharing work progress.
As a result of these initiatives, teleworking rates employees in Japan have remained at 80% and time spent commuting has decreased by an average of 30 hours per month. The number of employees in Japan using satellite offices outside the company has reached an average of approximately 6,000 people per month. Teleworking has also allowed approximately 900 employees in Japan to live with their families again. There were also many cases where employees in Japan were able to better engage with both their work and life. Because this initiative gave employees in Japan more control over their time, they found it easier to balance work with childcare or broaden their knowledge by starting a side job.
In our Work Life Shift initiative, we promoted a working style where employees in Japan independently choose their optimal time and place to work with the aim of increasing productivity and engagement. In regard to these aims, we believe that we have achieved positive results. On the other hand, the process of implementing this initiative across our company also allowed us to identify issues we need to address in the next phase, measures to resolve those issues, and concepts that require more attention. We combined all of those reflections to create Work Life Shift 2.0.
Why the Focus of Work Life Shift 2.0 Is on Improving Quality of Life
Traditionally, work-life balance meant taking stock of one's daily life and reviewing the ratio of "work" versus "life" and making sure to set aside time for life. In essence, this concept treats work and life as two separate things. However, after one year of implementing Work Life Shift, we could see the line between work and life starting to blur. Work Life Shift 2.0 takes this into account and improves upon our first initiative.
Because work and life often blend together, it becomes imperative to consider the well-being of each individual. To accomplish this, we need innovative measures.
The first measure is to Pursue Work-life Synergy.
By establishing a system that permits a flexible working style, for example, male employees will be able to balance work and childcare. By using our workcation* policy to refresh themselves, employees will also be able to use their creativity more effectively at work. Furthermore, employees can create synergy between work and life by taking on side jobs that allow them to broaden their knowledge. Because our company actively encourages employees to take side jobs, over 300 employees in Japan are already working on the side in a range of fields.
Fujitsu actively encourages male employees to participate in childcare, and our goal is to have 100% of our male employees in Japan participate in this. To this end, we provide men up to two months of full paid leave before and after their child is born. Furthermore, we are also planning and implementing workcation plans in collaboration with local governments that support our Work Life Shift initiative.
*Workcation:

To telework for 1-3 weeks while staying in a different region or location than usual. Alternatively, to take a break or use a day off after a business trip.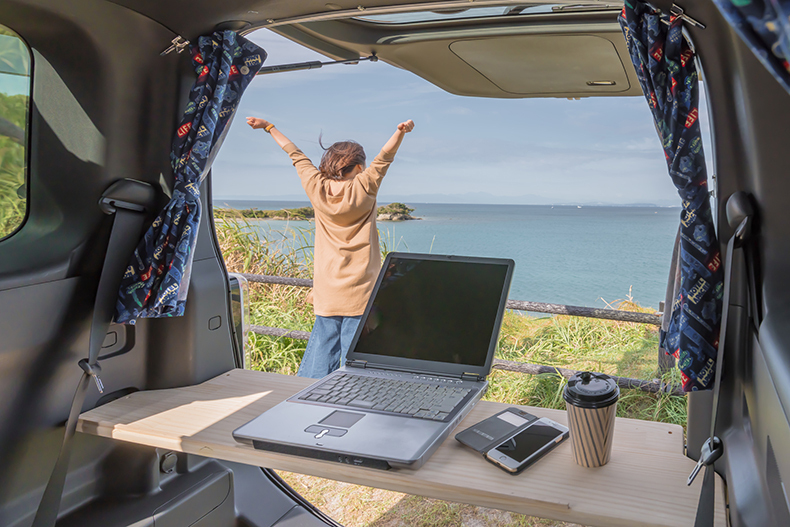 Using our cumulative experience from one year of running Work Life Shift, we have also started introducing new initiatives for work practices. One is Practicing Hybrid Work.
We learned from our employees that there are different advantages to both meeting in person as well as teleworking. Therefore, we are working on a new way of using the office as a communication hub where employees in Japan can gather to brainstorm or make small talk. By transforming the office from a traditional workplace into a place that provides experiences that can't be created anywhere else, we are merging virtual and real spaces while encouraging more collaboration.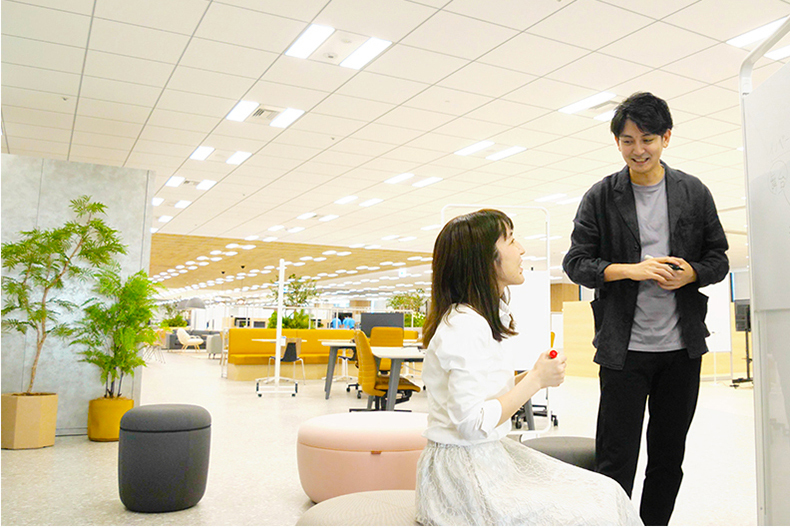 Another is our Evolution of the Way of Working as a DX Company
We can now do a wide range of work online, and the internet enables us to collaborate more quickly both internally and externally. That's why we're bringing data driven management to the next level.
We have started to collaborate with startups based on the theme of Work Life Shift. We use Hybrid Work during these collaborations and take advantage of data in order to visualize the experience we gain from these projects. We will continue to pursue ways of working that further enhance creativity.
In addition, using data-based online collaboration, we will further accelerate our collaborative efforts with local governments, support the identification and resolution of local issues, and contribute to the creation of new local communities and the revitalization of local economies.
Our Number One Priority Is Addressing Individual Well-Being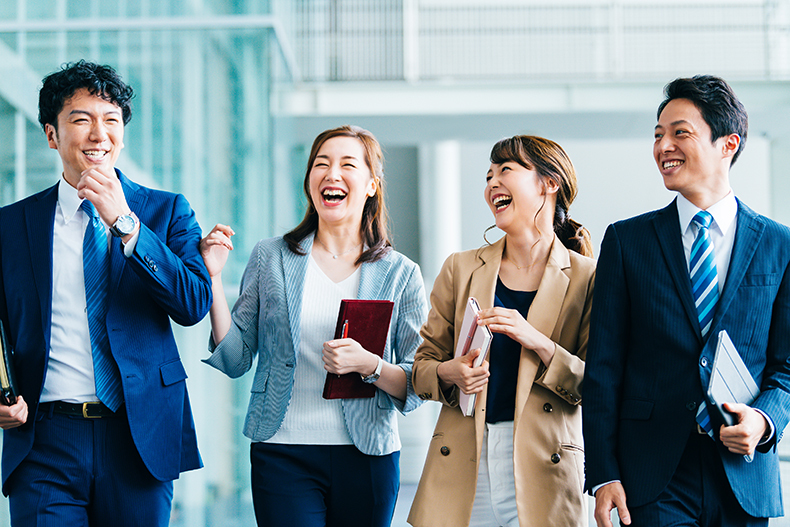 The ultimate goal of Work Life Shift is to support our employees' personal well-being. Employee well-being isn't a goal that we can accomplish with uniform, one-size-fits-all measures.
Managers and Human Resources must consider what well-being looks like for each individual employee, improve what policies they can, and respond to any relevant issues in a timely manner.
As one of our non-financial objectives, Fujitsu "aims to enrich and continuously improve our positive health culture where our employees can work to their full potential, both in mind and body." This is because we strongly believe that we cannot help solve social issues without first attaining employee well-being.
As part of our goal to realize our Purpose, we will continue to establish measures that support our employees' ways of working, while also implementing the latest technology as a DX company. Furthermore, to accomplish our objective under our new Fujitsu Uvance brand, "to achieve and balance both business transformation and the realization of a sustainable society," we will work toward a sustainable society across industries and borders by supporting corporate transformation and people's ways of working and living, while continuing to transform our own company through our Work Life Shift initiative.
Related Articles