Contents
Currently, many companies are accelerating their actions to achieve the SDGs. For Fujitsu to also support this goal of reaching the SDGs, we listen to the opinions of our customers and community while working on Fujitsu's transformation and new business. However, the question of what kind of future we will make is not a question for adults and businesses alone. We should consider this issue together with future generations.
Based upon that sentiment, Fujitsu held an extracurricular lesson "Future Talk Session" at Kyoei Gakuen Junior and Senior High School. Fujitsu considered the ideas "Is what we are trying to do right?", "Will the next generation empathize with us?" and "This talk session should connect with the students' education." With these thoughts in mind, Fujitsu imagined a classroom setting, proposed the idea to the school, and made it happen.
In a dialogue with the junior high school students, we discussed the realization of social well-being and the future of life shaped by technology. Here we present what was discussed.
A New Challenge Imparted Through an Extracurricular Lesson
The extracurricular "Future Talk Session" was led by FUJITSU Level SVP, Head of Social Design Business Unit Toshiaki Ariyama. We create new businesses that drive Fujitsu toward the realization of Society 5.0 by consolidating consumer facing functions from a global perspective.
There are plenty of opportunities to discuss our efforts with our customers first and foremost, including in media coverage and lectures, but this is the first time we held a lesson to talk with junior high school students. When planning the lesson we had some anxiety about how much students understood and concerned themselves with SDGs, whether the students would understand the material, and whether an active exchange of opinions could be initiated.
On the day of the session, Ariyama explained, "We're interested in learning how students feel about the social issues and solutions that Fujitsu is thinking about. Additionally, as we hear students' thoughts during the discussion, we expect many hints will come to us."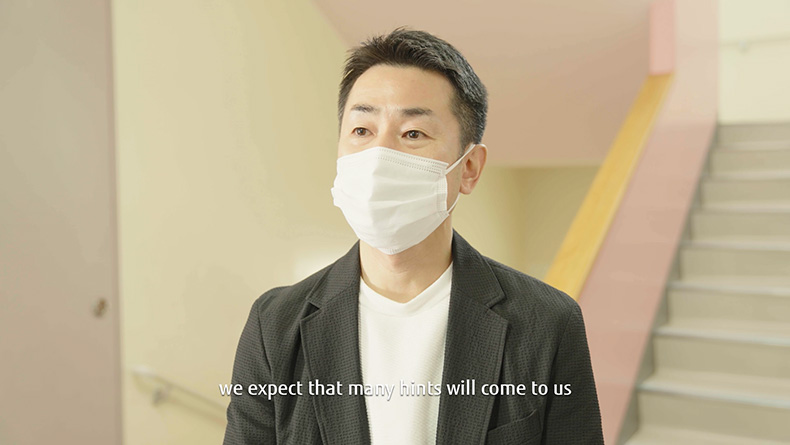 What Social Issues Do Students Think About?
Recently, there have been more opportunities for students to learn about SDGs in their classrooms. Ariyama asked the students about how they felt about social issues, and one after another, students offered their opinions.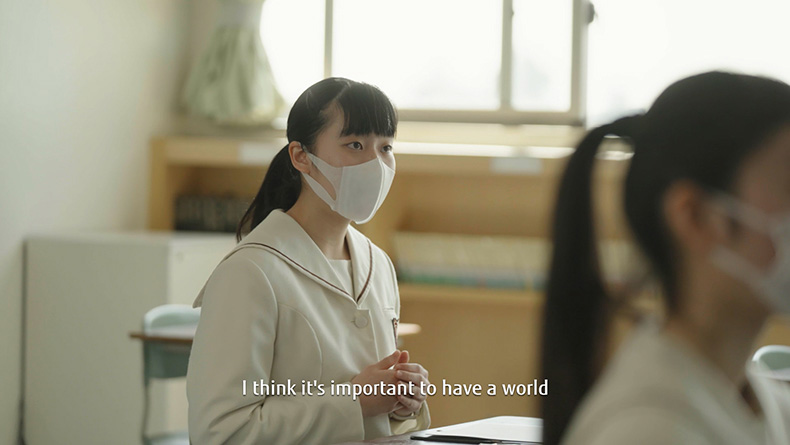 "I think it's important to have a world where everyone can eat and everyone can be equal."
"There are many children in the world who have no money and can't afford to study."
"We can find a method to work through learning. If we don't study them, we wouldn't even know about the problems that exist in the world."
Each student understood that they will be the ones to confront such social issues, and it was overwhelming how seriously they thought about SDGs and expressed opinions in their own words. Previous apprehensions that the subject matter would be too difficult for the students soon changed to a resolution to sincerely speak with the students on equal footing.
Fujitsu Pursues the Realization of the SDGs
After hearing out the lively remarks from the students, Ariyama conveyed Fujitsu's efforts to improve societal health (well-being).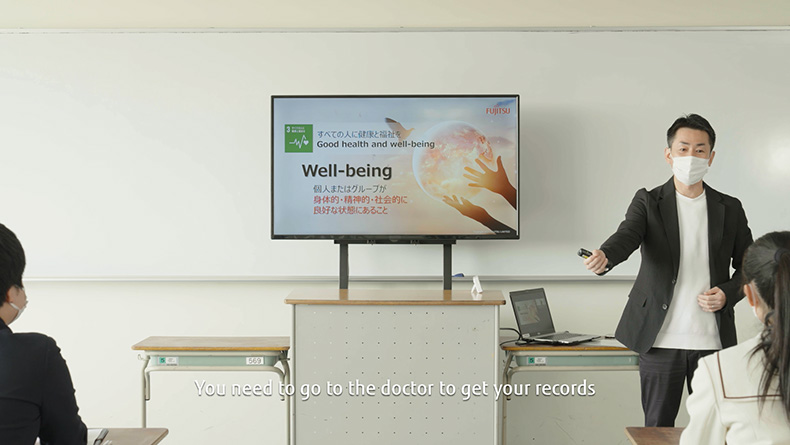 Ariyama established Social Design Business Unit with the belief that "If we want to seriously change the world, companies need to tackle social issues. The SDGs are also a message telling companies to do so." As an example, he introduced Fujitsu's efforts to reduce the gap between traditional pharmaceutical companies and hospitals/medical institutions, pharmacies, and consumers (patients) through technology such as data portability and biometrics. Students raised familiar social issues such as medical records and drug notebooks as they seemed to deepen their knowledge that companies are helping to realize the SDGs.
The Importance of Thinking About the Future Together
After the session, various thoughts were shared by the students.
"I think it's amazing when people work to help others. I really appreciated the idea of doing something for other people."
"I wish to see an environment where everyone can work equally and feel fulfilled in their work."
"Nothing will change unless we make a start, so I want to be able to take the initiative."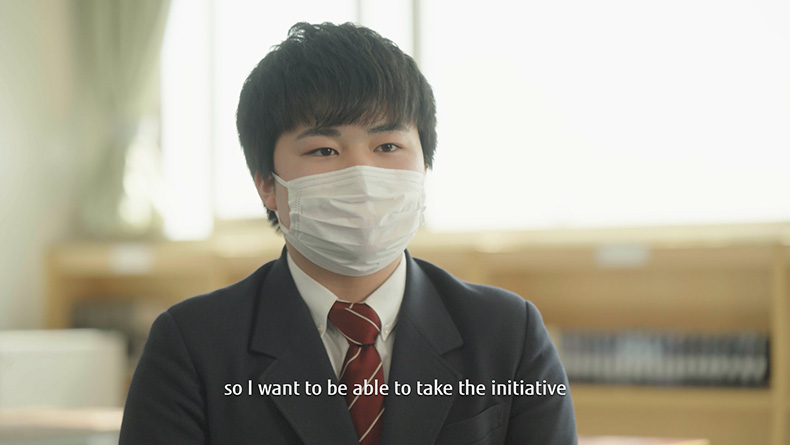 Meanwhile, Ariyama had this to say after the session:
"I really hope the students understood our point about the social framework and technology being their own personal issue."
Both we and the students learned much from the session. We recognized once again that our job is to take responsibility for the future. From the students' comments, we at Fujitsu were able to confirm that our thoughts and efforts are headed in the right direction.
"How will we make the future?"
Let's all think and take action together.