Define Collaboration Excellence
Experience better meetings with Fujitsu Collaboration Board for different work scenarios.
Engineer Department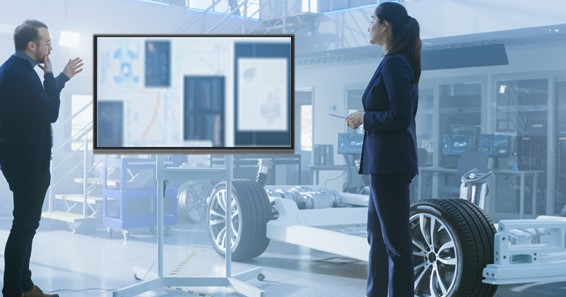 Engineer has lots of statistics, images and technical information need to share during meeting. Using Fujitsu Collaboration Board, it's easy to present the ideas, compare the documents and share the information as you need. 
Benefits:
Presentation - Clearly present the contents and videos in detailed 
Discussion - Easily compare and discuss the documents, for example: colour, textures, patterns, data, etc 
Annotation - Quickly pick up the points and annotate for additional information 
Tidy Work - Keep the original file clean for further discussion and compare the changes against the original 
File Sharing - Save all mark-ups without content lose by email, Cloud or QR code
Finance Department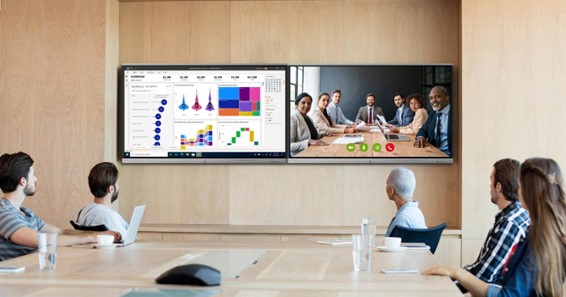 Finance executive is geared towards high efficiency in real-time decisions and react immediately to rapidly changing markets. With Fujitsu Collaboration Board, you can exchange important information, statistics and trends visually and speedy.
Benefits:
Remote Meeting - Efficiently start the strategic meetings with distancing partners or customers in just one click 
Discussion - Freely express the idea and concentrate in the discussion like working in the same room 
Recording - Automatically recorded meetings and documents for future record 
Annotation - Easily annotate and highlight the key points by using annotation function 
Template for Work - Embedded template and smart object detect function increase the discussion efficiency
HR Department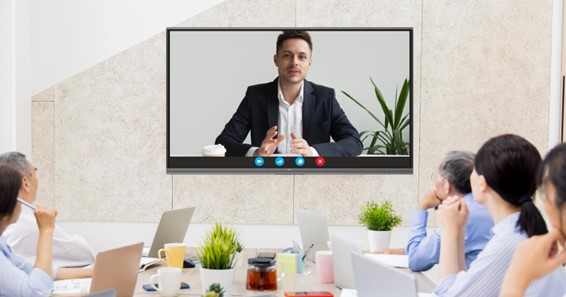 Working as a HR manager could overwhelm you as there are lots of interview and training programs. Fujitsu Collaboration Board helps HR to simplify the works in an easier way and improve productivity.
Benefits:
Remote Meeting - Be part of multiple career fairs at once wherever you are through the integrated video conferencing apps 
Remote Interview - Utilize the recording, screen sharing, whiteboarding and live proctoring function to pick up the right candidates from all over the world 
Training - Easily organize training program for both office and remote team in once 
Recording - All the training can be recorded and distribute that all new joiners or misers for convenient learning without extra effort
Marketing Department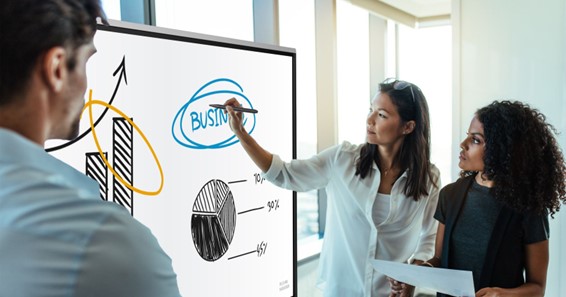 Everything in Marketing starts with an idea. Over the years, it had become even more important to collaborate remotely to make marketing activities success. With Fujitsu Collaboration Board, Marketers can create, share and discuss ideas, no matter in physical or in digital form.
Benefits:
Discussion - Effectively brainstorm and gather information with the integrated working apps, like using Pop-quiz function to vote the best plan 
Idea Sharing - Easily group and cluster the ideas with different pen color or line thickness by using Whiteboarding function, and share all the notes to participants through email, Cloud and QR code 
Virtual Events - Successfully host the online events or virtual conferences through the integrated conferencing app without complicated setup 
Tidy Flow - Define marketing personas in a fast and easy way, as all content stays dynamic with pictures and online meeting 
Two-way Communication - Change one-way communication to a two-way communication as all participants can access the Collaboration Board and write down their expectations, ideas, or feedback
Sales Department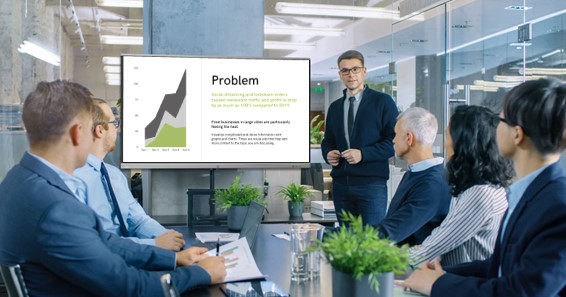 Relying on static slides is not an effective way for Sales to engage their audience and stand out from the competitors. Fujitsu Collaboration Board is a digital tool that incorporates elements of visual storytelling to make your sales presentation more attractive.
Benefits:
Presentation - Easily put words, arrows or highlights in the presentation slide by using Whiteboarding function, make the sales presentation more interactive 
Broadcast Presentation - Broadcast contents to participants' devices to make presentation smoothly and clearly, no matter how big in room size 
Virtual Meeting - Make virtual meeting as physical meeting, sales and participants can share their screen on the Collaboration Board for information exchange 
Recording - Record the presentation for future record, minimize the information lost 
Annotation - Utilize the Video Annotation function, it's easy to point out the selling points in video by auto-pause and resume of video playback